5 Gmail tips to start your inbox fresh in 2023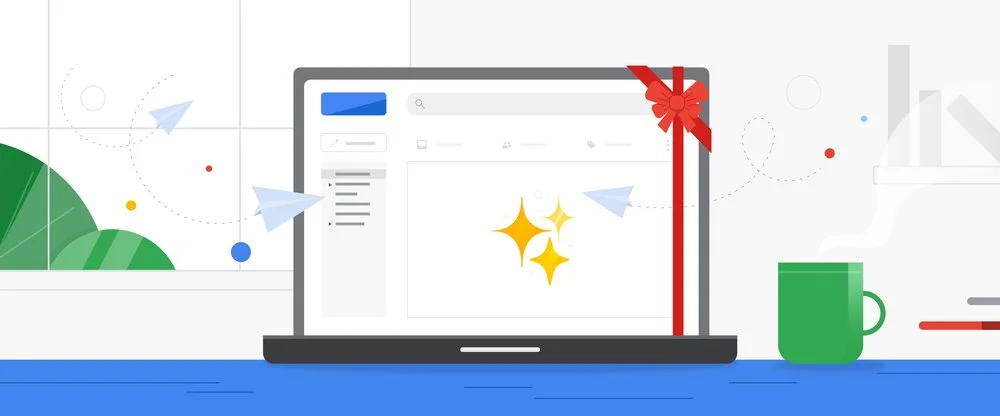 Every holiday season, I swear to myself that next year, I will finally get organized. This year, I've already started buying clear plastic bins in an effort to contain the chaos around my house. (Maybe 2023 will be different!)

But staying organized can go way beyond finding a place to store your family's shoes. It's also about organizing your technology, and nowhere is that more obvious than your email inbox. Whether it's work, family obligations or just keeping up with lots of newsletters, it's easy to feel like you're drowning in emails. So if your goal is to digitally declutter, Gmail has lots of ways to help you out for the new year.
1. Steer clear of spam.
Gmail automatically keeps your inbox clean from spam and unwanted emails thanks to AI smarts. Gmail protects users from nearly 15 billion unwanted messages a day, blocking more than 99.9% of spam, phishing and malware. But if a message pops up that makes it past the filters, you can report it as spam by checking the box near your message, then clicking the Report Spam icon. (If you're already in the message, it's just one click on the Report Spam button and you're all set.) And if it's not quite spam, but it's annoying anyway, you can set up a filter to block the sender's messages from ever reaching your inbox.
2. Archive emails in bulk.
It can be overwhelming to look at a crowded post-holiday inbox. Where do you even start? One way is to minimize the number of emails you're looking at by archiving in bulk. Let's say you have a lot of emails from your child's teacher that you don't need to take action on. On desktop, search for the email address of the teacher, then look at the check box on the top left of your computer screen, below the "From" search filter. You can check that box to select all the emails, or click the arrow to select only read, unread, starred or unstarred emails. Once you've done that, hit Archive to remove them from your inbox view without deleting them entirely. Ahhhh, feels nice.
3. Mute email threads that get out of hand.
If you're planning a group gathering or family reunion for 2023, chances are your email discussion is going to get long. Can't deal with your friend's cousin's constant opinions on bachelorette party planning? You can mute the thread so you don't see every update pop into your inbox, and instead these emails are sent to the "All Mail" label. On desktop, check the box to the left of your message in your inbox, click the three-dot menu near the top of the page and select Mute. On mobile, tap the message, click the three-dot menu on the top right of your screen and select Mute. Now the emails will be ready for you to read later, when you search for them or visit your "All Mail" label, but you won't see every single update at the top of your inbox. Phew.
4. Separate incoming emails by creating multiple email addresses with a plus sign.
You use your Gmail address for lots of things: making plans with friends and family, tackling professional projects and keeping track of online shopping, just to name a few. Basically, lots of activities that ramp back up after the holiday-season lull. When all those updates end up in your inbox, though, it can leave you feeling overwhelmed. An easy way to tackle this is by signing up for things using different forms of your email address with a simple plus sign. If you sign up for that gym membership with youremailaddress+gym@gmail.com, you can set up a filter or label to designate emails coming from your gym. Try it with online shopping, or even social media sites, to keep things clear of clutter.
5. Keep your messages safe.
Bringing peace to your inbox doesn't just include cutting clutter. It also includes keeping your emails private and secure. Take action to protect your entire Google account by taking a Security Checkup and a Privacy Checkup, then take the recommended actions like choosing a secure password, enabling 2-factor authentication and adding in Account Recovery information so you never get locked out. That way you can start your year safely, too.