Iterate your way to success with A/B testing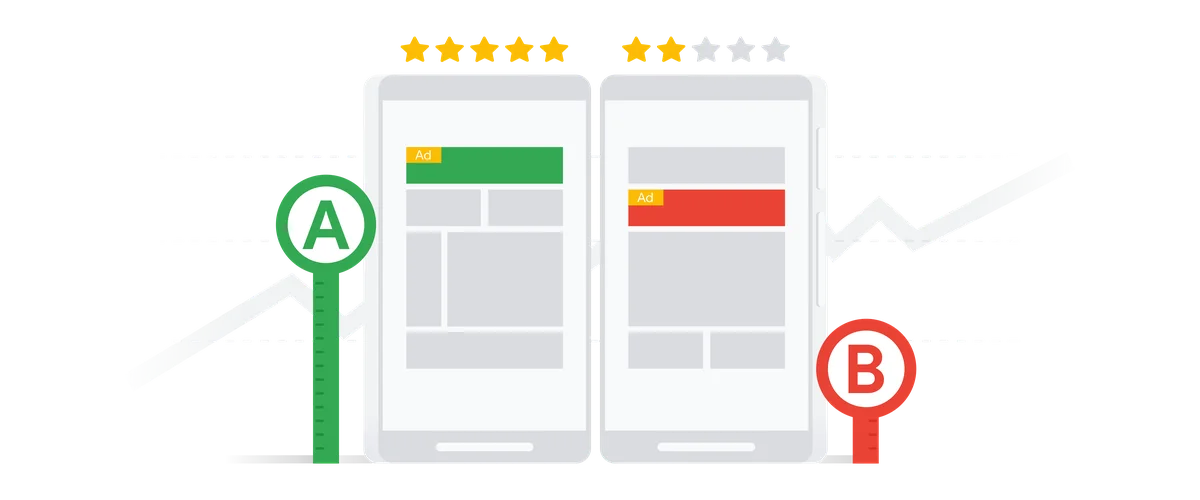 Many app publishers attempt to maintain stability in their app by not making any changes, despite the constantly evolving mobile ads business.  This approach can be detrimental in the long run by causing you to miss out on growth opportunities. Continuously testing new approaches in your app is an essential part of an effective monetization strategy, so we'd like to go over a few examples of tests you can implement now to get you started.
What are some things I can test?
With AdMob, you can test any feature of your app that can be defined with a variable. Here are some experiments you can start with:
Ads alongside in-app purchases
If you currently monetize your app exclusively through in-app purchases (IAPs), testing ads alongside IAPs is a low risk approach that allows you to understand the impact of including another monetization model.  For example, game publisher Four Thirty Three used to rely exclusively on in-app purchases (IAP) for their revenue.  They used smart segmentation to divide their users into likely purchasers and likely non-purchasers.  This allowed them to remove any risk of harming their IAP revenue by ensuring that ads were only shown to users who did not spend within their app anyway.  After serving rewarded ads to non-paying users, their retention, session duration, and revenue increased.
New features
A/B testing can be a great way to gauge your user's reaction to new features before rolling them out to your entire app.  For example,
Onefootball
, a leading soccer app, wanted to test a Top News section in their app's News stream. However, they first wanted to determine whether this potential change would lower revenues. They set up a test with a control group and two exposed groups, which showed them that this proposed change would not hurt revenue.  As a result, the feature increased daily engagement by 5 percent, and articles read on the app rose by 6 percent.
Pricing
A/B testing can be an invaluable tool to help determine the best price point for a subscription or in-app purchase. Le Figaro, France's oldest and largest daily newspaper, was looking to increase paying customers and retain paid subscribers. They used Firebase to test different subscription price points, and even found that the largest increase in paid subscriptions was driven after embedding real time interactive infographics into their mobile and web articles.
How can I test it?
If you haven't yet linked AdMob to Firebase and wish to A/B test, we recommend you do so. Integrating Firebase into your AdMob account is simple, and lets you test small changes to your apps without having to push updates. After setting up your account, endless experiments become available to you with just a few clicks. If you'd like a quick summary of what Firebase can do for your AdMob account, check out this YouTube video.