Grow your games business with new ads solutions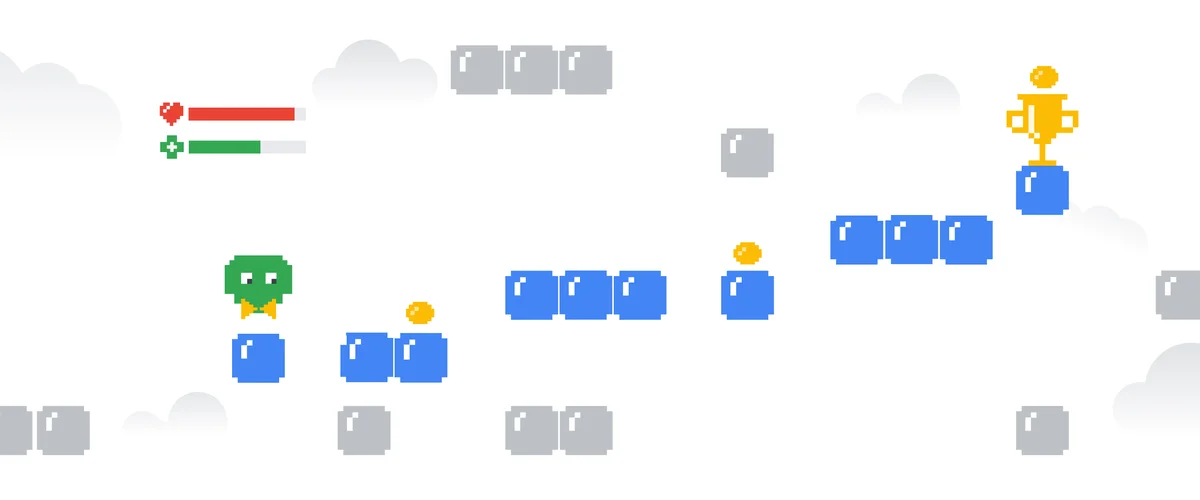 Whether it's to join the latest multiplayer craze or dive back into an old favorite, user interest in gaming worldwide continues to rise as people spend more time at home. In fact, our data shows that global searches for "best online games" between February and April were up over 100 percent compared to the same time last year. 
Mobile game developers have a huge opportunity to connect with these eager players around the globe. This week at Think Games in China, we're announcing new ways for developers to engage with the right players and maximize revenue so your team can spend more time creating awesome gaming experiences.  
Reach more of the right players for your game
In today's crowded gaming landscape, it's not easy to build a community and retain players over time. App campaigns for engagement were built to help you get players who've previously installed your game to return, with custom messages across Search, YouTube and over 1 million apps in our network. 
Available globally in September, App campaigns for engagement will soon also run in Google Play and support audiences from Google Analytics for Firebase. We're also updating our audience management features to make it easier for you to connect with the right player segments. 
App campaigns for engagement will soon be able to serve ads in the Play Store
FunPlus, the developers behind the mobile strategy game King of Avalon, wanted to find ways to also get current players to come back during a mega update event. It used App campaigns for engagement to create custom messages for previous player groups who had stopped playing. This resulted in 34 percent more high-value players returning to play, as compared to other strategies it used.
Here are a few more features designed to help you reach players across the lifecycle of your game:  
Maximize your ad revenue
To help you get the most value from your ads, Open Bidding will be available as a beta to all AdMob developers this fall. Today, many developers rely solely on waterfall mediation, a tried-and-true way to monetize with multiple advertising sources that can be hard to set up and manage at scale. Waterfall mediation calls ad networks one at a time until one of them returns an ad. Though effective, you could be losing out on additional revenue since networks are prioritized based on historical CPMs, rather than real-time pricing.
As Google's in-app bidding solution, Open Bidding puts participating networks in a fair real-time auction to compete for your impressions, so the winner is always the highest paying network. This means you'll get the highest revenue available for every impression. With Open Bidding, you can find the most popular demand sources to compete for your impressions in real time. Open Bidding makes earning more even easier by eliminating the need to manually set CPMs and reducing the number of SDKs your teams need to integrate and manage. 
CookApps used Open Bidding in order to grow revenue for its match-three puzzle game Candy Blast. By switching to Open Bidding, CookApps optimized revenue across ad networks and saw a 26 percent increase in both total ad revenue and CPMs, compared to their previous waterfall mediation setup. Open Bidding also enabled teams to save time from managing multiple networks, allowing it to focus on other priorities to expand its business. 
Along with Open Bidding, we're announcing several other solutions to simplify your setup so you can earn even more from your apps:
Impression-level LTV pingback: Get real-time estimates of impression values to help measure lifetime value of players across all revenue sources (iOS, Android, Unity).

Rewarded interstitials: Increase engagement with rewarded ads by proactively showing players in-game offers in exchange for watching a video during gameplay breaks.

App open beta: See up to twice as much user engagement with the improved user experience of app open ads, which now offer standardized publisher branding and simplified user tap targets.Learn more.

AdMob plug-in for Unity software: Create and edit ads easily in the Unity interface, letting you quickly implement ads into your Unity game with just a single line of code. 
To hear more about how these solutions can help you build your community and grow your business, watch the Ads Announcements session and tune in to the full Think Games live stream.