How we're helping build a strong digital future - for all Australians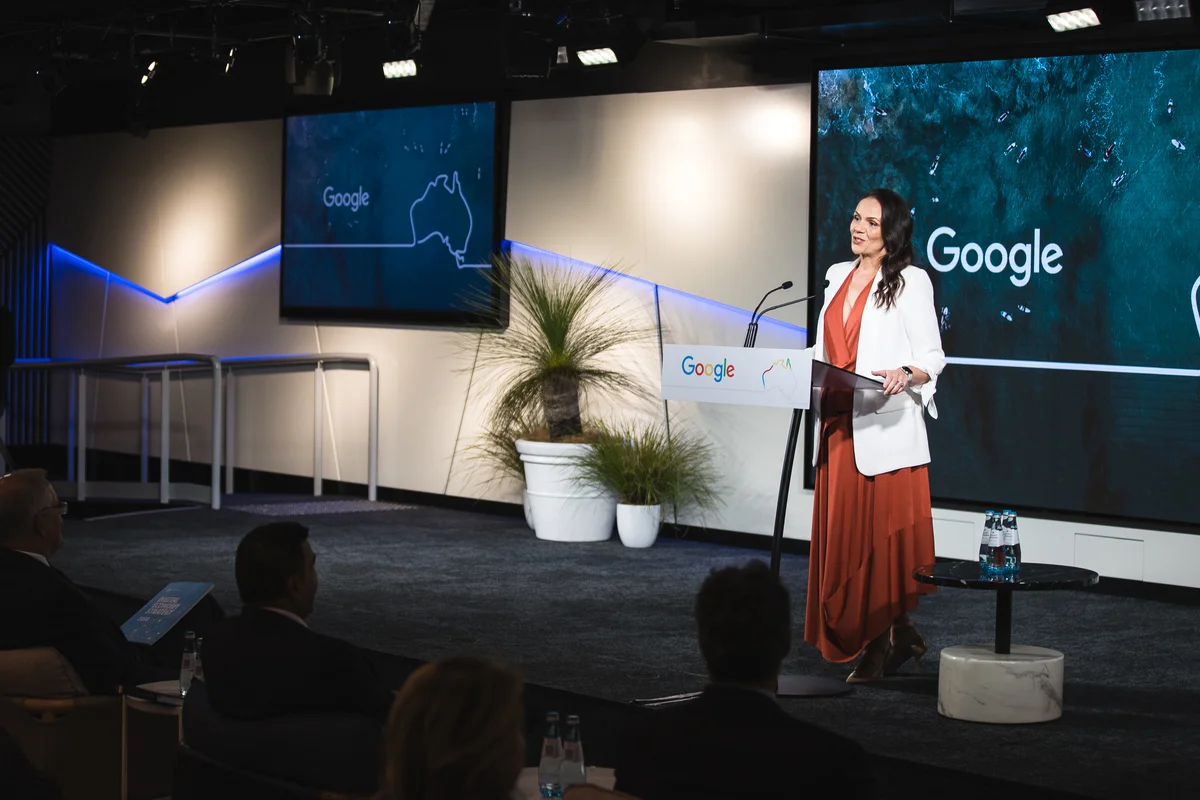 Aussies are trailblazers in the field of technology. After all, our ability to solve everyday challenges gave the world Cochlear implants, wi-fi, the black box recorder and our very own Google Maps – which started right here in Sydney.
Today our 20-year commitment to Australia took another big step forward, with the launch of Google's Digital Future Initiative, a $1 billion investment over five years, in Australian infrastructure, research and partnerships.
Prime Minister Scott Morrision, Google CEO Sundar Pichai, Chargé d'Affaires Mike Goldman from the US Embassy, and CSIRO CEO Larry Marshall joined us to launch the initiative which will support new jobs, drive innovation and give Australians the tools they need to plan for our digital future.
But what does the digital future mean? It's a future where every Australian has access to technology and the skills to use it, vital services are widely available online, and Australian businesses and entrepreneurs grow the economy.
The Digital Future Initiative builds on Google's work in Australia over the last two decades. Back in 2002, we started the Google Australia team in a lounge room, with just one employee. Two decades later, we have grown to almost 2000 Googlers, including more than 700 engineers – with offices in Sydney and Melbourne, including a new, expanded office space in Pyrmont which we officially opened today.
The Super-G in our newly expanded office

Sculpture by Sculpture by Otis Hope Carey 'NGALUNGGIRR MIINGGI' (at the entrance of our expanded Pyrmont office)

One of many collaboration spaces in our new office

The lobby and reception space of our newly expanded Pyrmont office

Visual depictions of the Gadigal language by Joel Davison & Jeremy Worrall 'Manamingunla' (on the ground floor)

The foyer in front of our new auditorium and event space

The entrance to the cafe, inspired by milk bars across Australia
What the Digital Future Initiative will focus on
Building the foundations of the digital economy
If we want our digital economy to grow, we need to expand the skills, platforms, and foundations that businesses and organisations from all corners of the country build on everyday.
Under the Digital Future Initiative, we'll continue to invest in the infrastructure needed to help Australians make the most of technology. This investment will provide Australian businesses with a secure and robust platform for business transformation. It'll enable them to become more productive and quickly respond to ever-changing customer needs, as they grow their business and the digital economy.
Fostering Australian-made technology and talent
Research is the engine that drives innovation at Google. It helps us problem solve, develop new products and services – and enables our brightest minds to make groundbreaking discoveries.
With the Digital Future Initiative, we're launching Google Research Australia – our first ever research hub in Australia. Partnering with the research community across the country and other Google Research hubs, we'll build a team of local researchers and engineers to explore ways AI and machine learning can help tackle issues that are important in Australia – and around the world.
Partnering to solve big challenges
Right now, Google is working with Australian organisations to apply new technology solutions to urgent challenges we face today – from bushfires to mental health and cancer diagnosis. We know that the best and most creative solutions often come from those that are on ground and closest to the issues and needs of their communities. This is why partnerships are at the heart of the Digital Future Initiative.
As part of our overall commitment, we're investing in a multi-million dollar partnership with Australia's national science agency, CSIRO, to tackle challenges like natural hazard management, energy and protecting our precious Greater Barrier Reef.
Underwater reef imagery showing crown-of-thorn starfish and coral
Through this partnership, we're exploring AI solutions to help CSIRO analyse underwater images of crown-of-thorn starfish (COTS) – a species that feeds on coral and is threatening the reef. While traditional reef surveys have been manual, with a diver towed behind a boat, AI technology will allow scientists to conduct more efficient, frequent and accurate monitoring of the reef.
Scientists capturing and analysing underwater imagery of coral and crown-of-thorn starfish
We'll also be deepening our investment in quantum computing research with Macquarie University. This research has a range of future applications such as designing more efficient batteries, and will allow us to explore scientific discoveries that were previously out of reach.
What the Digital Future Initiative can do for Australians, and our economy
The Digital Future Initiative is an investment in the extraordinary talent and creativity of Australians. It's about ensuring every Australian has access to technology to realise their potential. It's about laying foundations for a strong digital economy that can compete globally and support good jobs locally. And continuing Australia's proud record of world-first innovation, harnessing technology to solve big challenges and create new opportunities for decades ahead.
The Digital Future Initiative will support 6,529 direct jobs and 28,057 total jobs across Australia and deliver $1.259 billion in direct investment and $6.716 billion* in total economic impact.
We look forward to helping build our digital future, together.