Ruel Shares New Single Sneak Peek Exclusively on YouTube Shorts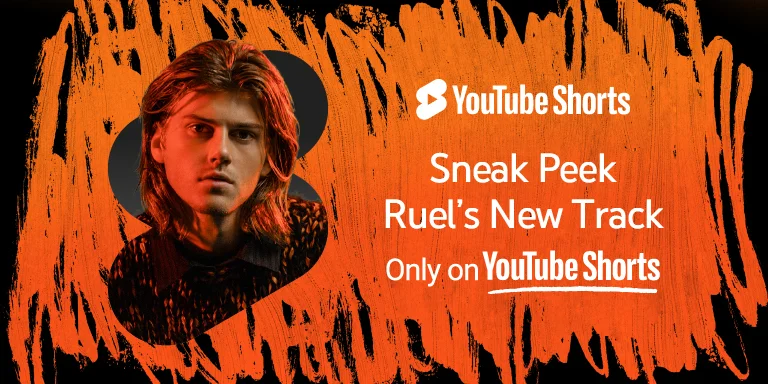 Australian pop superstar Ruel has today shared a 15-second snippet of his newest single 'GROWING UP IS _____' ahead of its official release on Friday 10 December.
Available exclusively on YouTube Shorts – where Ruel commands a fanbase of 1.5 million subscribers – the 'GROWING UP IS _____' teaser reveals a breezy ode to the messy, complicated, yet ultimately exhilarating rites of passage we all traverse while growing up.
To mark the single's arrival and to celebrate the joys, trials and tribulations of growing up, Ruel is asking his fans to get creative on YouTube Shorts and help him finish the lyric "growing up is…" Growing up is… mad; messy; fun; full-on; epic; ridiculous; sad; silly; salty; bizarre; brilliant or perhaps it's just basic. Whatever growing up has meant for his fans, Ruel wants to know and then he wants you to share it with the world.
"The idea of the underline at the end of the title was to try to explain that everyone has a different experience growing up," explains Ruel. "Everyone has ups and downs, but because it's never just one thing, I couldn't just give it one word and wanted to leave it open for interpretation."
Along the journey to release, Ruel will be spotlighting some of his favourite fan responses across his social channels, so participants are encouraged to use the hashtags #ShortsRuel for their chance for a shout out. Australian born Ruel joins global megastars BTS and Ed Sheeran in partnering with YouTube to utilise Shorts as the springboard for launching their most significant musical moments.
Marion Briand, Manager, Music Content Partnerships (AU/NZ), YouTube, said: "Ruel is such a talented artist, and it has been incredible to watch him grow from success-to-success since we first spotted him on YouTube in 2017. We can't wait for his debut album to drop - but until then, we're so excited to be partnering with him to give his millions of fans around the world a sneak peek of his upcoming single, exclusively on YouTube Shorts. And to give them the chance to add their own spin by finishing the lyrics too."
Ruel's resumé reads like that of a seasoned global superstar. The Sydney-bred, London-born vocalist is quickly becoming one of this generation's most influential artists. Since winning the Aria for Breakthrough Artist in 2018 (the youngest artist to do so), Ruel now has a billion global streams, millions of followers and three sold-out world tours under his belt. Coming off the back of three stand out EP's, Ruel's sights are now set on delivering his debut album next year and 'GROWING UP IS _____' is just setting the scene for what will no doubt be a massive 2022 for this young trailblazer.
An active user of the platform, Ruel has a long-standing relationship with YouTube. In 2017 he played the YouTube Pop-Up Space in Sydney before going on to be signed by RCA and more recently performed at YouTube's FanFest in New York City.
Check out the exclusive sneak peek of Ruel's new single now at yt.be/shortsruel.