Meet the new Google Pixel Tablet that's helpful in your hands and at home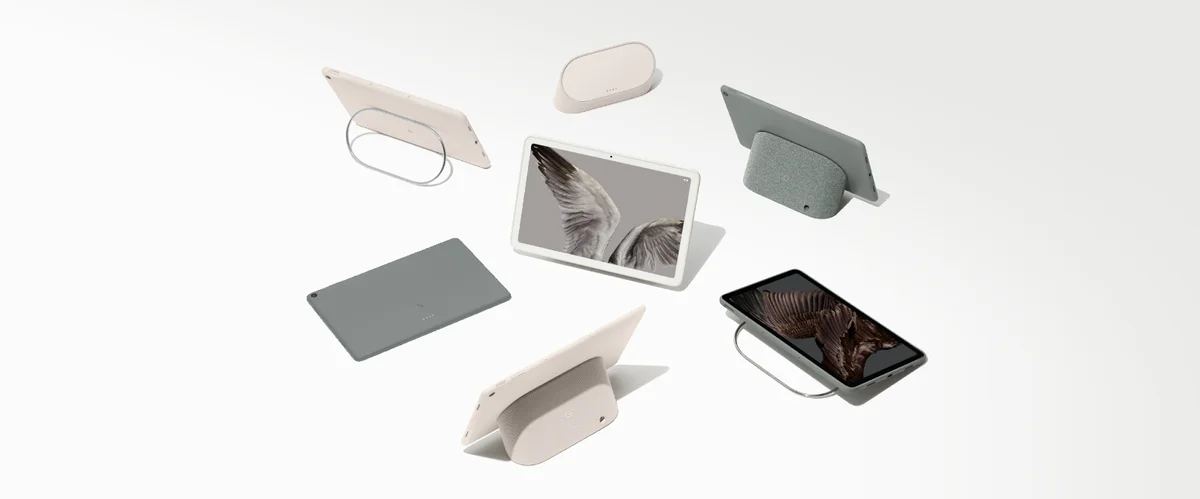 Say hello to the Google Pixel Tablet, designed to be helpful 24/7 in your hand and in your home. It's built with the latest Android features, our Google Tensor G2 chip and our iconic Pixel design. . Here's a look at what's in the new tablet and all the reasons we think you'll love it.
A premium tablet built for all your entertainment needs
With a brilliant 11-inch display and four built-in speakers for crisp audio, the tablet is the perfect entertainment companion. The Pixel Tablet looks and feels great — with its fresh colours (Porcelain and Hazel) and rounded edges. Plus, the aluminium enclosure is textured with our unique nano-ceramic coating making it easy to grip.
We worked closely with the Android team so the apps you love — like Disney+, Spotify and more — look better and are easier to browse on the big(ger) screen. Not sure what to watch? Pixel Tablet comes with the Google TV app optimised for the larger screen, so you can always find something.
Plus, the tablet's fast performance and battery life — all powered by our custom Tensor G2 chip that's in our Pixel phones — make it the ideal tablet for playing your favourite games like Minecraft or Asphalt 9.
The Pixel Tablet is designed to work seamlessly with the Pixel range of devices.
AI-powered features and more to help you get more done
Pixel Tablet makes it easy to get more done — from working on the go to keeping in touch with family and friends.
Over 50 Google apps are optimised for the Pixel Tablet, including Google Meet. Google Meet quickly adjusts the lighting as you move around and brings HD video calling to a tablet for the first time, so you look your best no matter what you're doing. You can even add a little fun to your video calls with 360 custom backgrounds to choose from — like beaches and futuristic cities — and the scene will adjust with you as you move and change positions. Tensor G2 is designed to make sure your video chats are always optimised for where you are and how you're lit, moment by moment, with Google's latest camera AI.
That's not all, the tablet's larger screen and AI-powered capabilities help you do even more. Pixel Tablet is the best tablet to edit your photos with tools like Magic Eraser and Photo Unblur. With splitscreen mode, you can use two apps on the screen at the same time. While you're dropping a picture from Google Photos into Gmail, you can also use Assistant voice typing on Pixel Tablet (which is almost three times faster than regular typing) to make writing emails a breeze.
As always, your personal information is protected with Pixel. With Tensor G2 and the Titan M2 security chip, Pixel Tablet is built with multiple layers of security to help keep you safe and secure.
A design that's helpful in your home
To make the tablet a helpful part of your home, it's paired with the Charging Speaker Dock. Not only does it keep your device charged up and ready to go, but it also turns the tablet into a helpful home device that you can even use hands-free. When the tablet is docked and in Hub Mode, you can use it as a smart home controller, music and entertainment player, voice-activated helper or digital photo frame.
Pixel Tablet is one of the best ways to control your smart home. When it's in Hub Mode, tap the Google Home icon to access all of your smart home devices so you can view your video doorbell feed and turn on the living room lights. You'll see the same devices in your "Favourites" tab in the Google Home app that's available for anyone to use starting today.
It's also the first tablet with Chromecast built-in, so you can cast videos or music from your phone to the tablet when it's in Hub Mode.
Whether you're controlling your smart home devices in Hub Mode, or want to dock your device for room-filling sound, Pixel Tablet seamlessly integrates into your home when paired with the Charging Speaker dock.
Where to get your Pixel Tablet and all its accessories
The Pixel Tablet comes bundled with the Charging Speaker Dock starting at $899 for 128GB or $999 for 256GB. You can preorder it online starting today at the Google Store and JB Hi-Fi. It will be available on sale at the Google Store, JB HiFI and Telstra from June 20.
Check out the Google Pixel Tablet accessories, which are also available for pre-order today at both the Google Store and our retail channels. This includes the Pixel Tablet Case for $139 that's designed to work with the Charging Speaker Dock and has a polished metal ring stand so you can view the tablet at different angles. Our Made for Google partners offer even more accessories to personalise and protect your tablet.