How Google is helping parents keep their children safe online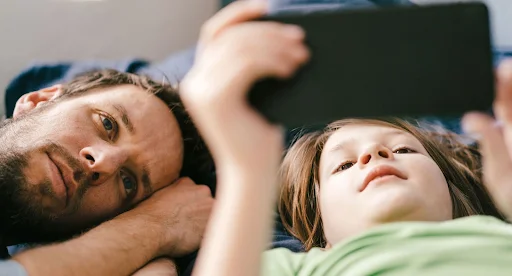 We believe kids should be able to experience the best of technology with safeguards that allow their parents to feel confident letting them explore online.
We're working directly with experts and educators, like the Alannah & Madeline Foundation, to help you set boundaries and use technology in a way that's right for your family. And we build free tools - from parental controls to education programs - that help families create healthy, positive digital habits that are right for them.
It's also important for parents to have up to date information about additional steps they can take to protect children online. That's why we are sharing our top 5 tips to help keep your family safe using Google's services.
TIP 1: SET UP PARENTAL CONTROLS
Family Link is an app we created to help you set up a supervised account for your child as they start to use their own device to explore the Internet. Whether your children are younger or in their teens, Family Link allows you to approve what apps and games they use, keep an eye on screen time and help set digital ground rules for your family. It also provides a way to manage the content your child can see and know their location when they have their device with them. You can set up Family Link here.
TIP 2: DISCOVER A WORLD OF SAFE LEARNING WITH YOUTUBE KIDS
We created YouTube Kids to be a safer environment for children to explore their interests through curated online videos. We've invested heavily to ensure it's a safe place where kids can explore their curiosity. You can find family-friendly videos on all different topics and for different ages helping your kids discover the world around them, learn something new, or just be entertained. Different families have different preferences so YouTube Kids has videos from science experiments to nursery rhymes and everything in between. Check out YouTube Kids here and more about our approach to protecting kids and families on YouTube here.
TIP 3: TURN ON SAFE SEARCH
We're also working to help keep young people safe when using Google's Search engine. That includes offering SafeSearch, which helps filter out explicit results, like images containing violence. It's already on by default for all signed-in users under 18 (including those who have accounts managed by Family Link) but it is also worth turning on for shared household devices that children might be using. It's important to note that SafeSearch only works on Google search results and won't block explicit content you find on other search engines or websites that you go to directly. Read up on how to turn on Safe Search here.
TIP 4: MANAGE YOUR CHILD'S ACCESS TO WEBSITES WITH CHROME
You can manage your child's access to specific websites when they are using the Chrome browser on their Android or Chrome OS device. You can choose to limit your child to only websites that you are comfortable with, or block specific sites that you don't want them to visit. You can do this through the Family Link app by tapping on Manage Settings > Google Chrome and choosing the setting that's right for your family.
TIP 5: EXPLORE EXPERT APPROVED CONTENT ON GOOGLE PLAY
We've teamed up with academic experts, teachers and child development specialists, to help you find content that's right for your child. Browse our Kids tab on the Google Play Store to find Expert Approved family-friendly apps and games that are both enriching and entertaining. On the app details page, you can see why experts rate apps highly, and check content ratings to understand if an app is age appropriate. You can also see whether an app contains ads, allows in-app purchases or requires device permissions. We hold developers who build apps for children to higher standards with our developer policies for the Play Store.
While we provide tools and features that are handy for parents, it's also important to have conversations with your children to set digital ground rules, and enjoy family times and learning together using family-friendly digital content.
You can find more resources with tips for making technology work for your family here.