A look at YouTube's ripple effect on the Canadian Creator Economy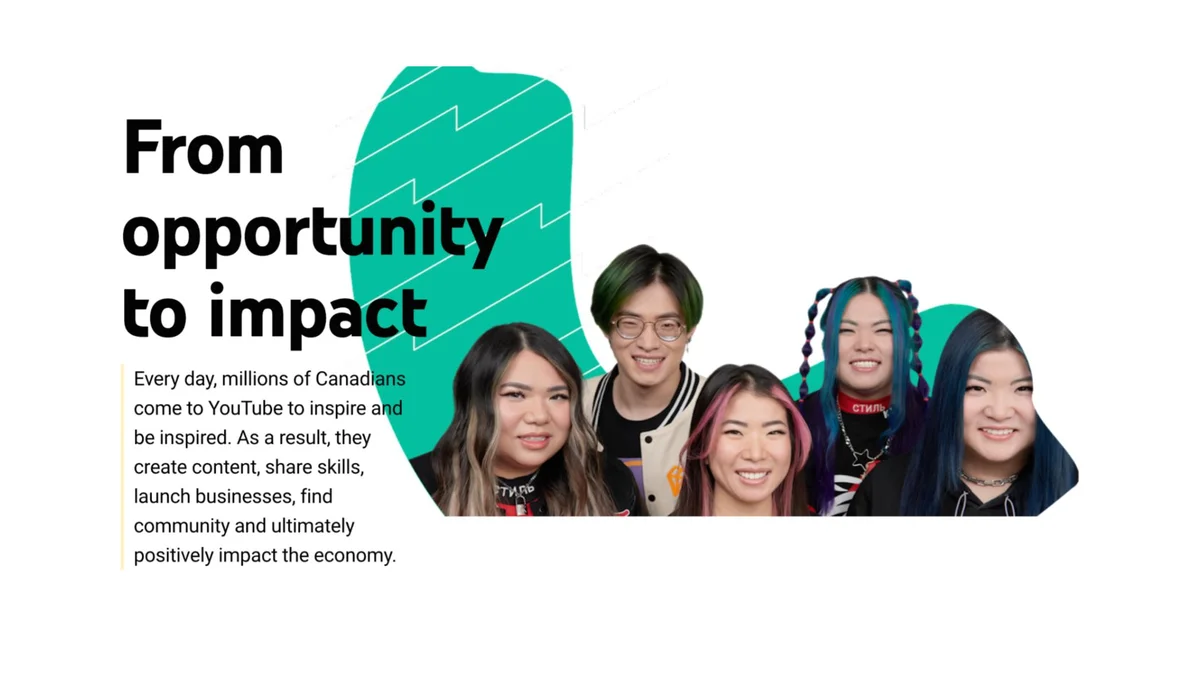 Today, Oxford Economics Research released a new report on YouTube's Impact in Canada. The report's findings are based on economic modelling and anonymised surveys from April - May, 2022 and represents data for the 2021 calendar year. Read the full report here.
---
Every day, Canadian creators, artists and entrepreneurs come to YouTube to share their passions, tell uniquely Canadian stories, build a fanbase, and grow their business on the global stage. The platform's reach and scale has enabled a diverse range of local artists and creators from coast to coast to make a living, grow the creative economy, and create an online repository for Canadian culture and expression.
To better understand how to quantify this cultural impact, we turned to Oxford Economics to analyze YouTube's value across Canada.
The results show that Canada's creative economy is strong. Oxford Economics' new research calculates that YouTube's creative ecosystem directly contributed $1.1 billion CAD to Canada's GDP in 2021. It also supported 34,600 full time equivalent (FTE) jobs in Canada.
That's the power of an open platform - any Canadian can access the 2 billion monthly logged in users on YouTube.
Here are a few more findings from the report:
YouTube's Canadian Creator Economy is thriving
Becoming a digital creator was once thought of as an uncommon profession. Now, it's become a viable path for many. And on the global stage, we continue to see Canadians build incredible track records of success. The number of YouTube channels making $100K or more in annual revenue (CAD) is up 35%, year over year.1 What's more, over 4,500 channels have over 100K subscribers and over 550 channels have over 1 million subscribers, which both grew 20% year over year.1
Creators on YouTube are helping shape Canadian Culture
Through the removal of barriers to entry, local creatives are able to leverage the platform to share their content with the world. This has helped even more creators and artists to breakthrough into the global consciousness - 78% of creative entrepreneurs agree that YouTube helps them export their content to international audiences they wouldn't otherwise have access to, and 83% of media and music companies agree that YouTube is critical to breaking new artists and/or music.
When we look at the opportunity this provides for earning potential, it's unparalleled when compared to other media platforms. Through the YouTube Partner Program, artists and creators can not only reach a global audience, they can monetize it as well. 74% of creative entrepreneurs agree that YouTube provides an opportunity to create content and earn money that they wouldn't get from traditional media.
Niche content finds global success
What's especially rewarding about the creator economy, is that any Canadian can take their passion and come to the platform. With over 2 billion monthly logged in users, no matter what your interests are, you can find a community on YouTube. The report found that nearly 70% of creative entrepreneurs agreed that they identify and feel like they have a place to belong on YouTube. Whether it's car detailing with Mitch, playing minecraft with Krew, or hair tips with Adanna, YouTube has you covered.
We're so proud to be a part of the ongoing success that Canadians are experiencing on the platform every day, and we'll be revealing new programming and partnerships this year to continue to grow the pipeline of Canadian talent across the country.
Discover more Canadian YouTube creators and learn more about YouTube in Canada in this year's YouTube Impact Report.