Back-to-School with CS First and Google Canada!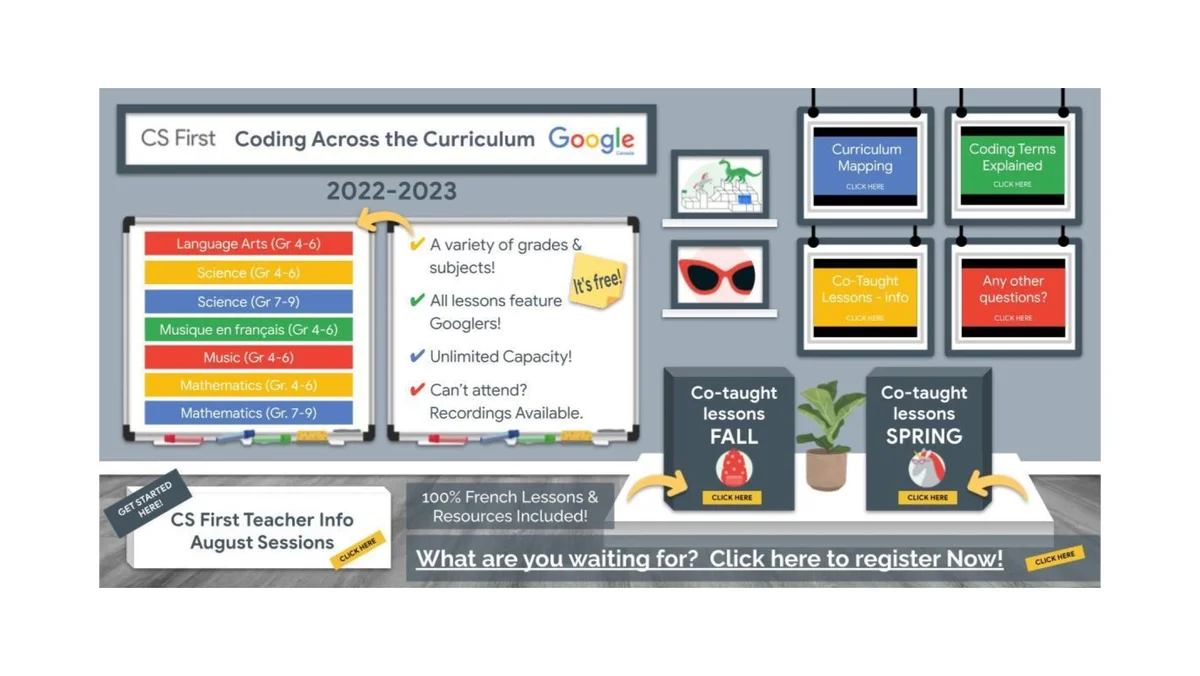 Since 2018, Google Canada and the Cobblestone Collective have been working with school boards, educators and students from across Canada to deliver CS lessons through CS First, Google's free introductory computer science curriculum. Our goal is to educate and excite students and their teachers in computer science, particularly those in historically underrepresented groups in technology. We want to help empower the future of learning and work by achieving a more diverse population in tech.
With the new school year around the corner, we're thrilled to kick off another year of CS First programming, and this year, we're making even more strides to map CS First to the Quebec curriculum and scale our French language offerings! You can learn more about that here.
Here's what students and educators can look forward to this year:
Educator Workshops
From August 16-18, educators will learn how CS First connects to their curriculum and get a sneak peek at the co-taught lessons and subject crates that Google and the Cobblestone Collective have put together this year. Learn more here.
Back-to-School Cobblestone Crates featuring Google for Education
To help educators transition back to the classroom, Google Canada and the Cobblestone Collective have created free co-taught back-to-school CS First lesson plans. Inside each Cobblestone Crate there are five activities: collaboration, communication, creativity, digital citizenship and global citizenship. Each activity has a self-paced video, guiding classes through mini-lesson, and is available for students in grades 4 to 6 and grades 7-9.
Powerup Your Chromebook with Google Canada
Before jumping into a new year of CS First, we're starting with the basics. On September 19th, join Google volunteers for a 60-minute co-taught lesson, where they will share tips and tricks to using Chromebook for learning. This session will help students and educators get comfortable with the technology, including helpful accessibility tools, to help meet students where they are at. Keep an eye out for the registration link coming soon.
Coding Through the Curriculum with CS First in the 2022-2023 School Year
Finally, on September 20th we'll launch a new year of CS First programming with a kick off celebration. Classrooms are invited to join Canadian Googlers, virtually, to explore and celebrate STEM through our co-taught coding lessons. During this 60-minute session, you'll hear from Canadian Googlers about their pathway to working for Google Canada and how they use STEM in their jobs everyday. After exploring career pathways, we'll dive into CS First and learn to code together.
Then, continuing throughout the school year, we'll offer weekly co-taught lessons (and recordings), and dive deeper into subject-specific and grade-specific content. Each lesson will be accompanied by a Cobblestone Crate co-created by Google Canada and the Cobblestone Collective, along with an asynchronous package to help educators and students continue on in their coding journey. Sign up here.
We can't wait to get started on another year of CS First programming and meet the next generation of CS leaders!