Apply Now for the North American Google for Startups Accelerator: Cloud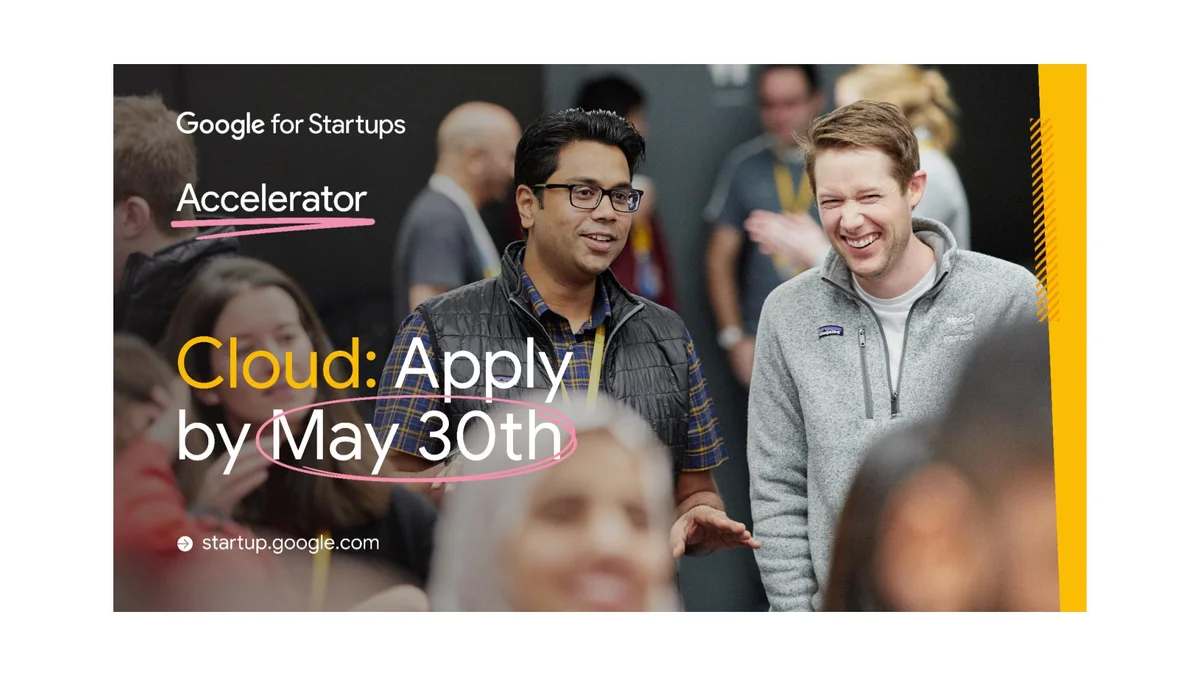 The inaugural North American Google for Startups Accelerator: Cloud is now accepting applications. The program incorporates key learnings from our pilot Cloud accelerator in Canada, and is now open to startups in both U.S. and Canada. The 10-week virtual accelerator is designed to help startups prepare for the next phase of their growth journey.
Around the world, cloud technology is helping businesses and governments accelerate their digital transformations, scale their operations, and innovate in new areas. At Google, we're using cloud to help businesses solve some of their toughest challenges. For instance, Cohere partnered with Google Cloud to make it easier for developers to build natural language processing models into applications, and Shopify partnered with us to enhance online search and browse functionality for its retailers.
Cloud adoption is translating into new potential for startups as the global cloud market is set to grow more than $470B in the next five years. Last year more than 300 Canadian companies used cloud to develop artificial intelligence (AI) and machine learning (ML) technologies that raised a total of $1.46B in venture capital funding*. And with the AI/ML landscape evolving quickly, the opportunities aren't slowing down.
With the Google for Startups Accelerator: Cloud program, our goal is to help cloud-native startups using AI/ML to seize the opportunities ahead. We first launched the Google Cloud Accelerator in Canada in 2021, and we've had the opportunity to work with many talented founders using cloud technology to harness the power of AI/ML. As cloud continues to unlock new possibilities for growth and innovation, we're excited y to expand the accelerator to US-based startups as well.
Starting today, startups from Canada and the U.S.can apply for the Google for Startups Accelerator: Cloud program. The equity free, 10-week virtual accelerator will offer cloud mentorship and technical project support, as well as deep dives and workshops on product design, customer acquisition and leadership development for cloud startup founders and leaders.
The accelerator program is designed to bring the best of Google's programs, products, people and technology to startups doing interesting work in the cloud. In addition to cloud mentorship and technical project support, the accelerator also includes deep dives and workshops focused on product design, customer acquisition and leadership development for startup founders and leaders.
Here's what our accelerator alumni had to say:
"Thanks to truly amazing mentorship and direct access to Googlers, we have been able to reach new levels of specialized knowledge and deployment capability in our GCP architecture and artificial intelligence projects. From a technical perspective to a business growth standpoint, this is simply invaluable. What we have built in three months with Google will be a part of our upcoming next-gen product line in both Healthcare and Non-Healthcare settings. We deeply thank all Googlers for their exceptional participation in our journey." - Francois Gand, Founder and CEO, NURO
"The accelerator provided F8th Inc. with so much more than we could have ever dreamed. The meaningful mentorship relationships that have been created continue to endure, the workshops have been impactful in helping our business scale and we have developed new business contacts both in Canada and the US. The incredible support and guidance we received has been second to none. It's been great to have access to a multidisciplinary team and Google's outside the box thinking." - Vivene Salmon - Co-Founder, F8th Inc.
Applications are now open until May 30, and the Accelerator will kick off this July. Interested startups leveraging cloud to drive growth and innovation are encouraged to apply here.
*Source: Pitchbook data. | As of February 16, 2023.