That's a wrap on the CanadianSME National Business Awards: Meet some of Canada's most innovative small businesses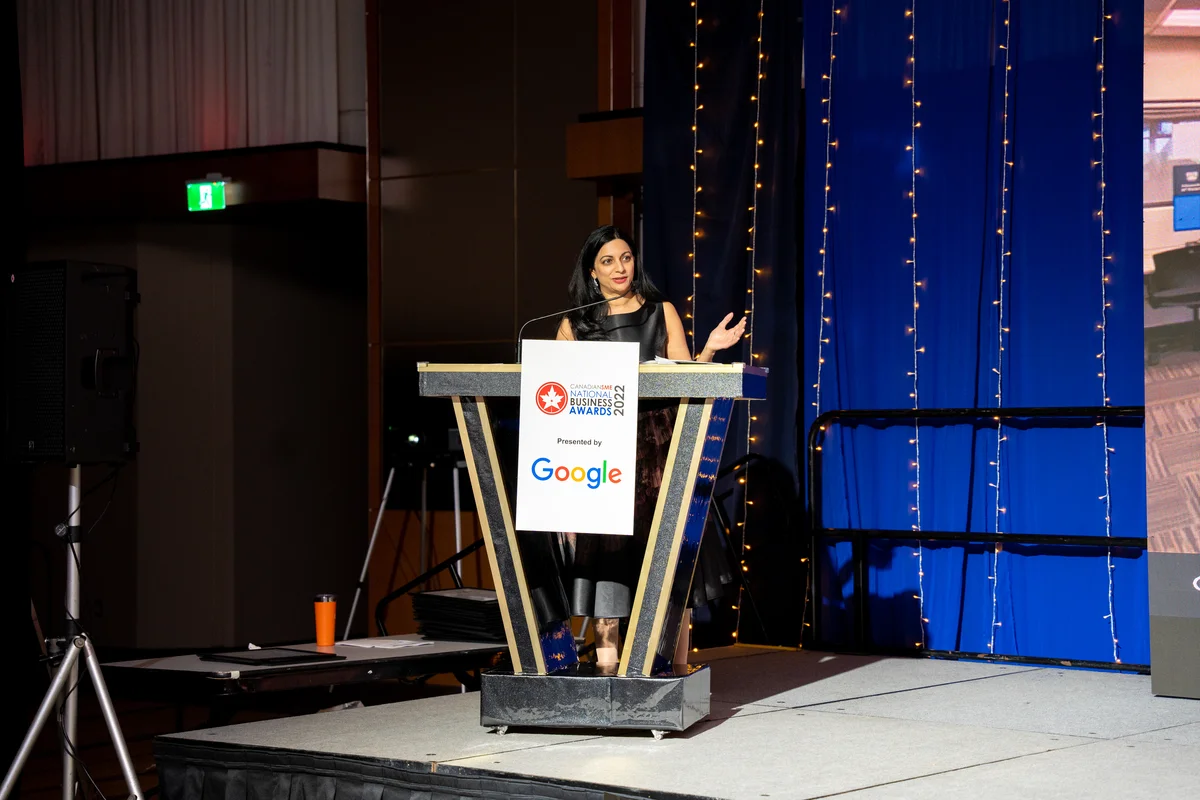 Everyday, Canadian small and medium sized businesses (SMEs) are using digital to take their business to the next level. Businesses like The Ordinary are using digital to expand internationally, Soft & Butter built an online store with ShopHERE powered by Google, and Cheekbone Beauty are using tools like Google Trends and Google Analytics to inform their product development.
In my role at Google, I have the privilege of working with some of Canada's most innovative SMEs, helping them unlock local and international growth. I've seen time and time again that digital is the ultimate force multiplier to help SMEs grow & thrive. On May 5th, Google Canada sponsored the fourth annual CanadianSME National Business Awards, where we celebrated the success of our beloved Canadian SMEs from coast-to-coast. The event recognized entrepreneurs and small businesses across Canada for their impact across 26 unique categories.
During the event, I shared a keynote on the third major technological shift we're currently experiencing – the shift to artificial intelligence (AI). First, there was the arrival of the internet. Then there was the second shift, to mobile. Both of these shifts changed the world, and created enormous growth and opportunities. Now we're seeing a third shift: AI. And this one is another once in a generation shift. The possibilities of AI are endless in helping people, the planet, businesses and communities to unlock new opportunities to achieve their full potential. But it doesn't work without the combined power of human knowledge and ingenuity – and this is particularly true when it comes to running a successful business. When it comes to driving profitable growth and results, we believe that AI is your business multiplier. And marketing is at the heart of this.
Following the CanadianSME Awards, we spoke to four businesses that attended about what made 2022 a success for their business and how they plan to grow in 2023.
Webtmize, a media marketing company based in Montreal, sees Diversity & Inclusion as a key enabler of their success. They were this year's recipients of the Diversity & Inclusion Award:
Peninsula Canada, a Toronto-based HR, Health & Safety advisory company, is a prime example of how partnership has allowed them to protect more Canadians. This year they were finalists for three awards: Customer Service Excellence, Fastest Growing Company & Best Professional Services:
Surex, an insurance brokerage in Burlington, said access to robust data and insights have been instrumental to enhancing their business operations and customer experience. Lance Miller and Matthew Alston, Surex's co-founders, were finalists for this year's Entrepreneur of the Year and Technopreneur of the Year awards.
Ecobee Inc., a Toronto-based home automation company, is committed to creating and maintaining an inclusive environment. This year, they were finalists for the Diversity and Inclusion Award.
It was amazing seeing so many entrepreneurs recognized, many of whom have overcome all odds to build successful businesses in Canada.
As the daughter of former small business owners, I can imagine this new shift to AI can feel overwhelming given all the demands on small business owners today. The key is to recognize that AI can help you improve productivity. By "automating the ordinary to focus on the extraordinary" AI can help you connect with your customers in new & exciting ways.
At Google, We believe our approach to AI must be both bold and responsible. We are very excited to continue our work with SMEs across Canada to help them grow, thrive and adapt through this third technological shift.
For small and medium-sized businesses looking to capture the full potential of digital, visit Think with Google Canada.