New Pixel devices for your pocket and your home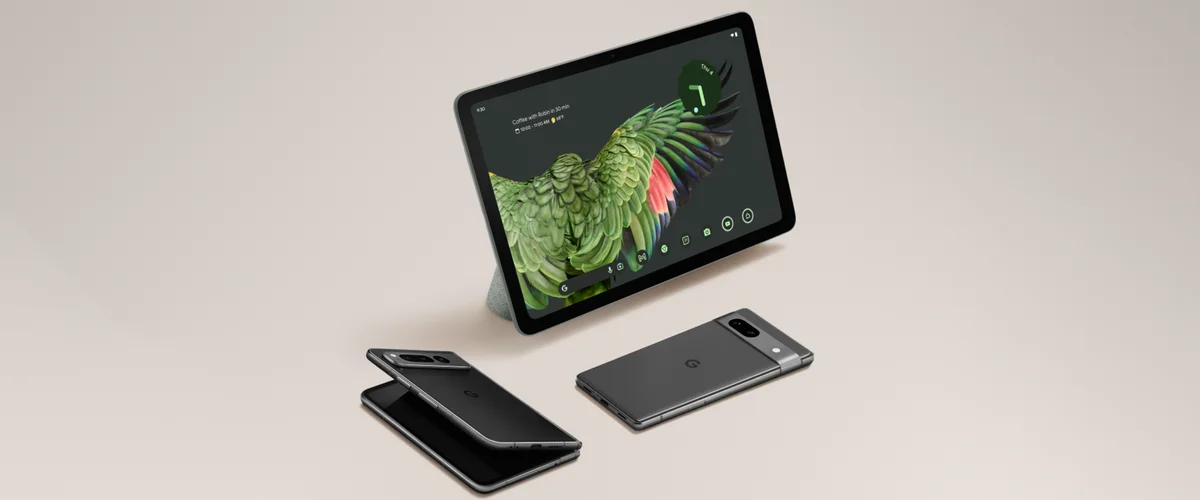 Today we announced the latest additions to our Pixel portfolio of products: Pixel Fold, our first foldable phone; Pixel Tablet, our tablet designed to be helpful in your hand and your home; and Pixel 7a, the latest A-series phone.
For years, Pixel has brought together AI breakthroughs from across Google and put them into a device you can hold in your hand. Combining the on-device intelligence of Google Tensor with Google's AI in the cloud, and Android's latest innovations, allows us to deliver truly Personal AI. So your Pixel adapts to your needs and preferences and anticipates how it can help you save time and get more done. This Personal AI powers all those helpful features and experiences that Pixel is known for like Pixel Camera, Pixel Speech, and Pixel Call Assist.
This combination of hardware and software brings to life years of research and innovation from Google. Here's a look at the new devices — all powered by Google Tensor G2 — that bring Pixel's helpfulness to more places.
Pixel 7a: Our latest A-Series phone is packed with many of the must-have features on our premium phones, including Face Unlock, 8GB RAM, up to 90 Hz display and wireless charging for the first time. Available for purchase today from $599 CAD.
Pixel Fold: Our first foldable phone has the best camera on a foldable phone¹, and opens to a 7.6-inch screen and folds to a familiar smartphone silhouette. The Pixel Fold will be available in select countries for $1,799 USD, and at this time will not be released in Canada.
Pixel Tablet: Our tablet has a brilliant 11-inch display within an aluminum enclosure textured with our unique nano-ceramic coating, designed for entertainment and gaming. It's paired with a Charging Speaker Dock to keep it charged up and ready to go, and becomes a helpful smart home device that you can use hands-free. Pre-order Pixel Tablet starting today bundled with the dock for $699 CAD.
From a broad selection of smartphones, watches, earbuds and now tablets and foldables, the Pixel family continues to grow into a dynamic hardware portfolio. There are now more ways than ever to experience the helpfulness Pixel is known for, whenever and wherever you need it.
Learn where each product will be available and sign up for product updates.
¹Among foldable phones in markets where Pixel Fold is sold. Based on a third-party report.