New ways to answer your health questions in Canada
What's the first thing you do when you have a question about your health? If you're like most Canadians, you head online. At YouTube Health, we're constantly working to make it easier for Canadians to find reliable information to help answer questions about their health. This includes partnering with leading health organizations to create and surface video content, and putting health professionals at the core of our efforts to connect people with helpful content, like our work with the Public Health Agency of Canada to dispel COVID-19 misconceptions.
We're also expanding the use of product features to surface authoritative and relevant health information. Starting this week, people in Canada will see these new features next to a range of health-related searches and videos.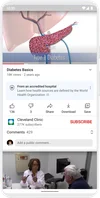 Health source information panels will help viewers identify videos from authoritative sources and health content shelves will more effectively highlight videos from these sources when you search for specific health topics. These context cues are aimed at helping people more easily navigate and evaluate credible health information.
To identify which sources to include in our health features, we initially used a set of principles developed by a panel of experts convened by the National Academy of Medicine (NAM) in the United States. As we expand these features internationally, we want to ensure a consistent set of principles to identify authoritative health sources across the globe. The World Health Organization and NAM recently convened a meeting of interdisciplinary experts from around the world to review and validate principles for global application.
These new features are an important step to strengthen our ability to connect people with high quality information. While only accredited health organizations and government entities are currently included in our health context features, we're exploring ways to broaden eligibility and evaluate inclusion of other health sources.
Right now 93% of Canadian users say they visit YouTube to gather information and knowledge. These features will help Canadians find more accurate and relevant information instantly, and part of our broader commitment to help users discover authoritative sources when it comes to health news and information across our platform.
I've spent my career trying to advance the ways that we can better reach people with the information they need to make the right health choices for themselves and their families, and I've had a front row seat as our approaches evolved from pamphlets handed out at doctor's offices to online patient portals and telemedicine.
I believe that the next phase in health communication is video, where we can connect with people and answer their questions in a way that is both visual and personal. I joined YouTube Health because I believe that this platform, with 2 billion monthly active users, has the potential to be a transformative tool for public health and can positively impact communities at scale. We know that there is more work to be done and our investment will continue for the long-term.