Digital-first advertising solutions for TV programmers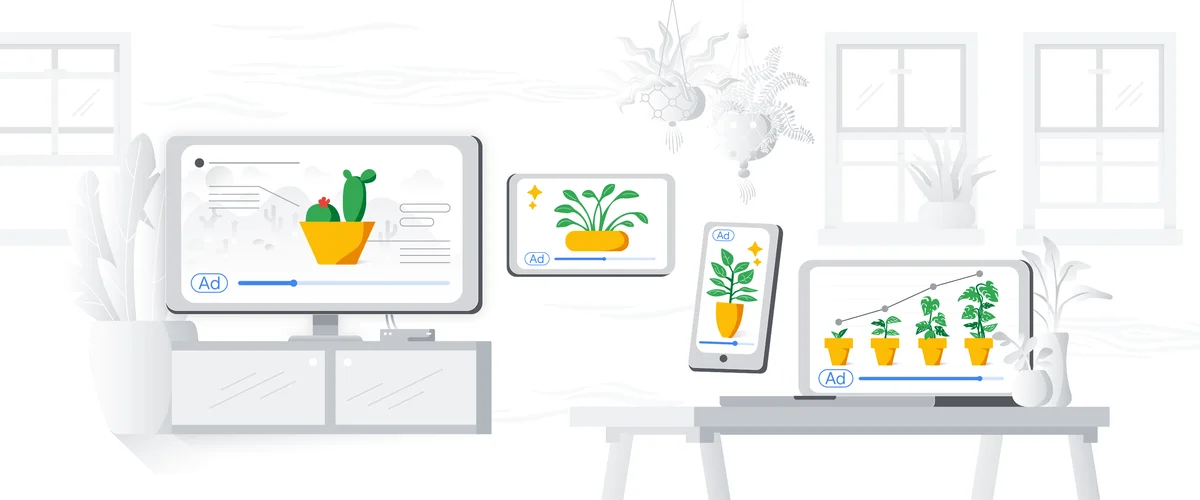 The TV industry is going through a digital transformation as viewers watch more content in their living room on over-the-top (OTT) and streaming services. In fact, in the first half of this year, we saw connected TVs become the leading device in North America for Ad Manager programmer partners.1 As TV converges with digital, we've been developing new advanced TV solutions that combine the flexibility and precision of digital with the scale and control of TV to help innovative media companies like Disney, Univision, and many more deliver seamless, personalized, and measurable ads. Today we're adding new features to our advanced TV solutions for programmers including inventory sharing, ad break templates, TV forecasting and pacing, and real-time reporting.
Seamless ad experiences between programmers and distributors with inventory sharing
Programmers often have complex inventory sharing agreements with many content distributors, including traditional TV operators and digital distribution partners like virtual multi-channel video programming distributors (vMVPD) and OTT services, in which they share a portion of their ad inventory. To help remove some complexity, Ad Manager has launched a new inventory sharing feature that allows programmers and distributors to configure flexible inventory sharing rules in an easy-to-use workflow. Partners are now able to manage rules—like category exclusions, frequency caps, or yield management—across different inventory shares even when a distributor is using a different ad server from their programming partner. By bringing the automation of digital to traditional inventory sharing agreements, partners can deliver seamless ad experiences in all the places their content is available.
Personalized ad experiences with ad break templates
Ad Manager's Smarter Ad Breaks suite offers partners the ability to deliver personalized ad experiences to viewers, while maximizing revenue and yield across both reservation and programmatic ads. We're enhancing this product suite with the launch of Ad Break Templates which brings more TV-like control with digital flexibility to every commercial break. Ad Break Templates allow partners to craft a truly customized ad experience with an easy drag-and-drop functionality where they can specify the order, length, and type of ad spot in each commercial break for both live and on-demand content. Whether starting with a sponsorship ad, ending with a bumper ad, or designating a specific spot where a programmatic ad appears, Ad Break Templates give publishers the control they need for their commercial breaks. These templates can also be applied to future commercial breaks once they see what's working best.
Our Smarter Ad Breaks suite is not only making it easier for partners to customize their commercial breaks, but also to increase revenue. Partners using Smarter Ad Breaks have seen over 50 percent revenue uplift compared to video ads served in a traditional manner.2 
Measurable ad experiences with TV forecasting and real-time reporting
Live events like sports have become especially popular in streaming environments because they allow viewers to watch anywhere, but they can be challenging to monetize due to unpredictable viewership spikes. Ad Manager's TV forecasting now makes it possible for partners to accurately pace their TV inventory according to historical data and custom curves. Partners can fine tune their forecasts to account for peaks and valleys of season premieres, finales, live events, and everything in-between. This means sports streaming companies can more precisely pace ads in their live college football games ahead of time, so that they're not over or under sold, and can earn the most money from every commercial break. 
Building on our TV forecasting capabilities, Ad Manager's new real-time reporting feature allows programmers to validate that their campaigns are running as expected during an event. Live events are known for having a large amount of high-valued inventory available to fill in a short period of time, and any delivery issues can result in substantial missed ad opportunities. Real-time reporting provides partners a way to quickly identify and fix ad delivery issues in real time across their live and on-demand content. So when the basketball playoffs or the big college football matchup are streaming, people continue to have a broadcast-quality viewing experience and partners can continue to grow revenue. 
These features are only the beginning of a truly converged TV and digital future. As we look ahead, we'll continue to see our TV programming partners leverage more digital benefits, like the ability to use programmatic guaranteed to complement their TV sales and upfronts. And we'll be focused on continuing to develop more digital-first ad features made for TV that empower our partners, today and in the future. 
Learn more in our advanced TV product guide
1. Google Ad Manager, Ad Exchange, internal data, Q4 2018 - Q1 2019.

2. Google Ad Manager, internal data, March 2018