Helping partners scale connected TV monetization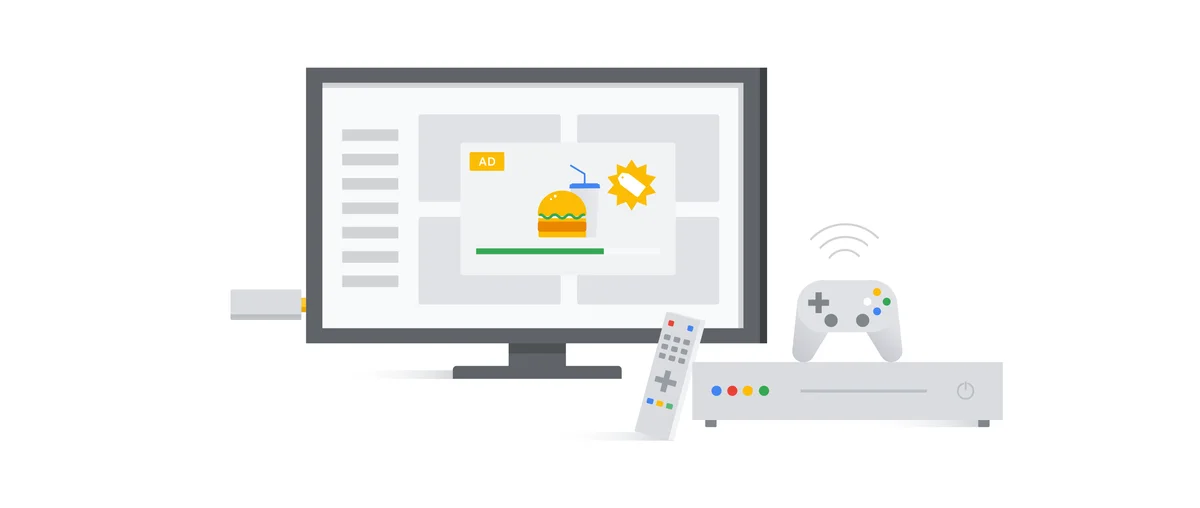 More people are streaming TV content than ever before—often through connected TV devices like streaming sticks and boxes, smart TVs, and gaming consoles. In fact, over the past year Google Ad Manager has seen a nearly 3x increase in the number of connected TV ad requests.1 This fast pace of growth, as users shift from traditional TV to digital over-the-top (OTT) streaming, creates an opportunity for partners to grow connected TV revenue, but has also resulted in challenges in scaling connected TV ads across the ecosystem. The lack of connected TV standards and programmatic signals is making it difficult for the ecosystem to verify, reach, and measure connected TV inventory, and even worse, is leading to an increased threat of fraudulent activity.
With Ad Manager, we're focused on enabling our partners to deliver a good viewing experience while preserving the safety, trust, and relevancy of the ads on our systems. For connected TV, it's no different and we're continuing to take a standards-driven approach as the ecosystem develops. Today we're sharing a set of new Ad Manager features that help partners scale connected TV revenue safely and effectively by leveraging industry standards and programmatic signals. 
Verify and increase the value of your connected TV inventory
To help programmers and distributors monetize connected TV ads at scale while respecting our Ad Manager video publisher policies, we're introducing new features that help verify their inventory is authentically represented. Our new Programmatic Access Library (PAL), currently in beta, is an easy-to-implement lightweight SDK alternative for partners who are unable to integrate with our Interactive Media Ads (IMA) SDK due to technical limitations or complex video setups. While the IMA SDK remains our recommended default monetization solution with all safeguards and access to demand in place, PAL offers partners with more technical setups the ability to securely pass programmatic signals, enable inventory verifications against fraud, and streamline workflows that don't require content to be manually tagged. This ensures that all partners—regardless of their technical setup or how they choose to work with us—can programmatically monetize connected TV inventory on our platform. 
We're also integrating additional connected TV app identification capabilities into Ad Manager that ensure each ad request is coming from a connected TV app's content owner or authorized seller. While we work with the IAB Tech Lab to scale the adoption of the app-ads.txt standard for connected TV, this beta feature offers extra verifications for partners and devices that haven't yet integrated with the standard. It increases device categorization and ensures signals like app name, app/bundle ID, and Identifier for Advertising (IFA) values are passed to Authorized Buyers, including Google Ads and Display & Video 360, and Open Bidders so that connected TV inventory is authentically represented across all demand channels.  
Grow advertiser demand for connected TV inventory
To make it easier for our partners to unlock advertiser demand, we're launching features to enable viewability measurement and frequency capping on connected TV inventory. With inferred viewability measurement for connected TV, viewability is assigned to connected TV inventory so that it's eligible for advertising campaigns that may have viewability goals. As an interim solution until an industry standard is available, this can enable advertisers to discover and run ads on desirable connected TV content and help partners grow more revenue. 
We're building on Ad Manager's existing integration with the IAB Tech Lab's IFA standard by adding support for Session ID. This allows partners to implement a temporary IAB Tech Lab-compliant connected TV advertising identifier if the device doesn't currently support an IFA value for advertising. Session ID helps partners adhere to advertisers' frequency cap settings and measure campaign reach, which also minimizes the number of repetitive ads users see on connected TVs and results in a better viewing experience. By satisfying these common advertiser requirements, Session ID can help increase advertiser demand for our partners' connected TV inventory. 
Increase user trust and transparency in your connected TV inventory
Ad Manager's connected TV solutions also help partners provide more transparency and control to viewers, which can increase trust in their connected TV content and inventory. As a part of this, we're launching 'Why this Ad' settings for ads on connected TVs which provides viewers with more information on why an ad is being shown to them on connected TV content. This provides more transparency to viewers about the ads they see and even gives them the option to mute certain ads, which results in a better viewing experience that will keep them coming back to your content.  
These new Ad Manager features help our partners scale their connected TV monetization using industry standards and programmatic signals, increase advertisers' ability to discover and reach new audiences on premium connected TV inventory, and provide more transparency to users. As viewership on connected TV continues to gain momentum, we'll be working with the industry to increase adoption of standards like app-ads.txt and building for a safer and more sustainable connected TV future for everyone.
1 Google Ad Manager Internal Data, Global, 2H '18 vs. 2H '19