5 ways marketers can protect their brands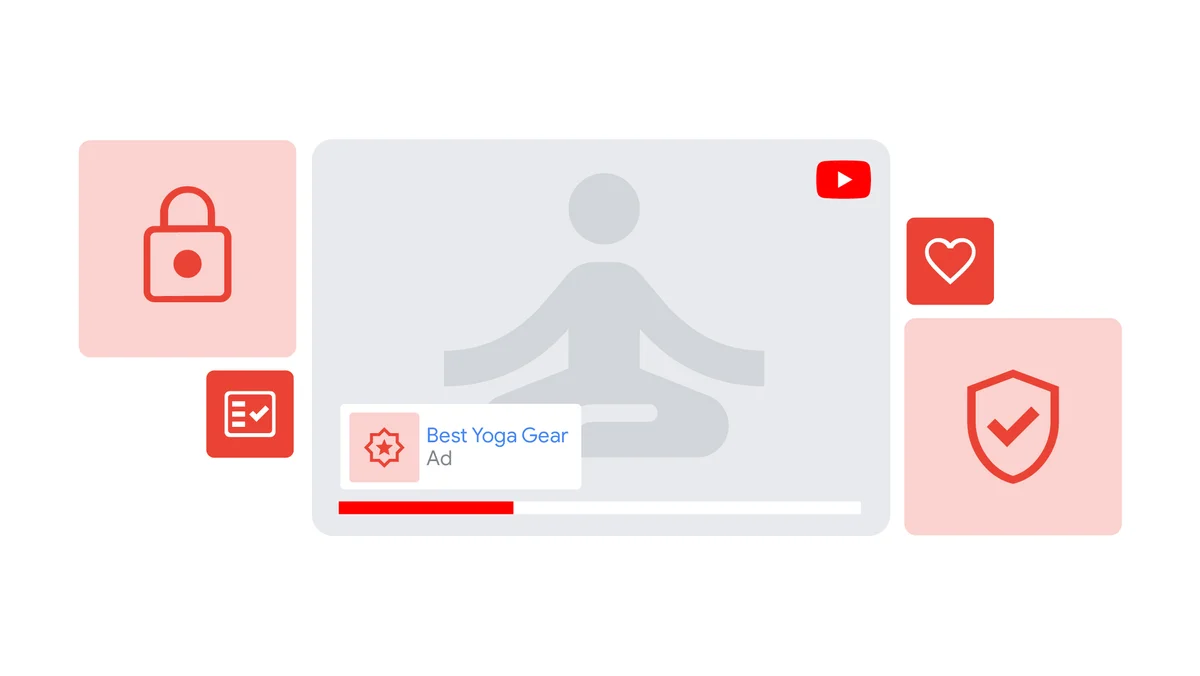 In our dynamic industry, one thing won't ever change: marketers and users alike need to trust the entire ad ecosystem. That's how we can keep the web open and free.
Brand safety and suitability are top priorities for us. We actively enforce our publisher policies and work to ensure your ads on YouTube don't appear next to harmful content.
Because there is no one-size-fits-all approach, we're prioritizing transparency and control for marketers of all sizes. Today at Brand Safety Summit New York, we shared Google's vision for responsible advertising, informed by your feedback. Here are five methods to manage your brand safety and suitability.
1. Streamlining where you don't want your brand to appear
As important as suitability is, we've heard that you don't want to spend a ton of time managing your settings. More decisions and more buttons mean more opportunities for human error. We're simplifying how you manage your choices in a major way.
Available today globally, you can now more easily exclude themes on both YouTube and the Google Display Network. From sensitive news to health, you can act decisively on categories that aren't suitable for your brand. These themes are designed so that you can have more nuance and clarity when opting out of certain content.
2. Quantifying how brand safety affects your ad reach and performance
You've also told us that you want data to make informed decisions that balance your advertising performance with brand safety. In the past this may have felt as unscientific as trusting your gut but now it's much easier to calculate the tradeoffs.
Last year we announced the content suitability center so you can better manage where your ads appear. And earlier this year, we introduced estimated impact in Google Ads so you understand how your settings will affect inventory, impressions and cost. We're now making this available for all advertisers on YouTube.
The effect of exclusions on performance can be significant. Video campaigns that do exclude digital content labels (besides content suitable for families) see CPMs that are over 80% higher than those that don't exclude digital content labels (besides content suitable for families).1
With estimated impact, brands can understand the implications of content exclusions for ad reach and performance. Agencies can also play a huge role in helping clients navigate the available options.
3. Using Google AI to deliver ads responsibly
In an era of AI-powered ads, it's important to trust that you're reaching customers around suitable content. At YouTube, we've long relied on a combination of people and AI-powered technology to enforce our ad-friendly and community guidelines. Viewers, advertisers and creators alike benefit from a safe, vibrant platform.
Specifically, AI can detect patterns that help us find content similar to what we've already removed, in some cases before it's even viewed. We use AI to identify and remove spam automatically and remove re-uploaded content already determined to violate our policies. It's an approach we use for comments and ads on YouTube, too.
Inputs from our teams of human reviewers are used to further train and improve the accuracy of our systems on a much larger scale, so our systems are always getting better.
4. Working with the industry to validate our approach
Our combination of people and technology is working but you don't have to take our word for it. We recently received content-level brand safety accreditation from the Media Rating Council for the third consecutive year. This continued accreditation followed an extensive audit that reviewed not only our policies and team of human raters but also the technology that analyzes the videos uploaded to the YouTube platform2.
Additionally, we prioritize safe and suitable ads experiences across platforms and formats. We're pleased that YouTube advertising meets 99% effectiveness for brand safety across in-stream, livestream, Shorts and Watch Next and Home feed content as determined by GARM brand safety standards3.
5. Helping you tailor ad placements across YouTube
Our inventory is safe, and we're making it easier to tailor your ad placements across inventory and formats. We recently expanded our suitability inventory types to more areas, notably YouTube Shorts. Inventory types are a simple, straightforward way for marketers to align the goals of campaigns with groups of available content.
With standard inventory, you can access the very best of YouTube, all of which must adhere to our advertiser-friendly guidelines. This is what we recommend for most advertisers. Depending on your brand, you can switch to either limited or expanded inventory. With this approach, we're enabling your ads to be safe and suitable.
UK-based BT Group, one of the world's leading communications services companies and a long-time believer in brand suitability, has been testing inventory types on YouTube for the past year. "Using these new controls, we have been able to develop an approach which extends our reach but ensures our ads appear within appropriate brand-safe content," says Graeme Adams, General Manager of Media at BT Group.
Use inventory types to pair your appetite for inventory with your brand's preferences.
The work of keeping brands safe online is never done. Thanks to your feedback and partnership, we're excited to continue evolving the overall advertising experience. And we'll continue advocating for what you need. You can tell your story to the right people, in the right contexts, all with reliable safeguards for peace of mind.