Get your business ready for what comes next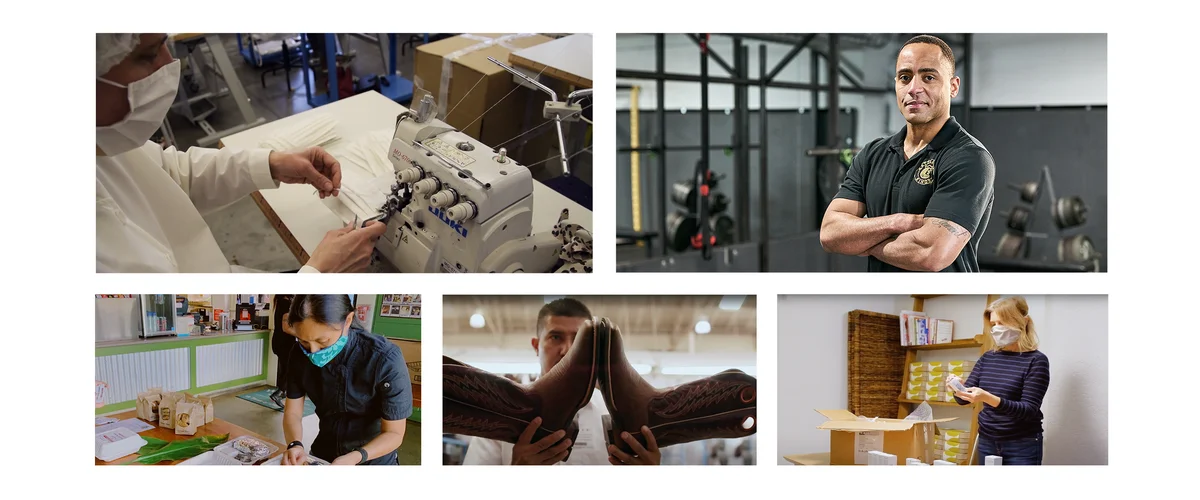 Advertising Week is an event I look forward to every year—it brings global thought leaders together to find new ways we can use technology to solve business challenges. Over the past few months, I've had a chance to meet virtually with many of you to learn how COVID-19 is impacting your business and how partners like Google can help. I've been inspired by how you're supporting your local communities and re-imagining ways to run your business. 
You've also shared great ideas for how we can build better solutions that help you grow your business online. Today at Advertising Week, I'm excited to share innovations that will give you new insights about changing consumer behavior and help you meet customer demand in real time through automation.

Get insights tailored for your business
Consumer behavior is constantly changing, and the pandemic has only accelerated the pace of that change. For example, Kettlebell Kings saw a surge in interest for home fitness products when communities began sheltering in place. By meeting this demand from customers, the team processed more sales in one day than they typically would have over the course of months! For Zazzle, an online marketplace for customized products, exploring search trends allowed them to identify rising categories like puzzles and outdoor games as people looked for activities to do at home. By investing in these categories, Zazzle was able to deliver on customer needs and improve campaign performance. 
These businesses are proving how important it is to stay ahead of shifts in consumer behavior in order to drive continued growth. That's why we're introducing the new Insights page in Google Ads to give you custom insights specific to your business. We're rolling out the beta in the coming months and will add new information over time—including audience and forecasting insights. 
The Insights page will feature a trends section that shows current and emerging search demand for the products or services most relevant to your business. For example, an outdoor retailer can quickly take notice of rising demand for tents as consumers gear up for more outdoor adventures. And a vacation rental company might see a growing trend for cabins. Explore these trends to uncover opportunities for categories you already promote in your campaigns—as well as for new, related areas you could tap into.
You can deep dive into a trend to understand which queries consumers are searching for or the geographic locations where demand is growing the most. These trends are aggregated and anonymized across many queries and can't be tied to any individual user. Also use the integration with recommendations to easily activate keyword, budget and bidding optimizations in a few steps. You can apply these learnings to unlock new business opportunities, like new product areas to pivot into or future promotions to highlight. 

Keep up with consumer demand and take action in real time
Insights help you keep a finger on the pulse of changing consumer demand, and automation makes it possible to act on it in real time. To bring the full value of automation to more businesses, we're introducing Performance Max campaigns, a new way to buy Google ads across all our inventory.
Google Ads currently offers fully-automated campaigns for app marketers, retailers, and businesses with physical locations to drive results across Google's surfaces. Performance Max campaigns will build on learnings from those campaigns to deliver a comprehensive solution that works for all advertisers across a wider range of marketing objectives. They'll deliver four main benefits:
1. Customer reach: Performance Max campaigns will complement your keyword-based Search campaigns, and be the most complete solution to help you drive conversions and revenue by unifying Google's ad inventory.
2. Performance towards your business goals: Over time, you'll be able to choose from multiple marketing objectives like online sales, new customer acquisition, and offline sales. For the first time, you'll also be able to drive new leads across Google from one campaign. Machine learning will automatically optimize for your most valuable customers across channels. 
A new goals-first setup makes it easier to fully define your conversion goals. For example, if your objective is to generate leads, you can make sure you're capturing both form submissions and phone calls as goals.
3. New reporting and insights: Get a deeper understanding of how machine learning is working for your business, such as which audiences and creative asset combinations are performing the best. Performance Max campaigns will also be included in the new Insights page to help you understand what's driving changes in your performance.


See which creative asset combinations perform the best
Use the new Insights page to get additional performance trends for Performance Max campaigns
4. New campaign inputs: While automation helps you drive better results, your expertise and knowledge of your business can improve how machine learning performs. Speed up the campaign learning process by specifying which audiences are most likely to convert. Combine these inputs with value rules to indicate which conversions are worth the most to your business based on characteristics like audience, location and device.

We're still in the early stages of testing Performance Max campaigns and will invite more advertisers to join the beta next year. You should continue to use existing campaign types to meet your business goals during this important holiday season.
Reach more viewers and inspire action
As people spend more time at home, video streaming is a key area where a "new normal" is emerging.  On YouTube in particular, over 2 billion people globally are gravitating towards timely content to stay entertained, keep up with current events, and learn new skills. In the coming weeks, Video action campaigns will expand to all advertisers to help you drive more conversions from video and inspire action across YouTube and Google video partners.
People are also watching YouTube in more ways than before—for example in the U.S., over 100 million people watch YouTube and YouTube TV on their TV screen each month. Given this boom in TV viewership, we'll continue exploring ways your ads can appear with Video action campaigns and test direct-response video ads on new surfaces like connected TVs over the next year.
Even as the world around us continues to change, our commitment to you remains the same: we're here to help businesses of all sizes grow online and get ready for what comes next. To learn more about our latest product innovations, watch the full Advertising Week keynote.