Demand more from social with AI-powered ads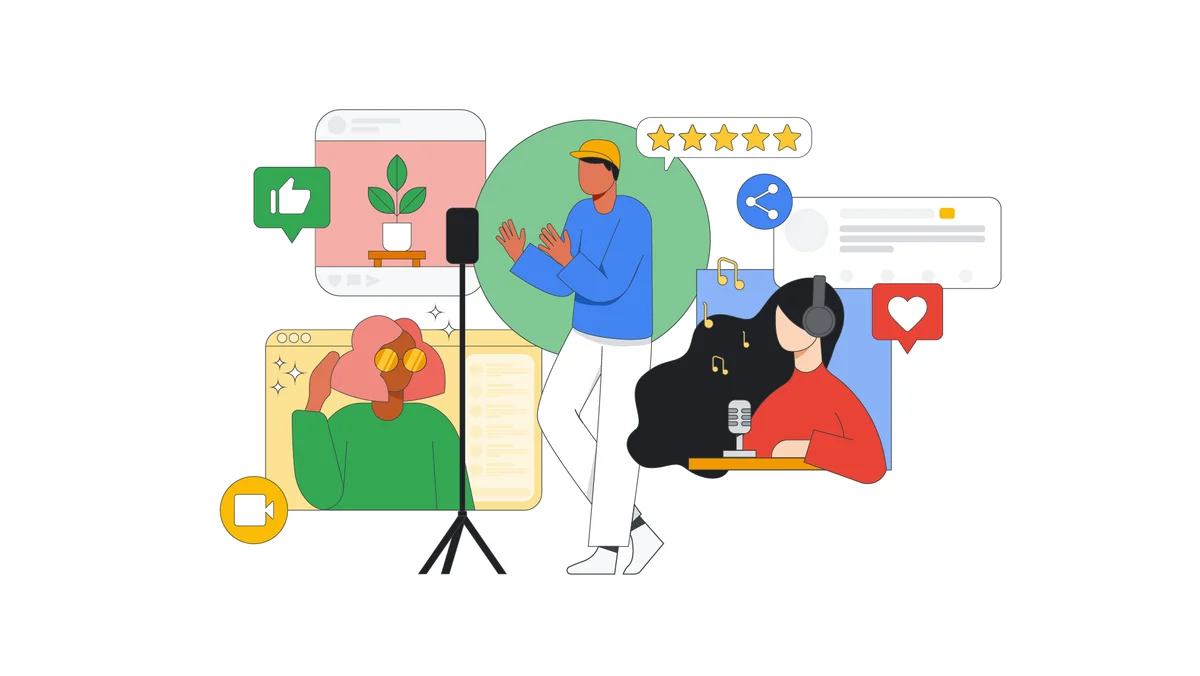 Whether watching NFL highlights on YouTube, scrolling through 60-second Shorts or checking Discover to stay connected to their interests, consumers today expect to engage with their favorite content and creators in multiple formats. In fact, 90% of users said they've watched content from a particular creator or artist across different formats over the past 12 months.1
And users are turning to places where they can engage with creators they trust the most. YouTube, for instance, is over twice as likely to be used when it comes to catching up on content from creators compared to other traditional social platforms.2
The way consumers discover products is also shifting — decisions are made throughout the funnel. Compared to traditional social sites, online users are 61% more likely to use YouTube or Google to research products/brands,3 and 67% more likely to buy a product after seeing it in an ad on
YouTube.4
To keep up with this evolving media landscape, social advertisers need to adapt their strategies to deliver results. In June, we introduced Demand Gen campaigns to help you capture the interest of billions of users as they spend time on YouTube and Google's visually immersive touchpoints. The engaging creatives can spur action while our audience and bidding solutions help you nurture interest with more potential customers.
After strong beta results and positive feedback from thousands of advertisers, we are excited to share that Demand Gen will now roll out to all Google Ads customers around the world starting on October 10th, 2023.
Demand Gen is the next generation of Discovery campaigns and it comes with all the key features available in the product today, while also delivering new features, inventory, insights, plus an improved ad creation flow. Discovery ads upgrades will roll out starting this week through early 2024.
Create thumb-stopping ads tailored for your audiences
Demand Gen offers a variety of formats to help brands craft their stories – from short-form videos to carousels – the choice is yours. Using a mix of videos and images, Naranja X, an Argentine fintech company, tested Demand Gen to increase website traffic. When compared to paid social campaigns, Demand Gen achieved 3X higher click-through rates, at a 61% lower cost per action (CPA).
For retailers, you can add product feeds to create even more tailored experiences by combining videos with images and text from your catalogs – showing shoppers items based on their interests and intent. We've also improved the reporting UI to help you get more creative insights and drive better engagement. In addition to those available in Discovery campaigns, you can now segment performance by formats and identify where to focus your creative optimization efforts.
Engage new audiences at scale with advanced audience and bidding solutions
By combining your first-party data with Google's interest signals, the new Lookalike segments can help you find new customers beyond those who are already familiar with your brand. Then, you can maximize performance by choosing the bidding strategy that fits best with your goals – such as clicks, conversions or website actions.
Using Maximize Clicks bidding in Demand Gen, Samsung Germany was able to scale site traffic and drove an impressive 400% uplift in click-through rates compared to their benchmarks in April 2023.
Agencies like PHD Media are also seeing a huge success in using Demand Gen to scale their performance beyond social media platforms: