Decoding decisions to grow online sales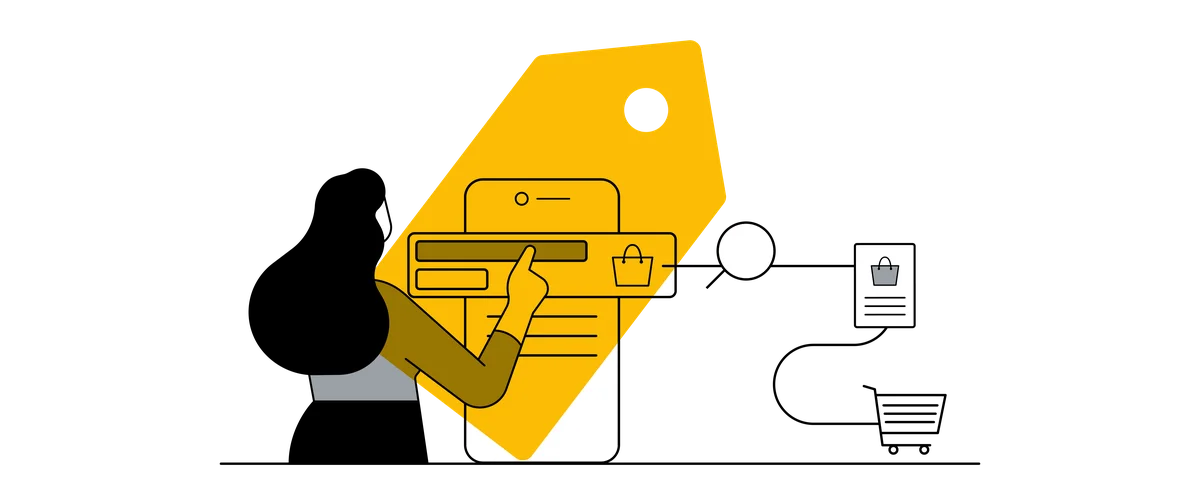 With more consumers sheltering at home, digital adoption has rapidly accelerated and changed consumer shopping behavior globally. Consumers are looking for new and delightful products related to the home; for example, searches for "planter box" grew 200 percent year over year globally. They're finding ways to celebrate from afar, with global searches for "online gift" increasing by over 100 percent year over year, and we saw 600 percent more searches for "click and collect" year over year, indicating shoppers around the world are keen to skip delivery and get what they need right now.
With so much information and choice available online, the space between the purchase trigger and the purchase itself has become incredibly complex. Through the lens of behavioral science, our latest Decoding Decisions research reveals how shoppers manage this complexity—we call it the "messy middle"—and codifies behavior into two mental modes: exploration (an expansive activity) and evaluation (a reductive activity). Discoveries made in the "messy middle" often determine the outcome, so it's a critical space for businesses to connect with shoppers and win brand favor.
We're focused on helping you influence the hundreds of millions of shoppers who come to Google every day. Today, we're adding new ways to showcase and augment your brand and products visually to spark action across Search, Shopping, and Display ads; optimize and grow your customer acquisition volume; and amplify your e-Commerce experience.
Rich, personalized creatives across Search, Shopping, and Display ads
Rich ad creatives are the key to engaging shoppers as they navigate the "messy middle." Of people who shop online, 85 percent say product information and pictures are important to them when deciding which brand or retailer to buy from. Recently, we shared how Discovery ads can help you visually inspire shoppers scrolling their feeds on YouTube, Discover, and Gmail as well as how you can make your videos shoppable on YouTube. Today, we're bringing the same rich product experience to Search, Shopping, and Display ads.
To help you grow online sales with your Search ads, we're launching an image extensions beta program. You can easily add high-quality, rich assets, so shoppers can quickly see products to consider and take action faster. With image extensions, you can upload relevant images or automatically curate them from your website with machine learning. Hugo Boss used image extensions with responsive search ads and saw a 2.5x improvement in ROI and 5 percent bump in clickthrough rates.
New image extension beta on Google Search to visually represent your brand and products
In addition to rich image assets, we're introducing new ways to further personalize and curate your responsive search ads for today's shoppers. You can now dynamically highlight sales or time-sensitive deals with a countdown and get suggestions on how to promote online availability, shipping, and returns.

New responsive search ad features to highlight your sales, promotions and shipping offerings
For retailers, we're offering more visual ways to stand out from the competition with Smart Shopping campaigns.1 Beginning today in the U.S., you can now highlight features like free and fast shipping, which has shown to increase average conversion rates by 9 percent. Later this year, you'll be able to better differentiate with a dynamically curated carousel of your most relevant products in a new immersive, browsable shopping experience plus include video content in your Display ads.

New visual shopping formats in the United States through Smart Shopping campaigns with free and fast shipping annotations; an immersive, browsable shopping experience; and videos on Display ads
Building on the innovation from Search and Shopping ads, we're updating the look and feel for responsive display ads so you can better engage shoppers as they browse millions of sites and apps with your Display campaigns. Starting today, you have new creative layouts, automatically generated video ads, and updated dynamic ads—which can now display your business name alongside your logo, emphasize your latest promotions, and even spotlight a single product.

Updated look and feel of dynamic display ads, featuring beauty brand COSMEDIX
Automated bidding to find the right shopper 
Smart Bidding evaluates billions of combinations of relevant contextual signals present during the auction like time of day, device type, or operating system. This means you'll reach the right customers at the right time to drive more online sales—even when consumer demand fluctuates across Google—in real-time.
Last week, we shared several new tools like portfolio bid strategies and bid strategy reports to get more performance out of every dollar. Building on that, as of today, you'll be able to optimize your Smart Shopping campaign to grow online sales specifically from new customers.1 Retailers who participated in early testing for new customer acquisition are already seeing great results. IT Cosmetics, a makeup and skincare brand, added the new customer acquisition goal to their Smart Shopping campaign and saw a 188 percent increase in revenue from new customers.
Smart Shopping campaigns' new customer acquisition value
Resources and tools to achieve a fast, frictionless e-Commerce experience
The need for a fast, frictionless e-Commerce experience, particularly on mobile, has never been more prevalent. Businesses who embrace digital, particularly in our current environment, are able to engage consumers like never before.
"[Digital and e-Commerce] has allowed us over the pandemic to reach people where they are absolutely unequivocally spending the most of their time, which is online on screen." 
- Christina Tosi, owner of Milk Bar
Today, we're sharing a new collection of Online Sales resources on our Advertising Solutions Center. You'll find our latest customer research that delves deeper into the "messy middle," hear from businesses who pivoted to digital, and learn about our newest product innovations and resources to improve your e-Commerce experience. We'll continue to roll out more videos about our new products on the Advertising Solutions Center in the coming weeks.
New collection of Online Sales resources on the Advertising Solutions Center
We hope these latest updates will help businesses capture online shopping demand and achieve their marketing objectives.
---
1. In Europe, Smart Shopping campaigns can be used with any Comparison Shopping Service (CSS) you work with. The ads will show on general search results pages and on any other surfaces the CSS has opted in to.