Upgrade to Google Analytics 4 before July 1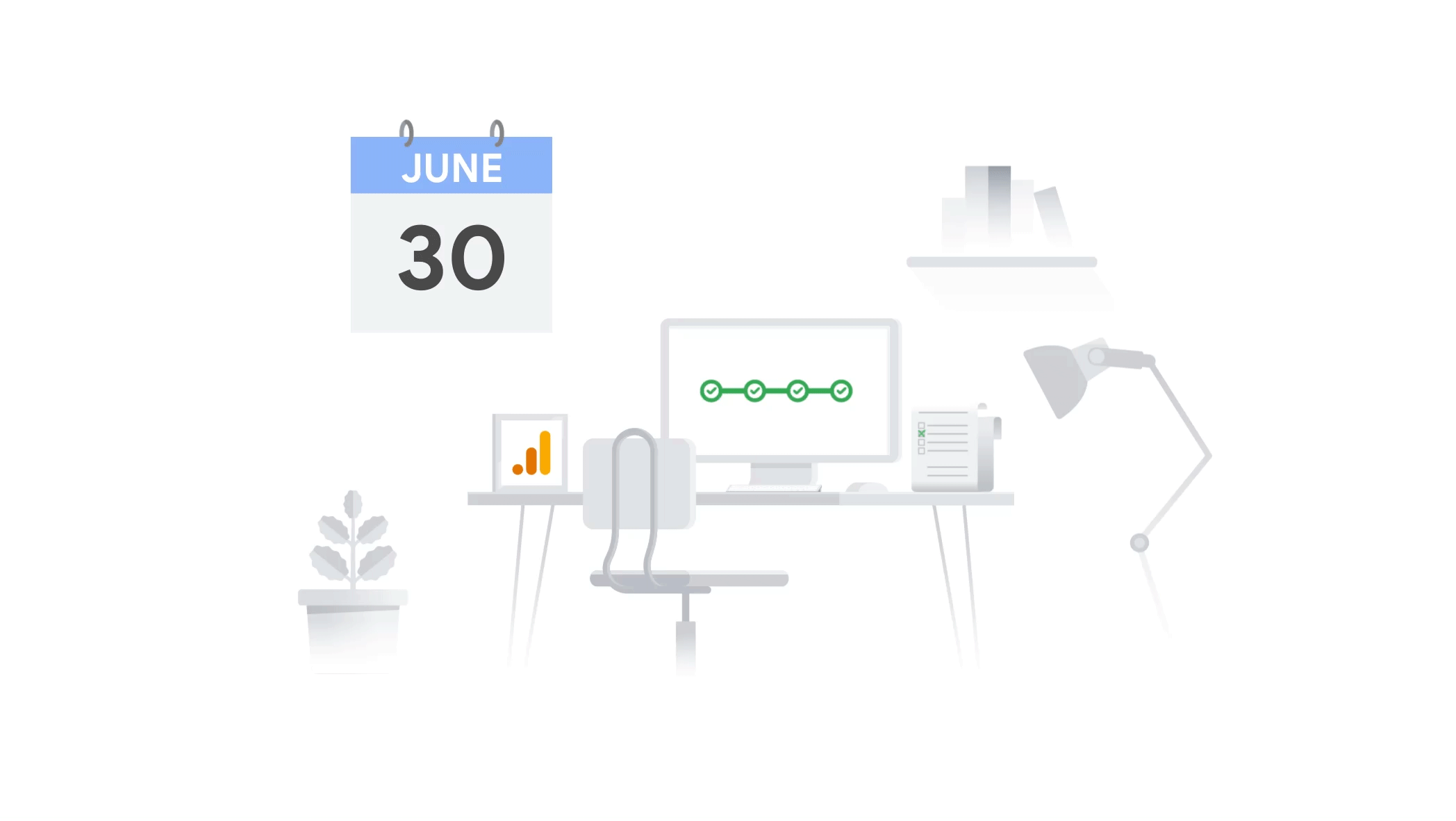 The sunset of Universal Analytics is coming soon and it's time to move to Google Analytics 4. Starting July 1, 2023, standard Universal Analytics1 properties will no longer process new data. We know your Analytics data is important, so we want to make sure you're fully set up on Google Analytics 4 before the sunset date to eliminate potential gaps in coverage.
What happens after July 1 to your Universal Analytics property?
Starting July 1, 2023, you'll still be able to access your standard Universal Analytics properties in your account, but only for historical reporting, which will be available until July 1, 2024. No future data will be available in reporting, your audiences will no longer add users, and the products you've linked with Universal Analytics will stop receiving data. This includes any audiences and conversions you're using in Google Ads. The campaigns that rely on this data will likely stop, so it's important to check your campaign setup to make sure that there is no disruption to performance. For example, if your Google Ads campaigns are bidding on Universal Analytics conversions, you should switch them to the equivalent conversions in Google Analytics 4.
To learn more about what happens after July 1, 2023, see our guide to prepare for the Universal Analytics sunset.
Complete your Google Analytics 4 setup
The majority of Analytics users now have a Google Analytics 4 property that's fully set up to take over from Universal Analytics and be their primary measurement solution. However, many of these properties need further customization to fit your measurement needs. This could be the case regardless of how your property was created, including if it was programmatically created for you. So, be sure to log in to your Google Analytics 4 property and verify that your settings are optimized for your business.
We're constantly improving our Setup Assistant to better guide you through the steps to create a successful Google Analytics 4 property. There are additional tools available to further automate your setup, and you can mark which steps you've completed as you go. In addition, our new training hub makes it easier than ever to learn the ins and outs of Google Analytics 4. It offers personalized paths tailored to different business needs and sophistication levels. Additional tutorials, videos and courses are being added regularly, so this is a site you'll want to bookmark.
What's new with Google Analytics 4?
Recently, at Google Marketing Live, we shared new product innovations in Google Analytics 4 that will help activate your AI-powered insights to drive ROI for your campaigns.
One such AI-powered solution is the ability to import fractional credits, based on data-driven attribution, from Google Analytics 4 to Google Ads. For example, if a customer clicks on two Search ads, a YouTube ad and a newsletter before making a purchase, partial credit for the ads can be imported into Google Ads, regardless of the final touchpoint. So, say goodbye to last-click attribution and hello to the improved performance you should see now that you're bidding for the true value of each ad.
Create Google Analytics 4 audiences directly in Google Ads
Starting this month, we are also introducing the ability to build Google Analytics 4 audiences, including predictive ones, directly in Google Ads. So, you can be more efficient in creating your audiences in the same tool you use to manage your campaigns.
Google Analytics 4 audience builder in Google Ads.
When marketers use Google Analytics 4's predictive audiences, they see better performance. For example, German online retailer baur tapped into predictive audiences for a recent Google Ads campaign. By using an audience of likely purchasers, the conversion rate grew by 87%. The company also calculated that 70% of these customers could only be reached using these predictive audiences in Google Ads.
With predictive audiences in Google Analytics 4, we were able to reach incremental high-performance consumers and increased our sales by 56% with 35% lower costs per order.
To use these new features, link your Google Analytics 4 account to Google Ads, then share your Analytics conversions for bidding and build Analytics audiences directly in Google Ads.
Supporting new privacy-preserving technologies
In an evolving privacy and technology landscape, the ads industry needs to rethink the way we approach measurement. AI-powered solutions, such as behavioral and conversion modeling, give you a complete view of performance without compromising user privacy. In the next few months, we'll also introduce support for Privacy Sandbox APIs for the web while exploring similar integrations on Android. For the web, we will support display remarketing and custom audiences use cases with the Protected Audience API, formerly known as FLEDGE, and integrate with the Attribution Reporting API for measurement.
Investing in SKAdNetwork integrations
To enable you to better measure and optimize your iOS App campaigns, Google Analytics 4 already helps you integrate with SKAdNetwork for cross-channel install reporting and attribution. If you aren't already using a Google-approved App Attribution Partner to set up your app's SKAdNetwork conversion value schema, in the coming weeks we're releasing new tools to configure your schema in Google Analytics 4. Setting up your schema lets you assign values to the in-app events that matter to your business, so you can better optimize bidding in your iOS App campaigns for install. This bidding optimization is currently available in beta.
All of our latest product updates were designed to help you get the most from Google Analytics. They put your insights to work for you, in the places you need them, all while respecting user privacy. Of course, these new features are only available in Google Analytics 4. So if you haven't made the switch, now's the time. The Universal Analytics sunset is coming soon — starting July 1.