Driving results with video at every stage of the customer journey
People increasingly visit YouTube to learn new things, in addition to entertaining themselves and connecting with others. In many ways, YouTube has become as much an information destination as an entertainment hub. And that quest for information certainly extends to brands, products and services. So what does that mean for marketers?
It means video has a role to play in every stage of your consumer's journey. And in order for you to be effective during each and every interaction, you need options.
This week at Google Marketing Live, we shared the work we're doing on new ad formats and bidding strategies for YouTube that are designed to align to your campaign objectives—whether you want to build awareness for your brand, shift perceptions or drive a specific action.
For brands with awareness or reach goals, we built TrueView for reach. It brings our primary in-stream format together with the simplicity of CPM buying. In an initial TrueView for reach test, used car retailer DriveTime drove 2,400 dealership visits at a CPM 40 percent below what they were paying for local TV, enabling them to reach 66 percent more people at the same budget.
Beyond reach, many brands rely on YouTube's attentive audience to shift perception—be it consideration or purchase intent. To help you accomplish and measure this, we're launching Maximize lift. This new bidding strategy uses Google's machine learning and continuous brand lift measurement to help you efficiently reach people who are more likely to consider your brand after exposure to an ad. COVERGIRL recently used Maximize lift bidding with TrueView in-stream ads to influence consideration for their Lashblast mascara and drove an estimated 2x return on ad spend.
Increasingly, video is also leading people to take action. In fact, globally, conversions generated by YouTube ads are up 150 percent year over year.1 Using TrueView for action, you can drive any action on your website that's important to your business, like booking a trip, scheduling a test drive or requesting more information.
Later this year, we'll introduce a new flavor of TrueView for action designed to help you generate high quality leads directly from your video ads. This new form feature enables people to submit their email address or phone number directly from your video ad, making it even easier for them to sign up for your service or learn more about your business. Additionally, you'll soon be able to choose between Target CPA bidding and Maximize conversions bidding for TrueView for action campaigns, giving you more ways to drive even better results.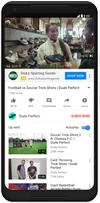 While effective on their own, these new ad options for YouTube truly shine when used in concert. That's what DICK'S Sporting Goods did during last year's holiday season.
To build awareness and reach a broad audience with an inspirational message showing the brand's commitment to youth sports, the retailer used TrueView for reach. They built on this momentum with standard in-stream, TrueView in-stream and six-second bumper ads to deliver promotional messaging to in-market audiences. Then, they followed up with TrueView for action ads to drive people to their website to buy.
This strategy moved their customers seamlessly through the full purchase journey, achieving a return on ad spend of 10 to 1.
DICK'S Sporting Goods demonstrated one approach to a full-funnel YouTube strategy, but the possibilities are vast. We're excited to see how you use YouTube to deliver results at every stage of your customer's journey and we'll continue to build solutions that help you do so.
1  Google Internal Data, Global, 6/1/16 - 5/1/17 vs. 6/1/17 - 5/1/18