From discovery to click, new YouTube ads capabilities for more effective video storytelling
The heightened role of video throughout today's consumer journey is an exciting opportunity for marketers to build connections that drive better business outcomes. At Advertising Week New York, we're announcing new ways for marketers to become more effective full-funnel storytellers using the combined power of YouTube's creative canvas with Google's machine learning and measurement solutions.
Help viewers take action with extensions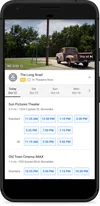 Soon you'll be able to make your video ads more actionable with a greater variety of ad extensions. Similar to extensions on Search ads, extensions on YouTube enhance your video ad with additional useful information—giving consumers more reasons to take action. You can already add location and form extensions (currently in beta) to your TrueView in-stream ads. Now we're exploring additional use cases that encourage viewers to complete lower-funnel actions like finding the next movie showtime, downloading an app or booking a trip.
Brands like Vodafone, Chili's, 20th Century Fox, Headspace and Maybelline are already using extensions for video ads to bring more relevance to their mobile ads and drive impact on the metrics that matter most. Using extensions, Vodafone drove a 2.3x incremental lift in Ad Recall and a 3.5 percent CTR—a 785 percent increase over their regional benchmark.
Measure the full impact of your video campaign
Video storytelling isn't just about driving short-term campaign wins—it's also about driving measurable results at every stage of the consumer journey. We know this is easier said than done, which is why we're evolving our Brand Lift solution and partnering with IRI to make it simpler for advertisers to measure and act upon upper- and lower-funnel metrics.
Based on your feedback, soon you'll be able to set up Brand Lift studies directly in Google Ads or Display & Video 360 and conveniently view reporting alongside your other ad metrics. We've also started sending Brand Lift surveys continuously throughout the duration of your campaign so you can understand how your video ads are influencing viewer perceptions in near real time. Additionally, we've introduced two new metrics: lifted users, the number of people who were influenced by your ad, and cost-per-lifted-user to make it easier for you to optimize your campaign's effectiveness and cost-efficiency. To get the most out of these new measurement tools, we recommend using Maximize Lift bidding.
We're also ramping up our investments in Google Measurement Partners to ensure our advertisers can measure YouTube media with measurement solutions that meet rigorous, verified standards. We work closely with partners to ensure their solutions respect user privacy. In addition to Nielsen Catalina Solutions (NCS) and Oracle Data Cloud, soon CPG advertisers will have the option to measure their YouTube media using IRI. These offerings complement geo experiments with Nielsen MPA, giving advertisers a variety of options for seeing the offline impact of their video ads. Last week we also announced expanded integrations for brand suitability and reach reporting, continuing our commitment to providing both quality and choice when it comes to helping marketers better understand their media investments.
We're excited about how these capabilities can help take your campaigns to the next level, driving real business impact all along the customer journey.