New YouTube features to help you navigate the streaming boom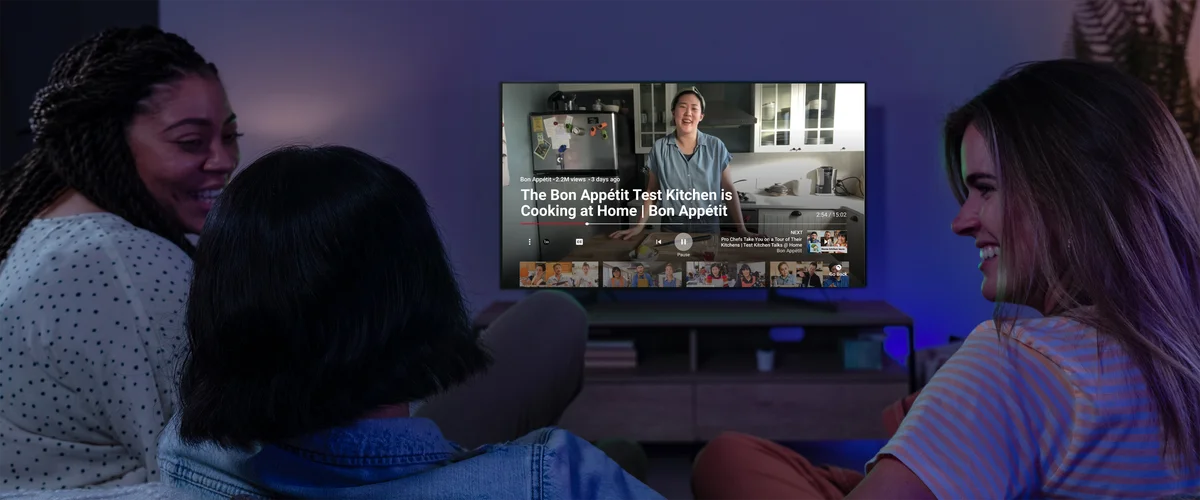 Viewer attention is shifting dramatically as we spend more time at home–and we've heard directly from many advertisers that are working quickly to adjust their creative and media strategies, especially to orient toward streaming platforms.
Today, we are sharing new advertiser insights and accelerating the launch of a number of tools–including Brand Lift measurement on the TV screen and more flexible formats for content casted onto the TV screen–to help advertisers navigate this rapidly changing environment.1
People are streaming on TV screens more than ever

As people spend more time at home, we're seeing major shifts in streaming viewership. A recent Comscore report highlighted that over 70 million US households are now streaming content on their connected TV screens.
Nowhere is this shift more pronounced than on YouTube and YouTube TV. According to Comscore, YouTube has the highest reach and viewing hours among ad-supported streaming services, and represents a quarter of all streaming watch time across both subscription and ad-supported platforms in the US.2 Stay at home directives have amplified this shift to the TV screens, as overall watch time there has jumped 80 percent year over year in March 2020.3
Diversity of viewer passions and interests is what inspires people to stream YouTube on their big screens–from tuning into their favorite health and fitness videos to leaning back with a creator sharing a bit of their world to watching more traditional media outlets reinvent their content for this new reality.
Below, we've shared just a few of the top content growth areas across both YouTube and YouTube TV on TV screens during this time. While people are enjoying movies and shows to unwind, they are also watching live content from their favorite creators and cultural moments.
People are also gravitating to the consistently new and fresh content YouTube creators put out every day. In fact, over 60 percent of signed-in viewers of YouTube on TV screens watched a video published in the last 7 days.4
And, we see different user behavior when people engage with YouTube on the TV screen–it's often enjoyed with others, unlike the more individual experience on the mobile device. In a recent custom Nielsen study commissioned by Google, we found that 26 percent of the time, multiple 18+ viewers are watching YouTube together on the TV screen, compared to 22 percent on linear TV.5  
Making it easier to measure results across YouTube streaming platforms
With increases in watch time and an influx of daily visitors, brands in a position to continue marketing can make their budgets go further on YouTube by expanding their strategies to incorporate streaming.
With media mixes becoming increasingly reliant on streaming, it's more important than ever to measure its impact. As a result, we're accelerating the launch of Brand Lift for YouTube on TV screens. For viewers, this means surveys are now optimized for the big screen and interactivity with a TV remote, so people can easily respond or skip the survey.
This will enable marketers to make informed decisions about ad performance, and better optimize streaming campaigns in real time whether they are using Google Ads or Display & Video 360 for both reservation and auction campaigns.
Whether a campaign is focused on ad recall, purchase intent or awareness, Brand Lift will help make budgets go further. It will be available in the coming weeks for the YouTube app, and in early Q3 for YouTube TV. 
Bringing more formats to the big screen
As viewers spend more time watching YouTube on the TV screen, we are continuing to evolve to help advertisers better reach their customers where they are.
Late last year, we launched the YouTube Masthead on TV screens to help advertisers drive awareness with a large audience in a single moment. Advertisers like Uber are seeing success using this format to reach their audiences when they're in lean back mode and where they are increasingly spending their time.
Travis Freeman, Global Head of Media at Uber said, "The Masthead on TV screens has been a critical component to build awareness for our #MoveWhatMatters initiative—which offers 10 million free rides and food deliveries for frontline healthcare workers, seniors and people in need. The Masthead, deployed in both the US and Canada, enabled us to easily amplify our message and reach our audiences where they are watching now more than ever."
This year, we're also bringing more format flexibility to streaming by introducing the popular skippable ad format for content that is casted onto the TV screen. As casting watch time soared by over 75 percent year over year,6 this provides advertisers a new way to reach their audience as they embrace the evolving ways consumers are watching their favorite content.
In a time when an eager audience is hungry for new content, YouTube is able to deliver fresh video to households across the world daily—within the niche or mainstream categories they love. By accelerating new tools and features, we're committed to helping you grow your business in the changing world of viewership and streaming on TV screens. 
Reach out to your Google sales team to learn more about YouTube and YouTube TV on TV screens, and the new features shared today to support your campaigns.
---
1. TV screens include all consumption on Smart or Connected TV's, TV streaming devices, game consoles and set-top boxes
2. Comscore OTT Intelligence, Oct. 2019, U.S
3.  YouTube Internal Data; US, March 2020 over March 2019 YoY
4. YouTube Internal Data; Global, March 11-April 10 2020
5. Custom Nielsen study commissioned by Google. Custom YouTube cTV match to Cross-Platform Homes Panel. Coviewing percentage is calculated as the percentage of minutes when a P18+ is watching with another P18+ in the same household. YouTube commercial viewership identified by matching served time of the cTV ping with Cross-Platform Homes Panel viewership during that minute. Linear TV is based on Live Total Day viewing of commercial minutes across all broadcast and cable networks. One minute qualifier. 11/5/2019-11/28/2019; 2/14/2020-2/29/2020. Results among US TV Households
6. YouTube Internal Data; Global, March 11-April 10 2020 over March 11-April 10 2019 YoY