Drive back to the '70, '80s, and '90s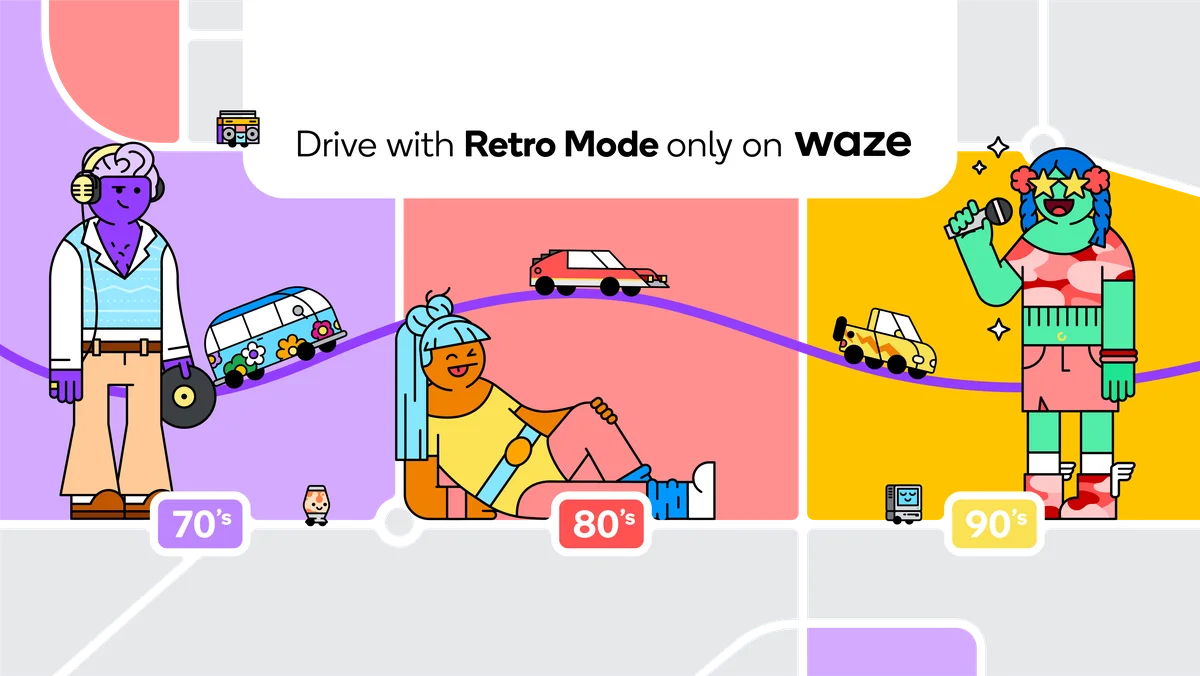 Is your affection for yesteryear rooted in the '70s disco movement, an '80s aerobics studio or '90s pop songs? For a drive back in time (and onwards to your next destination), activate Waze's nostalgic new driving experience.
Retro Mode celebrates personalities and trends from the years most firmly cemented in today's pop culture. Turn your next drive into a trip down memory lane with nostalgic moods, voices and cars.
Set your vibe on Waze to '70s peace, love and happiness with an eccentric radio DJ as your host and navigator, a flower-power "El Vanarino" as your vehicle and a groovy lava lamp Mood.
If Jazzercise is more your speed, break a sweat with an '80s aerobics instructor to guide your journey, while you maneuver in a Rad Racer sports car with a "Pumped!" boombox Mood.
Or you can head back to the '90s in your classic two-door "SUV4EVA" while a pop star helps you avoid traffic and the paparazzi. Set your Mood to "Dialed Up," a classic desktop PC, but without the pain of waiting for your crush to sign online.
Also starting today, audio streaming service TuneIn is partnering with Waze to deliver '70s, '80s and '90s songs, allowing you to seamlessly access your favorite nostalgic bops directly via the Waze app. Stations include Hit Music 70's in the UK, 90's Hits in the US and Canada, and 80's Alive in France. To listen through your Waze app make sure to sync your Audio Player.
For a drive that transports you to a new decade, click "My Waze" in your Waze app and tap the "Drive with the 80's" banner to activate. It's available globally, in English, French and Portuguese, for a limited time.