Celebrating Africa's Rich Heritage and Vibrant Culture This Africa Month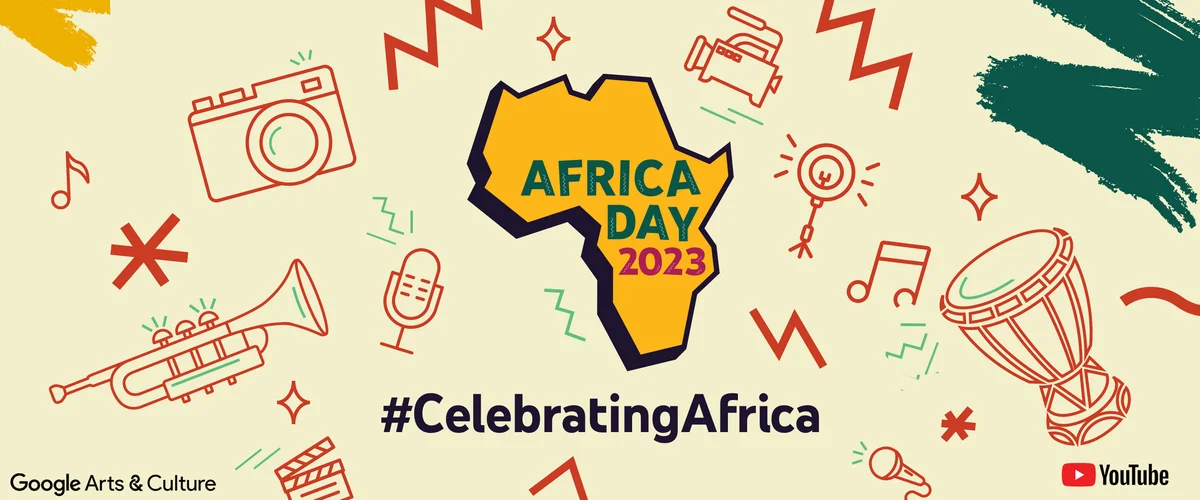 Africa's cultural heritage is rich and diverse, shaped by thousands of years of history, traditions, and customs that have influenced art, music, fashion, and more across the world. This legacy is a testament to the creativity and ingenuity of its people, and as we celebrate Africa Month, we honour the immense contributions of African cultures across the globe.
To commemorate Africa Day, we want to celebrate the immense creativity that emerges from this region. Throughout the month, we will showcase stories, artistic expressions, and ideas that define African cultures. We would like to share a series of curated programs and activities to inspire Africans and people from around the world to explore, learn, and celebrate this remarkable continent. From music to art, storytelling to cultural sites, these programs aim to showcase the creativity and ingenuity that is so abundant on the continent.
The Africa Day Playlist on YouTube Music
There's no better way to honour the diversity, energy, and creativity of the continent than through its music. From the pulsating rhythms of West African afrobeats to the soulful sounds of South African jazz, African music has been a source of inspiration and joy for generations. That's why we're excited about the Africa Day playlist on YouTube Music, featuring the most popular and trending songs from various African artists.
This isn't just any playlist. It is a celebration of the vast spectrum of African music that will get you dancing, singing, and feeling the spirit of Africa. Moreover, we're inviting the public to play an active role in shaping this celebration.
You have a chance to contribute to the Africa Day playlist by submitting your favourite African songs via YouTube Shorts. It's an opportunity to share the songs that move you and help shape the playlist.
So turn up the volume, submit your favourite tracks, and let the music transport you to the heart of the continent.
introducing the Africa Day playlist on YouTube Music
Launch of 6 New Pocket Galleries on Google Arts & Culture
We're thrilled to share the news of six exciting new pocket galleries on Google Arts & Culture, expertly curated by our esteemed partners in Nigeria, Kenya, and South Africa. The pocket gallery is a feature on the Google Arts & Culture app, that offers an immersive experience that goes beyond traditional exhibitions. Using augmented reality, you can simply pull out your phone and step into a virtual exhibition space, allowing you to see all the captivating artworks, artefacts, and immersive experiences as if you were physically there. In Nigeria, the Yemisi Shyllon Museum has curated two remarkable exhibitions. "Water Under The Bridge: An Exploration of Migration and Memory" takes you on a thought-provoking journey through the works of Nigerian artists, exploring themes of identity and authenticity. "Foundations of Contemporary Art in Nigeria" celebrates the evolution of Nigerian contemporary art, from its colonial roots to vibrant postcolonial modernism, showcasing the trailblazing works of Nigerian art pioneers. In Nigeria as well, Terra Kulture presents "Interwoven Horizons: Bridging Generations," a celebration of two generations of Nigerian artists - Baby Boomers and Gen Z - showcasing their unique artistic styles, techniques, and mediums.
Across the border in Kenya, the Mohamed Amin Foundation presents "Mohamed Amin: Eye of Africa," an extraordinary collection of photographs capturing the essence of Africa from the 1940s to the Ethiopian famine, encompassing the East African safari rally, 70s fashion, Hajj pilgrimage, Africa's independence, and more. Meanwhile, the National Museums of Kenya invites you to explore the "Living Forests," an enchanting exhibition that deepens your understanding of the Sacred Mijikenda Kaya Forests in Kenya, unveiling their ecological wonders, cultural significance, and historical narratives.
Interwoven Horizons - Terra Kulture

Foundations of Contemporary Art - Yemisi Shyllon

Mohamed Amin -Eye of Africa - Mohamed Amin Foundation

Water Under The Bridge - Yemisi Shyllon

Living Forests- National Museum of Kenya

Artology - University of Pretoria
Lastly, the University of Pretoria in South Africa proudly presents "Artology," a collection of iconic works by renowned artists such as Irma Stern, Lucky Sibiya, Sydney Kumalo, and William Kentridge. These captivating artworks weave together the complex tapestry of South Africa's art history, narrating stories from diverse perspectives and experiences across different periods. We invite you to embark on a virtual journey and immerse yourself in the vibrant artistry and cultural narratives of Africa.
Stories and Storytellers of Africa Initiative
We're excited to launch the "Stories and Storytellers of Africa" initiative, a celebration of the vibrant narratives and talented storytellers from Africa. Through an extensive collection of African movies and series on YouTube, we shine a spotlight on these remarkable creators who are dedicated to showcasing Africa's richness through the art of storytelling. On Africa Day, we honour their commitment by highlighting this exceptional catalogue, inviting viewers to delve into narratives that ignite dialogue and foster understanding of the continent's diverse cultures, histories, and experiences. These powerful stories serve as a bridge, connecting cultures and offering a window into the resilience, vibrancy, and richness of Africa. Join us in immersing yourself in these captivating narratives, to learn, be inspired, and engage with the diverse voices of gifted African storytellers, who entertain, enlighten, and reflect the vibrant tapestry of Africa.
Celebrating African Stories
"Showcase Your Africa" Storytelling Series on YouTube
Through our "Showcase Your Africa" storytelling series on YouTube, we invite content creators, influencers, and everyday individuals to share their unique African stories and experiences. We hope to create a platform for people to tell their own stories in their own words, and in doing so, to share the rich tapestry of African culture with the world. By highlighting the diversity and creativity of African communities, we hope to inspire people around the world to engage with and celebrate the continent's rich cultural heritage.
Finally, we invite you to explore the continent's rich cultural heritage through 13 carefully curated online experiences available on Google Arts & Culture. These experiences offer a unique blend of the continent's roots and rhythms, taking you on a journey through Africa's diverse landscapes, communities, and traditions. From virtual visits to cultural institutions across the continent to celebrating the beauty of colour through the works of African artists, there is something for everyone.