Empowering the next generation of tech innovators in Sub-Saharan Africa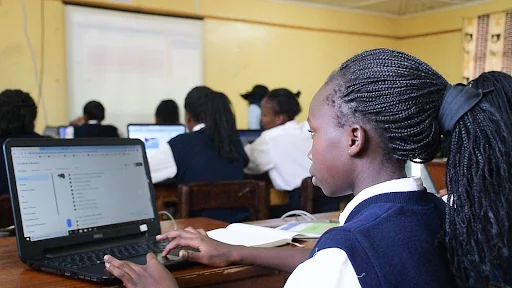 In Sub-Saharan Africa, where the International Finance Corporation (IFC) has projected that around 230 million jobs will require digital skills by 2030, it is vital to equip young students with the necessary skills to thrive in the future workforce. Education has the power to create a better future for all, particularly in the constantly evolving technology landscape.
To this end, we have been investing in technology education through our CS First program, which helps educators teach computer science concepts to elementary and middle school students. This program has helped over 160,000 young students in the Sub-Saharan region learn coding in the past three years. By making computer science education accessible and engaging, with self-paced projects on interesting topics like game design, animation, and storytelling, we can help make this education more welcoming for students from diverse backgrounds. We also provide training materials and ongoing support for teachers to help ensure that all students can access this education.
However, we recognize that there is much more work to be done, and that's why we are excited to announce our partnership with Cape Town Science Center to expand our efforts in Kenya, Nigeria, and South Africa. This partnership supports local organisations to offer CS First coding workshops that seek to empower over 10,000 students. We believe that these coding clubs can be a valuable way for students to learn coding, collaborate, and develop the necessary soft skills that will prepare them for the future workforce.
The following partners will run workshops throughout the region:
These courses will help to provide students with the skills, tools, and resources they need to succeed in the digital age.
By providing these resources and training opportunities, we hope to empower a new generation of students to innovate, and to help pave the way for a more equitable and prosperous future in Sub-Saharan Africa. We believe that everyone deserves the opportunity to learn and thrive, and we are committed to doing our part to make that a reality.