Championing Women in Africa on International Women's Day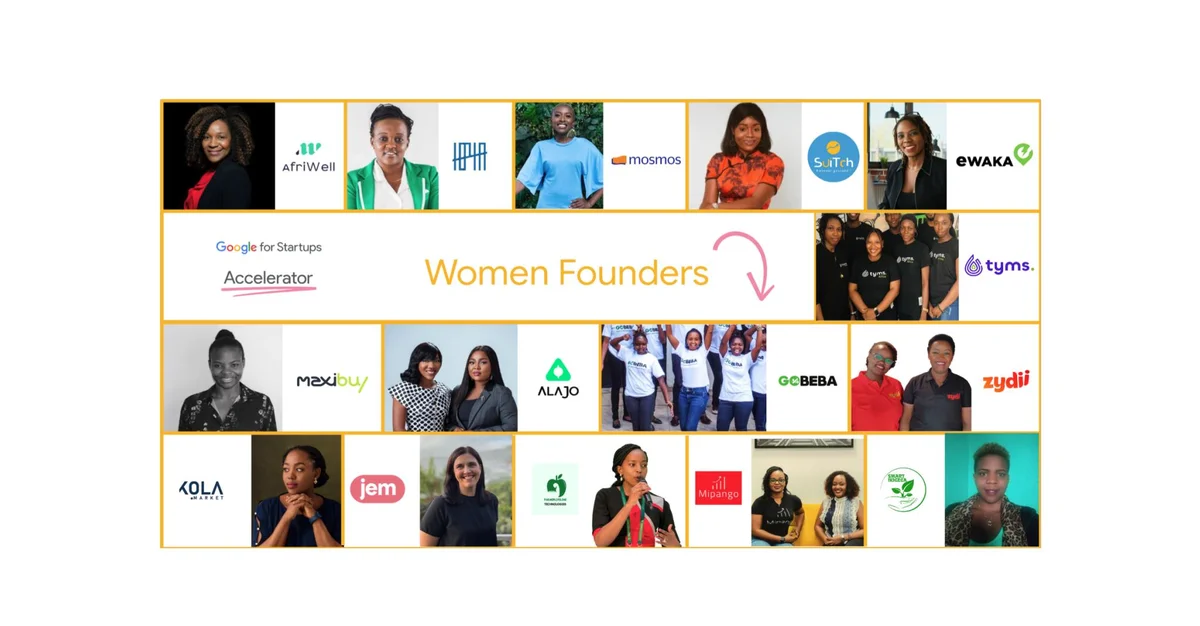 Empowering women isn't just the right thing to do—it's the smart thing to do. When women succeed, we all succeed."
As we celebrate International Women's Day, we're reminded of the challenges faced by women entrepreneurs in Africa. Women are a driving force in Africa's technology sector, but access to funding and technical expertise continue to be a challenge for many. This year's theme, "Embrace Equity," underscores the importance of bridging the gender gap and promoting equal opportunities. We believe that empowering female entrepreneurs is crucial for building a more equitable and prosperous Africa.
To support this goal, we're announcing three programs this month to equip women entrepreneurs with the resources they need to succeed in the marketplace. These programs will provide access to funding, mentorship, and networking opportunities to help women entrepreneurs overcome the challenges they face.
Meet Google for Startups Accelerator Africa: Women Founders Cohort
We're happy to introduce the inaugural class of our Google for Startups Accelerator: Women Founders inAfrica program! These 16 startups from eight African countries are creating innovative solutions that improve livelihoods in their communities. From creating sustainable agricultural practices to enabling accessible healthcare, these founders are paving the way for digital transformation in Africa.
The accelerator program aims to bridge this gap by providing business and technical workshops along with mentorship, and investor networking opportunities to women entrepreneurs. See the startups below.
Empowering Women-Led SMEs with Hustle Academy
SMEs are a vital source of economic growth in Africa, generating around 80% of jobs on the continent. However, without access to working capital, these businesses cannot invest in development, leading to stagnation. The Hustle Academy program empowers women-led SMEs in Africa through bootcamp-style training to help them boost revenue, position themselves for investment, and build sustainable businesses for the future. To celebrate International Women's Day, we will be hosting six women-focused cohorts of Hustle Academy in Kenya, Nigeria, and South Africa throughout March. Women entrepreneurs in these countries can apply to join by visiting g.co/hustleacademy. We look forward to your applications.
Celebrating Women with Inspiring Stories from #WomeninIT
We invite you to join us in celebrating the achievements of women in Africa through our #WomeninIT series. You will hear from 6 women who are breaking barriers and making an impact in the fields of technology, business, entrepreneurship and innovation. Follow us on Twitter (@GoogleAfrica) and be inspired by their stories and see how they are changing the game in their industries.
Meet the 15 startups in our inaugural Google for Startups Accelerator: Women Founders: Africa cohort in alphabetical order:
Afriwell Health (Congo) : Connects patients in Congo with healthcare professionals globally in a quick and efficient way.
Alajo App (Nigeria) : A digital piggy bank for the underbanked and non-smartphone users in Africa; building an escrowed banking system between Agents and Users using USSD and SMS, helping people save money every day.
eWaka (Kenya): A ridesharing platform offering on-demand electric micro-mobility for personal use and sustainable logistics for delivery businesses.
Farmer Lifeline (Kenya): A technological solution that places smallholder farmers ahead of crop pests and crop diseases to increase crop yield.
Gobeba (Kenya): A digital retail platform for distributing bulky household essentials to urban households in growing African cities.
Hepta Pay (Rwanda): A product that interfaces card payments with mobile money accounts, easing diaspora inflows.
Jem HR (South Africa): A software that plugs into any HR and payroll system, making it easy for employers to send payslips, manage leave requests, process salary advances and communicate with thousands of frontline employees using WhatsApp.
Kola Market (Ghana): A full-stack B2B e-Commerce platform providing Guaranteed Sales, Smart Inventory Recommendations, and Product Financing to SMEs in Africa.
Maxibuy (Nigeria): A cooperative inventory procurement and financial services platform for bulk buying merchants of consumer goods in Nigeria, enabling them to scale their businesses and gain the benefits of economies of scale.
MosMos (Kenya): A save-to-buy platform for Africa.
Mipango (Tanzania): A personal finance and robo advisory app for women and the mass market.
Smart Ikigega (Rwanda): Eliminating post-harvest loss for farmers and providing access to financial services digitally.
Suitch (Cameroon): Provides digital financial services to underbanked and non-banked populations to foster their growth.
Tyms Africa (Nigeria): Offers instant microcredit for microenterprises in Africa, powered by ROSCA.
Whip (South Africa): Whip is building a web3 marketplace for music promotional services that gives artists access to a wide range of trustworthy music marketing solutions.
Zydii (Kenya): A premier localised digital training solution which is engaging and accessible to the African workforce, leading to transformative growth for businesses.