Welcoming the Inaugural Google for Startups Accelerator: Climate Change, Middle East and Africa Cohort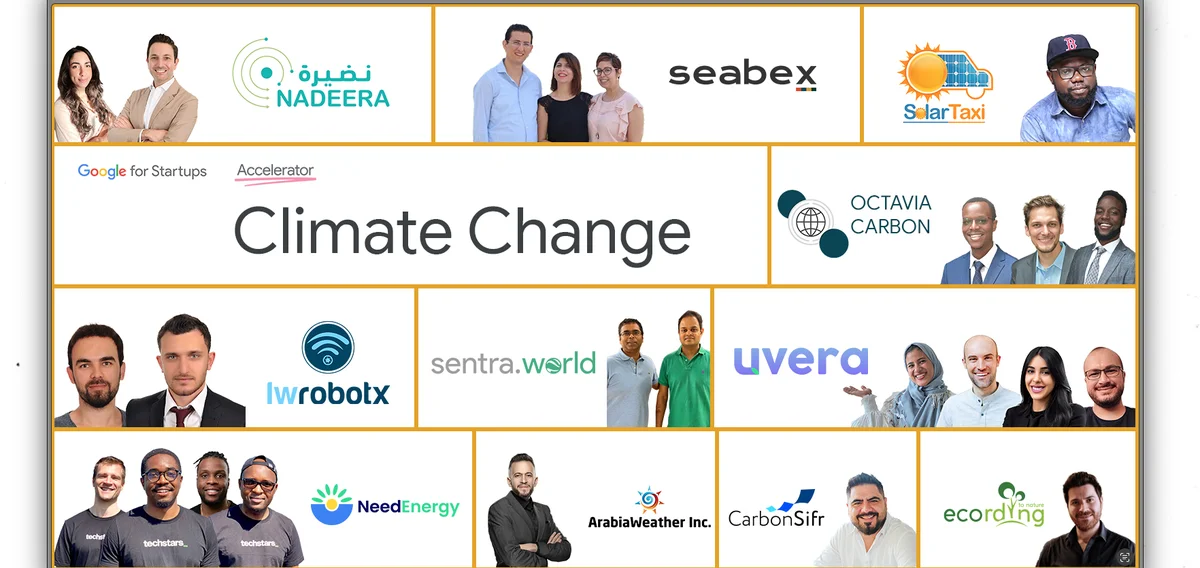 We're kicking off our first accelerator for the Middle East and Africa region by welcoming the inaugural Google for Startups Accelerator: Climate Change cohort, our new class of deep tech, climate-focused startups in the Middle East and Sub-Saharan Africa region.
The cohort begins with a bootcamp week, and we are excited to invite 11 startups for this exclusive week-long event. The bootcamp is focused on providing a comprehensive and immersive experience designed to empower and elevate the 11 startups founded in climate change initiatives with the right guidance, mentorship, skill-building and networking opportunities.
Meet the startups
Octavia Carbon (Nairobi) designs, builds and is set to deploy at-scale DAC machines that can directly capture CO2 from the atmosphere in the Kenyan Rift.
IWROBOTX (Turkey) provides Autonomous Sea Cleaning Robots & Vessels.
Uvera created a technology that can increase the shelf-life of fresh foods within 30 seconds, without any use of chemicals and without altering the sensory qualities of fresh foods, such as smell, texture, color and taste.
NeedEnergy (Zimbabwe) uses Data Intelligence to Provide Smart and Clean Energy Solutions. Our goal is simple - provide effective, intelligent solutions to Africa's growing energy demands.
ArabiaWeather (Amman) is a leading climate technology and weather intelligence company empowering industries and governments with accurate and innovative weather solutions.
Nadeera (Beirut) is a social enterprise that helps instill circular economy practices through technology-enabled interventions.
Based in Tunisia, Seabex's AI-driven sensorless precision irrigation solution empowers farmers with actionable insights for water-efficient crop growth.
SolarTaxi (Ghana) seeks to advance the growth and adoption of sustainable transportation through the provision of locally assembled electric vehicles.
Ecording (Turkey) is a social enterprise that develops sustainable and innovative environmental technologies against the global climate crisis.
Sentra.world (United Arab Emirates) is a SaaS platform powering ESG/ decarbonization for industrial businesses enabled by AI & blockchain
CarbonSifr (United Arab Emirates) empowers every person and organization in our region to take tangible climate action.
Most of the participating startups are working on advanced solutions using Google Cloud, AI and ML as well as other technologies to help climate mitigation.
Read more on their aspirations for the program below:
"We're excited about the prospect of joining the accelerator program, especially due to its focus on the Middle East and Africa region and climate change – two areas crucial to our startup's mission. The program's alignment with our goals to address environmental challenges aligns perfectly. Google's expertise in technology and data-driven solutions is unparalleled, and we believe that through their technologies, we can supercharge our AI strategy and enhance our models for precision agriculture. The resources, mentorship, and access to Google's network can significantly accelerate our growth, help us refine our offerings, and amplify our impact across the region". - Amira Cheniour, Co-founder & CEO, Seabex
"We are adding block chain technology to our existing near real time carbon traceability product. We are excited to leverage Google Cloud Blockchain Node Engine and Google's mentorship to add cutting-edge blockchain layers as we further enhance data integrity in carbon traceability. We see this as a strategic partnership as we connect carbon blocks along the value chain for "hard to abate" sectors." - Harsh Choudhry & Vikas Upadhyay, Co-Founders, sentra.world
"Google is known for solving the world's biggest problems and there is no doubt that climate change is the world's current biggest concern. Being selected by Google to continue our work with their help makes us feel confident that we are in the right ecosystem to win and bring impact, especially in Sub-Saharan Africa. Our big goal is to help bring clean energy access to over 200 Million people in Sub-Saharan Africa by 2035 and we hope that the Google team through their cloud teams and AI technology expertise will help us build the infrastructure needed to deliver impact at this scale." - Leroy T. Nyangani Co-Founder & Team Lead, NeedEnergy
It's an exciting opportunity to work with these founders and startup teams to help grow and scale their business in this space. Programming for the Google for Startups Accelerator: Climate Change begins mid-September and ends in November, just before COP28 and we can't wait to see what role these startups will play in the circular economy. Visit Google for Startups to learn more about the program.