Supporting digital transformation through South Africa's SMEs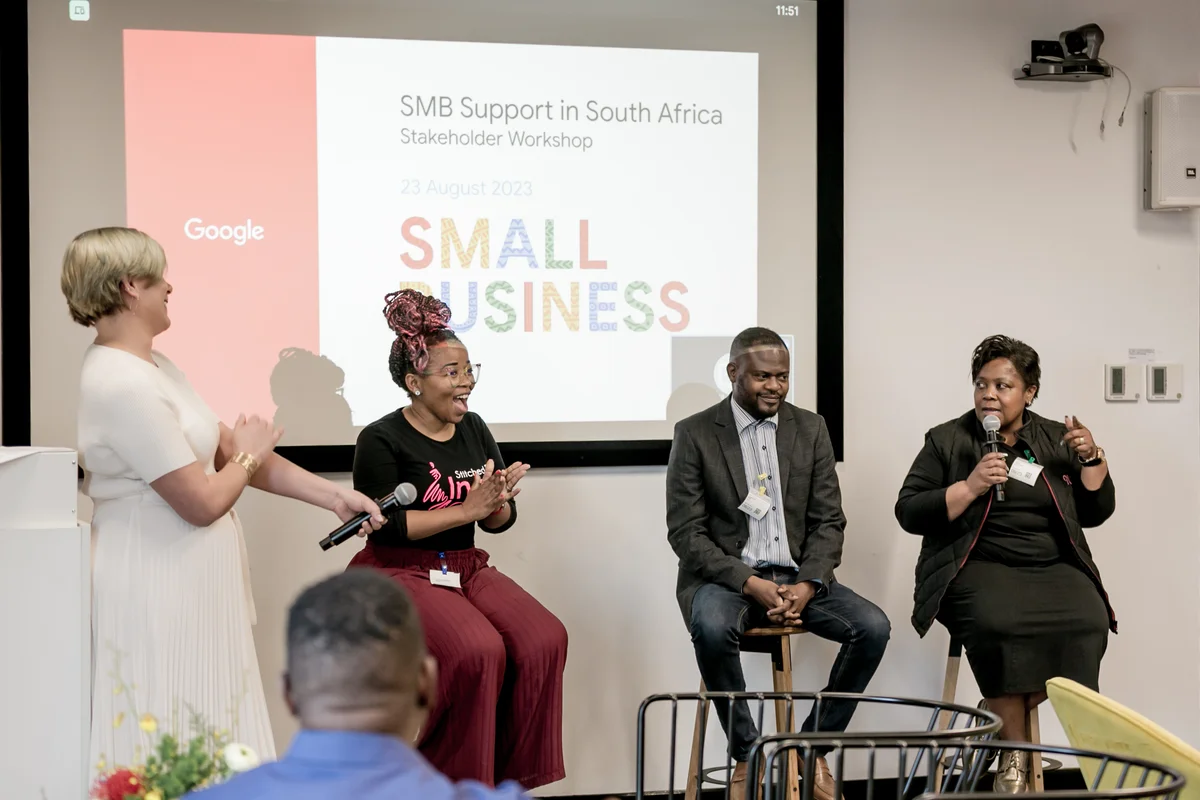 SMEs are indispensable to any economy looking to drive economic growth and development. In South Africa, SMEs generate about 34% of the country's GDP and employ approximately 60% of its workforce - crucial for economic diversification to new markets. On a larger scale, these businesses are key drivers of business activity in Sub-Saharan Africa, making up 90% of businesses, 50% of GDP, and 80% of jobs.
Our SME workshop, held at the Google offices, was attended by various government departments including Tourism, Communications and Digital Technologies, Science and Innovation. The National Youth Development Agency (NYDA), Small Enterprise Development Agency (SEDA) and the National Empowerment Fund (NEF) were also in attendance. The aim of the session was to provide practical information about Google's SME initiatives, identify areas of partnership with entities represented in support at SMEs and engage attendees on some of the questions they might have.
However, the SME landscape in South Africa faces challenges. More particularly, South Africa's failure rate for small businesses is one of the highest in the world, with approximately 80% of small businesses failing in the first five years due to challenges that include, a lack of access to tools and technology, skills deficit, market access and a lack of funding.
One of the initiatives unpacked at the session was Google's Hustle Academy - the 5 day virtual bootcamp aimed at helping entrepreneurs to thrive digitally through peer learning, mentoring and guest speaker sessions. So far, 5,000 small businesses have applied to join the academy across all 9 provinces, with over 2,000 graduating.
The Hustle bootcamps have yielded great success, with 74% of graduate businesses having reported significant growth within 6-12 months of its completion. One such success story is that of Colleen Flowers , founder of Colleens Home made sauces, who after completing the programme has seen an 18% increase in online visibility and social media growth, 16% increase in sales, a 23% job expansion as well as a 17% increase in new clients.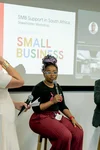 Another heartwarming example of success is the story about the fashion label, Stitched by Inga. The founder, Inga Sebata, was one of the panellists during the session. During the workshop, she unpacked how she has been able to leverage Google's free online tools to her advantage - for scaling and pitching. Through her learnings from the academy, she has been able to take orders from outside of the country, shipping to clients abroad. During her growth phase, she was able to land her first investor into the business and this has led to her planning her first physical store, which is set to launch soon.
Nonhlanhla Ditshego, founder of Vuttomi Liquids, a South African beverage company selling and distributing a range of consumable products to various industries; with focus on the Food & Beverage Industry, was another panellist who shared how she has been able to successfully leverage online tools to redefine her product offering. She testified how she has seen an increased visibility of her products and reaching customers in different provinces, through increased onlines sales.
To date, there have been over 4000 programme graduates in South Africa. In 2022, over 75% of the graduates reported a positive career outcome (e.g new job, promotion or raise) within six months of completion.
Success stories like these are the essence of why Google chooses to upskill entrepreneurs and the general public - Google's aim is to create an enabling environment in which society can thrive by overcoming some of its biggest challenges using technology tools. By doing this, Google lives out its mission of organising the world's information and making it universally accessible and useful.
Authored by: Sipho Mtombeni, Manager: Government Affairs and Public Policy