Nigerian fact checkers fight election misinformation with Full Fact's AI Tools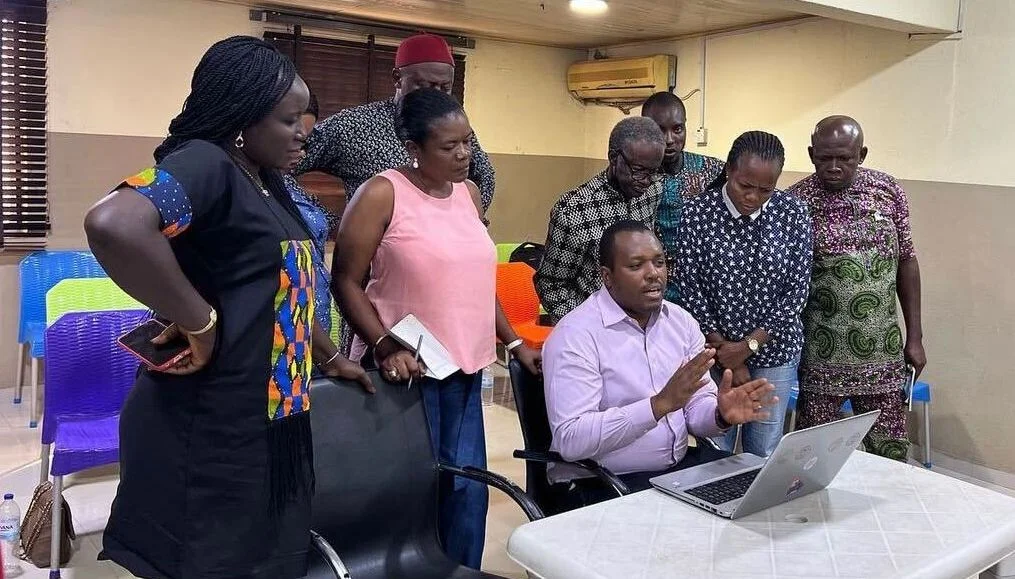 Millions of Nigerians will head to the polls later this week to elect the country's next president and members of the national assembly. It comes at a time when trust in the system is under threat. As we see during elections across the world, false and misleading claims can spread rapidly, undermining voters' ability to make informed choices.
25 February will be the seventh election since Nigeria's return to democratic rule in 1999. It will be the first where Nigerian fact checkers use new AI tools, developed by Full Fact with support from Google.org, to fight bad information.
Africa's most populous country
Over ninety million people will cast their vote at 176,846 polling stations in 36 states for 18 eighteen presidential candidates. Fact checking rumours, propaganda and bad information at this scale is no easy task. To meet the challenge, Nigerian fact checking organisations, non-governmental organisations and media houses have come together to form the Nigerian Fact-Checkers' Coalition.
The group has already encountered and debunked common election disinformation trends, and fact checked false claims attributed to politicians and past presidents. False claims about the size of rallies, misleading statements about the achievements attributed to candidates and fake giveaways and scams have also been debunked by the coalition.
How Full Fact's AI Tools come in
Full Fact, a UK based organisation fighting misinformation through fact checking and campaigning, has been developing AI fact checking technology since 2015 to help increase the speed, scale and impact of fact checking. The work was accelerated in 2019 when Full Fact was chosen from more than 2,600 nonprofits, social enterprises and research institutions around the world as a grantee through the Google AI Impact Challenge.
The organisation received a three year grant and support from 7 dedicated technical Google.org Fellows, who worked on a pro bono basis. Google.org is supporting Full Fact for another three years to help the organisation work to radically scale its tools and offer them to the global fact checking community and good information focused organisations.
This will be the first time Full Fact's tools are used in a Nigerian election to find important claims to fact check. The organisation will also provide ongoing training and support to local fact checking partners during the election process.
What tools will the fact checkers have access to?
A total of 23 Nigerian fact checkers have been onboarded to the tools and received training and support. On an average day, the tool presents over 40,000 fact checkable claims to users from over 80 media sources. These are filtered by a sophisticated search function using keywords, claim types and speakers. Twenty five claims have been identified, so far, and are being assessed by the fact checking teams.
Full Fact AI's tools - designed by fact checkers for fact checkers - save users time, money and effort in identifying the most important bad information to address. They're powered by AI and backed by investment and support from Google.org.
The fact checkers will have access to the below:
Search: Full Fact's search tool helps fact checkers find the most important statements to fact check each day. They monitor online media, social media and any other RSS feeds that are needed.
Alerts: Fact checkers are informed when something they know is false (because they have fact checked it before) is repeated. This lets them act quickly and insert accurate information into the public debate - squashing the false information.
Real Time: An instant transcription of election debates, interviews and town halls means fact checkers don't need to allocate team members to listen and transcribe claims. Our tool provides an accurate record of what was said, which claims are fact checkable and if any claim has been fact checked before. This tool was trialled for the first time in Nigeria during a live fact check of the Lagos Gubernatorial Debate on 15 February 2023.
Lagos governorship candidates at the 2023 elections debate
AI tools help fact checkers identify and challenge more claims than ever before. But it's the users who review and verify the accuracy of their outputs and use their expertise to contextualise and interpret the information. The combination of AI and in-country human expertise allows Full Fact AI's users to combat misinformation while maintaining high standards of accuracy and credibility.

Every vote should be an informed vote. But we've seen first hand how bad information spreads during an election. It can't be allowed to erode trust and undermine democracy.
By supporting International Fact Checking Network (IFCN) members Africa Check, Dubawa and FactCheckHub to scale their efforts and impact, Full Fact is joining the fight to tackle misinformation in the upcoming election.
"Full Fact's AI Tools, which Africa Check helped develop, allow the coalition to monitor news websites, social media pages and transcribe live TV or radio to find claims to fact check," says David Ajikobi, Africa Check Nigeria editor. "This has boosted the coalition's resolve to significantly reduce the spread and impact of election-related misinformation and disinformation."