How we're supporting access to emergency maternal care in Nigeria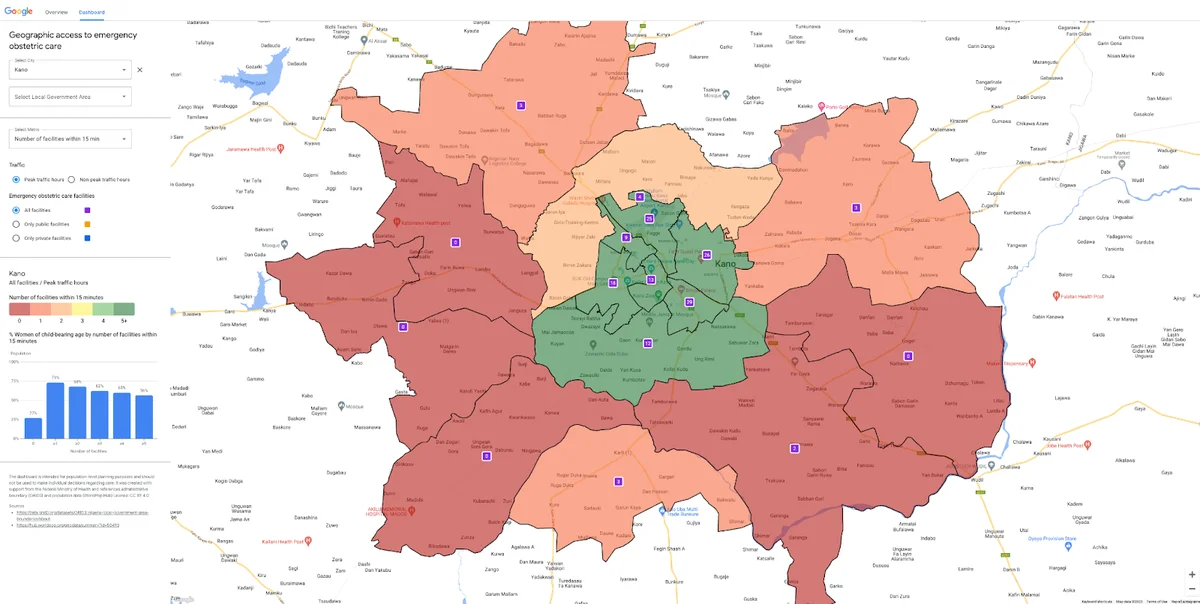 According to the WHO, approximately 830 women die from preventable causes related to pregnancy and childbirth every day; more than 70% of these deaths occur in sub-Saharan Africa.
Evidence shows that long travel times from home to a health facility significantly impact pregnancy outcomes for mothers and newborns, and timely access to emergency obstetric care (EmOC) can reduce maternal deaths and intrapartum stillbirths by as much as 50% and 75%, respectively. But current approaches to estimating the time it takes expectant mothers to reach EmOC are limited.
As part of our broader effort to help governments and public health organizations address gaps in access to health services, we're introducing a new tool to help them assess geographic access to emergency obstetric care. The tool uses Google's internal directions API — the same API that powers navigation in Google Maps — to estimate the average travel time to nearest, second nearest, and third nearest EmOC facilities for different regions. The goal is to help decision makers, governments and other public health stakeholders identify and respond to areas where geographic access to these facilities is limited.
Improving access to care in Nigeria
We're excited to collaborate with the OnTIME Consortium, a partnership of policymakers, doctors, and researchers focused on improving care for expecting mothers, to make this tool available to decision makers in Nigeria.
Nigeria, the most populous country in Africa, represents 2.7% of the world's population but contributes a disproportionate 28% to global maternal health deaths, per recent WHO estimates. With the OnTIME Consortium's provision of verified emergency obstetric care facilities, the tool shows decision makers there how quickly expectant mothers can access emergency obstetric care in Nigeria's 15 largest cities: Aba, Abuja, Benin City, Ibadan, Ilorin, Jos, Kaduna, Kano, Lagos, Maiduguri, Onitsha, Owerri, Port Harcourt, Uyo, and Warri. Using this information, decision makers can expand ambulatory services, make road improvements, add new facilities or upgrade existing ones, and more.
"This digital dashboard will be a critical tool in the arsenal of service planners and policymakers looking at optimizing geographical accessibility to critical maternal health services as well as those keen to understand contributions of travel time to poor maternal and perinatal outcomes," said OnTIME Principal Investigator Dr. Aduragbemi Banke-Thomas, a physician, public health practitioner, and Associate Professor of Maternal and Newborn Health at the London School of Hygiene and Tropical Medicine.
This effort builds on a dataset we released in 2021 with average travel times to COVID-19 vaccination facilities. Boston Children's Hospital and the Harvard School for Public Health in Massachusetts used that dataset to help identify "vaccine desserts" and inform vaccination efforts. More recently, we collaborated with the OECD to quantify geographic access to parks across nearly 500 metropolitan areas in six countries: Estonia, France, Greece, Mexico, Sweden, and the United States.
We hope that governments and public health organizations will use this tool to better support the health of their communities, by helping expectant mothers access care more quickly. We're looking forward to learning from our rollout in Nigeria, and expanding to other countries in sub-Saharan Africa in the coming months.