Google's $67 billion impact in Australia: Supporting Australia's digital future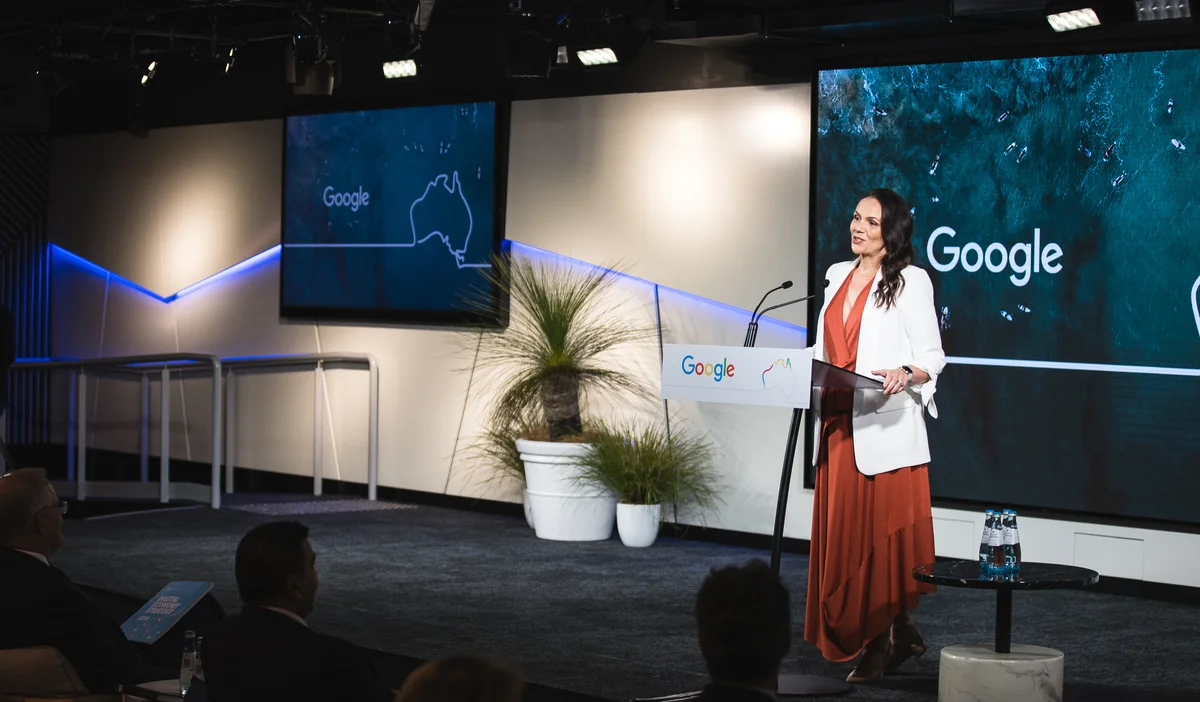 Today, I was proud to launch Google's 2022 Economic Impact Report. It finds that digital technologies can help Australia tackle three key looming challenges, build our national resilience and gain up to $56.7 billion in additional economic value in 2030.
The report by AlphaBeta also takes a closer look at the different ways Google is supporting Australia's resilience and our digital future — and helping Australians and businesses to the tune of nearly $67 billion in annual benefits.
Using digital technologies to solve critical national challenges
The research by AlphaBeta looked at three critical challenges including digital skills shortages in the labour market, cybersecurity risks, and the rise of climate change-caused natural disasters. It found that:
Better using digital technologies to solve critical challenges can help Australia gain up to $56.7 billion in 2030. This includes:

By reducing obstacles in the job search process and improving digital skills training, digital technologies can create up to an additional $25 billion in Gross Domestic Product (GDP) per year.
Deploying AI, secure cloud services, and educating the public about cybercrime prevention can save businesses and consumers $27.2 billion in annual losses.
Applying digital technologies in disaster response can mitigate up to $4.5 billion in annual damage costs to property, crops, and livestock for Australia in 2030.
Google is helping build Australia's resilience in four key areas including supporting Australia's digital future, skilling and education, cybersecurity, and sustainability and disaster preparedness. This includes the Digital Future Initiative, a $1 billion investment over five years in Australian infrastructure, research and partnerships — and a national skilling program Grow with Google that has so far helped upskill more than 600,000 Australians.
Google's team have been visiting communities around Australia to provide digital skills training through Grow with Google to help Australians and businesses grow — including this event in Hobart with Julie Collins MP.
Google's economic impact in Australia
Google Australia started out with just one person in a Sydney lounge room twenty years ago. Since then we've grown to a team of more than 2000 people in Australia. Our digital services like Google Ads and Google Play help support an additional 133,300 jobs, with a further 186,500 jobs enabled across businesses' supply chains across the country.
Through products and services including Google Ads, AdSense, Play, Ad Grants, Search, Maps, and Cloud, Australian businesses gain $47.1 billion worth of economic value annually. Of this value, 61 percent went to small and medium-sized Australian businesses. These products are helping businesses expand and grow revenue in domestic and international markets, and work more efficiently. In fact, 1.6 million Australian businesses made direct connections with customers using Google - including directions, phone calls, bookings, and reviews.
This includes businesses like Princess Polly — a e-commerce fashion retailer founded on the Gold Coast in 2010. To capture greater market share in the fashion industry, Princess Polly started using Google Ads. Running Search and Shopping Campaigns, the results far exceeded the company's expectations, delivering a return on investment of twenty to one. Since then, Google Ads has driven 51 percent of the company's performance ad revenue and helped it grow from an Australian start-up into an international New York Stock Exchange (NYSE) listed success, employing over 380 staff and shipping products all over the world.
Helping our users save time and access important information
Many of our helpful products have become an important part of the everyday lives of millions of Australians. Through the use of Google's products, which include Google Search, Maps, Play, Drive, Photos, Docs, and Sheets, Australian consumers enjoy $19.5 billion worth of annual benefits — which represents the average Australian Internet user receiving $763 of value annually.
We're also helping Australians save time. In fact, Australians using Google Search save almost five days - or 115 hours - per year that can be used for other activities.
Digital technologies have played a vital role in supporting Australia's resilience through bushfires, COVID-19, labour market disruptions and other emerging challenges. This report tells us they will be critical to helping us better predict and manage future challenges — and achieving our potential as we work to create a strong and inclusive digital future for all Australians.
You can read more about the findings here