Connect to Country with one of the world's oldest living cultures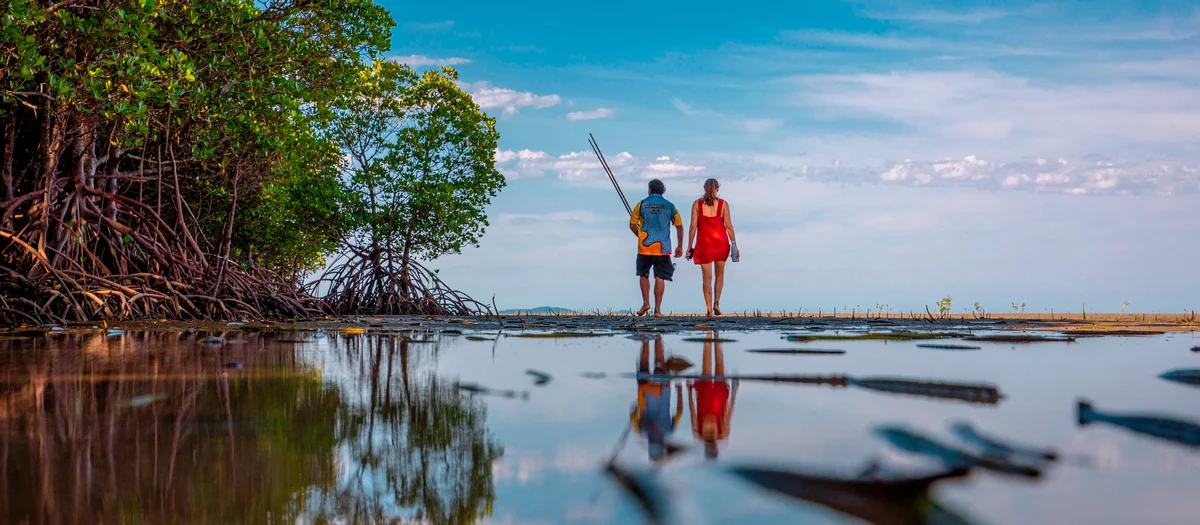 We wish to acknowledge the Traditional Owners of the land and the diverse nature of Aboriginal and Torres Strait Islander communities across Australia. We pay respect to the Elders, past, present and future, and celebrate their stories, cultures and traditions.
As the Yawuru people of Western Australia say, "ngaji gurrjin" - "hello".
There are over 250 unique Aboriginal and Torres Strait Islander language groups across Australia. Along with their own unique languages, they have discreet cultures, Dreamtime stories, histories and practices. Starting today, Welcome to Country invites you to begin your journey of learning about First Nations experiences on Google Arts & Culture.
Smoking, for example, purifies or cleanses the negative energy, feelings or thoughts from a place or even a person. In some Nations there is fire on water healing, or it may be a sweat ceremony. It could be as simple as an ancient chant – but across the language groups there are different ways to welcome you on to Country and it will make you feel special and embraced.
- Arts leader and Elder Aunty Rhoda Roberts AO
As part of this new exhibition, you can hear and learn directly from Cultural Guides - learn about palawa Country on the wukalina Walk with palawa woman Carleeta Thomas, explore the mudflats of Roebuck Bay with Yawuru Guide Bart Pigram or discover where the rainforest meets the reef with Kuku Yalanji man Juan Walker.
A Maruku Artist teaching another person about traditional symbols by drawing in the sand, on Anangu Country

First Nations Cultural Guides performing a smoking ceremony in the Eastern Kulin Nation at Aboriginal Heritage Walk, Royal Botanic Gardens, Melbourne

A group of kayakers paddling along the shores of Roebuck Bay / Djugun Yawuru Country with several mangrove trees around

Brolga (Australian Crane) on Limilngan-Wulna Land during Pudakul Aboriginal Cultural Tours

Exploring Adnyamathanha Country at Wilpena Pound
To uncover more about the unique experiences in this new project, we spoke to proud Dunghutti woman and Gadigal Country Cultural "Ambassador/Guide", Aunty Margret Campbell - who can help you uncover Sydney's hidden history.
Aunty Margret Campbell on Gadigal Country
Google Arts & Culture: What do you hope to achieve by sharing these stories?
Aunty Margret Campbell: I want to ensure that the world's oldest continuous living culture is shared, explored and respected by everyone.
We hope to introduce Aboriginal and Torres Strait Islander cultures to people across the globe and encourage them to come to Australia and have a real cultural experience, to learn first hand, in person about our diverse culture stories, which remain embedded in waterways, skies and landscape.
Google Arts & Culture: Why is storytelling important?
Aunty Margret Campbell: Storytelling is an essential part of Aboriginal and Torres Strait Islander culture. It explains our history, law, lore, education, kinship systems, continuance of culture and language and exchange and protection of knowledge. Every aspect of Aboriginal and Torres Strait Islander culture and life — from the environment and seasons to ecology, astronomy, art and music — is linked to storytelling.
Google Arts & Culture: What can people expect to learn from you on Country?
Aunty Margret Campbell: I am a practicing Dunghutti knowledge holder, teacher and cultural guide. I pass on Dreamtime perspectives on Aboriginal history of Eora Country (now known as Sydney), especially Dalawaladah (The Rocks), as well as educating people on our living Aboriginal culture, language, Dreamtime stories and landscape of the area and beyond.
My culture experiences are designed to create mutual respect between Aboriginal and non-Aboriginal people, grounded in cultural understanding and appreciation of Dreamtime, the Australian moon- and sunrise, and saltwater landscape.

Google Arts & Culture: What does it mean to bring these stories and experiences online?
Aunty Margret Campbell: Making this virtual allows me to reach a wider audience and introduce more people to our culture and Country. It's an opportunity for more people to learn about Dreaming_ology, which demonstrates how human beings could better live in harmony with the lifeblood of waterways, landscapes and skies.
Explore Country and get up close and personal with Custodians and Knowledge Holders with Welcome to Country now at g.co/welcometocountry.