Stay safe and healthy with new Air Quality tools on Maps and Search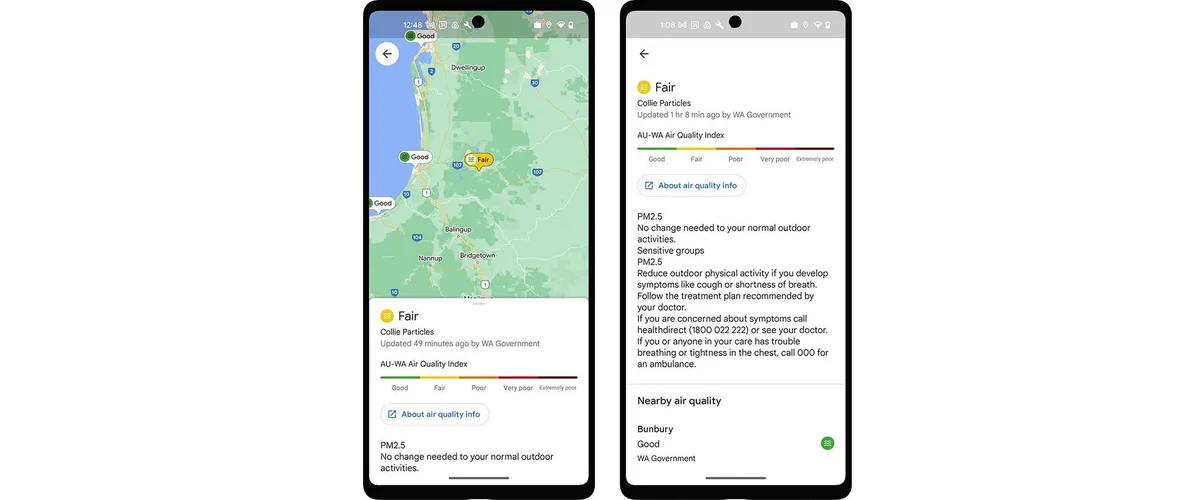 Planning outdoor activities usually involves making sure you are aware of the weather: checking if it'll rain, making sure you're dressed for the occasion or packing sunscreen on a high UV day. As the weather warms up and we approach bushfire season, Aussies may also be conscious of air quality. Knowing the air quality of an area can help you avoid unusually hazy locations, or help you manage a medical condition adversely affected by poor air quality.
Now in Australia, you can add the air quality layer on Google Maps on both Android and iOS to help you make more informed decisions about outdoor activities, and take necessary precautions. You can see the Air Quality Index (AQI) or AQC (Air Quality Categories), measures of how healthy (or unhealthy) the air is, in an accessible, visual way – along with guidance for outdoor activities, when the information was last updated, and links to learn more.
This air quality layer is based on trusted data provided by government agencies in Victoria, Queensland, New South Wales, South Australia, Western Australia, Tasmania, Northern Territory and Australian Capital Territory. Health advice is provided from government authorities and includes precautionary information for sensitive and non-sensitive groups.
To add the air quality layer to your map, simply tap on the layers button in the top right corner of your screen, then select Air Quality under Map details.
You can also get to this information via Search, surfacing air quality information at a glance in a helpful box at the top of Search results. To see it for yourself, try searching for 'air quality Melbourne'.
These new experiences build on our crisis response efforts, which includes the bushfire layer on Maps, bringing our users a comprehensive view of all bushfires and grass fires in Australia. Together with trusted partners, we'll continue looking for ways to help Aussies find validated, up-to-date information easily, when it matters most.