Q&A with Sébastien Puel, general manager of Stadia's studio in Montréal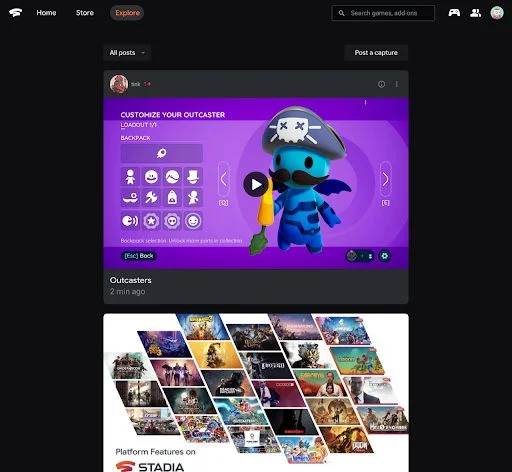 Note from the editor: Sébastien Puel was recently named General Manager of Google's Stadia Games and Entertainment studio in Montréal. We sat down with him for a short Q&A to gain insight into the vision he has for the studio and the gaming ecosystem as a whole. 


Q. What drew you to Stadia?
I believe in Cloud gaming and the benefits it can bring to gamers. The ability to play on any screen, without any hardware barriers, will radically change the industry in the coming years. Stadia will not only open gaming to new demographics, it will also make new types of experiences and designs possible. Stadia represents a gaming revolution and I wanted to be a part of it.

Q. Why did Google choose Montréal as a location for its first AAA studio? 
Montréal is a special place, full of creativity and originality. There is incredible passion for gaming in this city, and I've been fortunate to see it grow and mature. Over the years, this city produced some of the best talents and greatest games in the world. With 13,000 developers, major studios, a dense network of indys, Montréal is an industry hub. And now, for the first time, a first party studio opens. It says a lot about the ecosystem that has been built here over the years!

Q. Your first order of business as the studio's GM is to build a team - what has been the response so far? 
The response has been truly exciting! As it appears, I'm not the only one drawn to Stadia's mission. In just a few months, we've received thousands of applications for a limited number of job openings. We've conducted hundreds of interviews. Internally, Googlers have been coming forward to work on Stadia. We're attracting great talent not only from Montréal, but also from around the world. We're building a world-class team.

Q. What excites you about your role at Stadia? 
What excited me when I started my career a decade ago still holds true today - it's the opportunity to create not just games, but games that gamers will love. And as someone who has strived to do that my whole career, the journey to creating those games starts with building great culture, process and teamwork. In the end, it comes down to one thing: empowering teams. Bringing the best talents together and designing with them the best environment for creativity and success. Of course, the end result is crucial. We all want to make great games that change the world. But first and foremost, it is about 'how' you achieve this: the culture, the processes, the team work. A video game team is a strange beast. It is not about technology alone. And it is not all about art and design. It's about the merging of both -- the left and right brain hemispheres working in tandem and in equal proportion. This is what is unique in the gaming industry and I am not sure I could find it anywhere else.

Q. How will you measure success? 
Games have changed a lot in the past 20 years. Success was often measured by sales and positive reviews. Now success boils down to how much of a community rallies around the content. It is about building mutual respect between the creators and a community who share the same passion for the content and gaming experiences. Our ambition is to build games that will continue to evolve and that people will keep playing in 10, 15, 20 years to come! This is the kind of success we strive for.

Q. Game creation requires creativity. How do you define creativity and how do you intend to foster it? 
I have been part of teams that have created some of the industry's most memorable games. Creativity thrives in environments that allow new ideas to bloom and thrive: with clear goals, a lot of team ownership and a great sense of safety. This last point is very important to me. Safety allows people to speak their mind, share ideas even if they are unorthodox, voice their concerns. Safety is created by a team's culture: how it embraces diversity, how it creates trust between its members, how failures are fully accepted as part of the creative process. With that in mind, Google is a great place to create games, as these values are part of its operating system.

Q. There's clearly a lot of exciting work to be done. How do you make sure your team has a good work-life balance? 
I am a father of 3 kids, I am involved in my community, I love cycling, running, boxing, cross country skiing. You can do all that and be a game developer! There has been incredible progress done about work-life balance in studios since their inception 20+ years ago, and I think it is especially true in the big studios in Montréal. Processes and cultures have matured. Work life balance is a critical part of Google - and now Stadia's - culture.