Google Maps update to help Canadians during times of crisis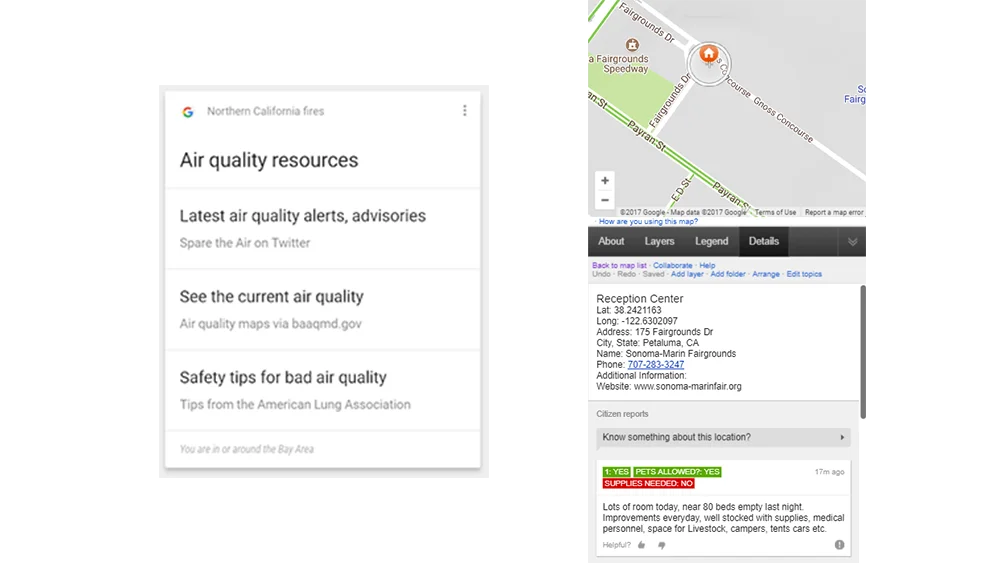 SOS alerts help you quickly access authoritative, real-time information during times of crisis. Today, we're improving SOS alerts by adding visual information about natural disasters and a new navigation warning system on Google Maps so Canadians can more reliably know where a disaster is and anticipate where it's headed. Read on to learn about what's changing, along with three ways to help you stay connected and informed during times of emergency.

Earthquake shakemaps 

With SOS alerts, you can already see important crisis information—a summary of what's happening, relevant news stories, emergency phone numbers and websites, Twitter updates from local authorities, and tips to help you find your way to safety. Now, you'll also be able to see detailed visualizations about earthquakes to give you a better understanding of the situation on the ground.

After an earthquake strikes, tapping the crisis card located on the Maps home screen will lead to a display of the earthquake's shakemap —a visualization that shows you its epicenter, its magnitude, along with colour coding to indicate how intense the shaking was in surrounding areas. This information can help you quickly assess the reach of the earthquake and identify areas likely to have experienced the highest impact.


The above image is an example of the crisis-related information Canadians will be able to see after the occurrence of a major earthquake. The above is a depiction of an actual earthquake that took place near Port Hardy, British Columbia, in 2014.
When you're outside of the impacted area, you may still want to see these visualizations and other crisis details. Searches on Google for relevant terms—like the name of the disaster or the location—will display an SOS Alert that provides the same overview in addition to features like donation opportunities when they're available.

Crisis navigation warnings on Google Maps

In addition, later this summer you'll see a prominent alert if we think your route may be affected by crisis activity— and when possible, we'll do our best to route you away from the disrupted area.


Canadians will be able to receive navigation warnings during crises such as earthquakes. 
During a crisis, every minute matters. Here are three other ways you can use Google Maps to stay connected and quickly get the information you need:

Earthquake shakemaps will start rolling out in the coming weeks on Android, iOS, desktop, and mobile web. Posted by Hannah Stulberg, Product Manager, Google Maps
Share your location: Letting loved ones know where you are is vital during fast-moving, chaotic situations. The crisis card provides the option to share your live location with friends and family for as little as 15 minutes, or until you decide to stop sharing. 
See and report road closures: Turn on the traffic layer to see all known and suspected road closures in an area. If you encounter a closure on your drive, you can report it to help others nearby. You can also confirm whether or not a road is still closed with a quick tap on Android. 
Share crisis information directly with the ones you care about: Tap on the share button from the crisis card to keep friends and family up to date about the situation. They'll be directed to Google Maps where they'll see all available crisis information - which could include a summary, visualizations, emergency contact information, and more.