Remembering Canadian trailblazer Violet King Henry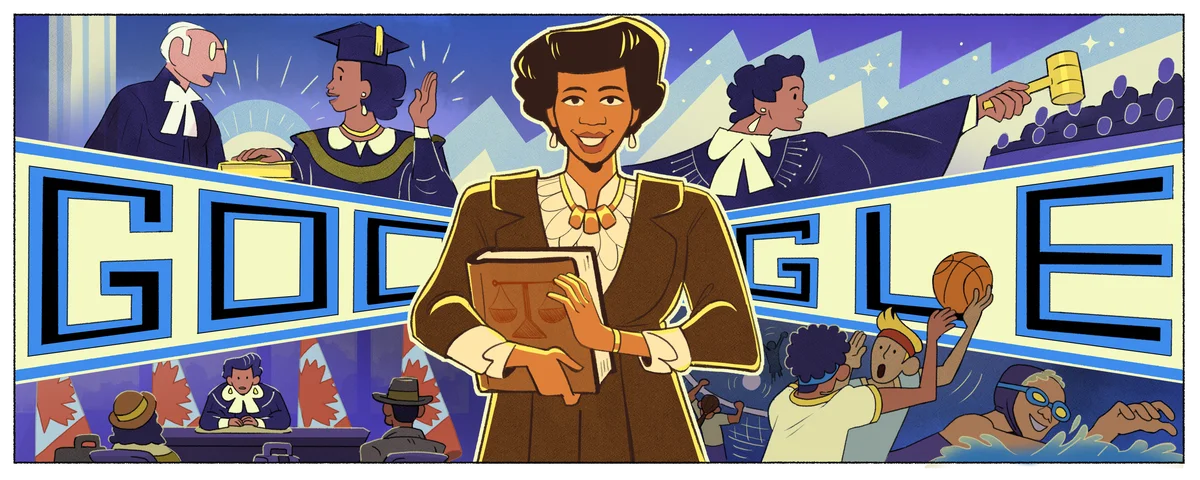 This blog post was guest written by Jo-Anne Henry, daughter of Violet King Henry. Today, the Google Doodle on the Search homepage in Canada honours Violet King Henry (1929-1982), the first Black woman lawyer in Canada.
Growing up, it was clear to me that my mom was an amazing parent and a very busy businesswoman. It was in later years after she'd passed that I started to really understand just how remarkable a woman she was, and how much she inspired those who encountered her — her peers, colleagues, the communities on whose behalf she worked, and Canadians across the country — to pursue their passion and fight for equality. Today, on what would have been her 94th birthday, my heart is full knowing her contribution remains so valuable and this Google Doodle is a reminder of her strength and perseverance, in the face of adversity.
This Doodle honours my mother's memory in so many ways, as even now I continue to learn more about who she was. The depth and breadth of her courage and perseverance, the truly complex contexts she was pursuing her goals in, and the many ways she inspired so many people to also pursue their dreams and advocate for justice. This Doodle also inspires me to further uncover new ways in which I can build on her legacy.
Violet's destiny was written the day she was born. On October 18th, 1929, my mother was among the first group of women born as "Persons" in Canada. On that day, the Judicial Committee of the Privy Council reversed a recent decision by the Canadian Supreme Court ruling that women were not "Persons" according to the British North American Act - and marking it the first ever Persons Day in Canadian history. This day has since evolved into Women's History Month in Canada. Without this crucial step forward for women, and particularly women in law, my mother may not have been able to achieve all the remarkable things she did.
And Violet announced her own awareness of her destiny, when she wrote in her high school yearbook Grade 12 caption, "Violet wants to be a criminal lawyer." For her to set her sights on that goal, when there were no role models who looked like her, and so many told her she wouldn't succeed, it shows what a visionary she was even at that young age.
The distinction of being 'first' followed my mother through her life and career as a result of her relentless pursuit of justice, equality and excellence. In 1953, she became the first Black graduate of the University of Alberta Faculty of Law. She was the first Black woman called to the Alberta Bar and in 1954, she became the first Black woman lawyer in Canada. This, all during a time that was often discriminatory and hateful toward Black individuals, combined with the barriers for women in a field that predominantly consisted of white men.
My mother's accomplishments were a beacon of hope for – not only for Black women in Canada, but for anyone who had a dream that seemed impossible in the current context. Violet's legacy is a living testament to the idea that no dream is too big, and no challenge too insurmountable when you are driven by a passion and pursuit for justice. As a result of her tenacity and perseverance, women and more specifically, Black women, now have access to associations, support systems, and resources designed for Black professionals in law. So much has changed for the better, and I'm proud that my mother's achievements helped pave the way.
My favorite quote of my mom is one I only discovered 2 years ago in preparing a presentation about her. A few years after making history as the first Black woman lawyer in Canada, my mother was speaking at an event and reflected on her journey to becoming a lawyer. She said "people told me it wasn't a good idea for a girl to be a lawyer, particularly a coloured girl… so I went ahead."
I am forever proud of her and honoured to have been raised by such a strong, brilliant, dedicated, thoughtful and loving human. Violet was also a grandmother to my daughter Ailani, whose name is Hawaiian means 'high chief'. If I can be even a fraction of the incredible parenting force of nature my mother was to me, Ailani will be well-served to also accomplish great things. She already shows her grandmother's influence as a leader, social worker and general life coach for her peers.
The name and impact of Violet King Henry has and continues to inspire generations of not only Black women, but anyone who faces huge obstacles in pursuing their dreams yet still dares to dream big. Today and always, I will channel the resilience, confidence, and passion of my mother - the one and only, Violet King Henry.