YouTube
YouTube Canada Brandcast: YouTube is the Main Stream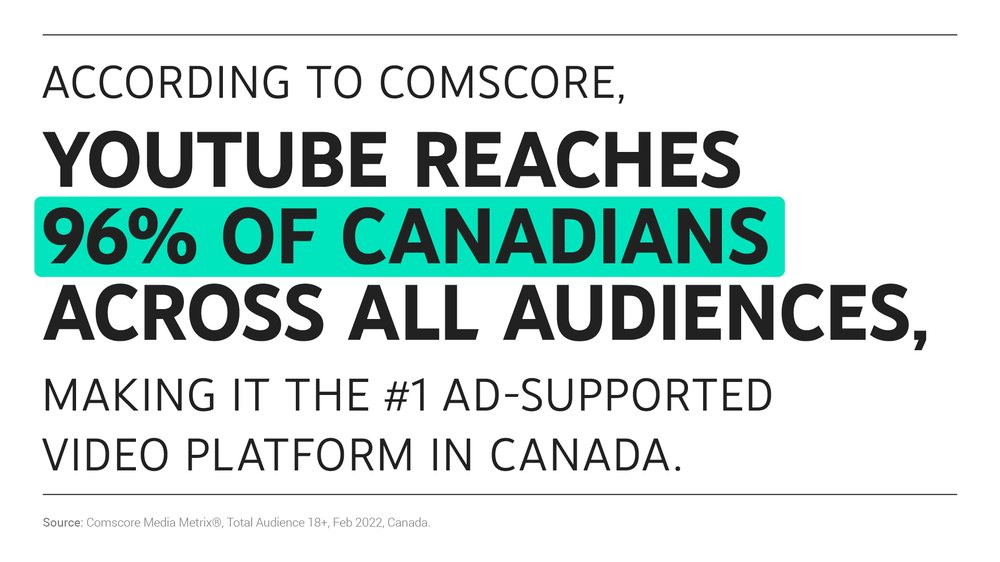 Today, viewers have more choice than ever about what to watch and where to watch it. With the endless amount of content, creators, and platforms to choose from, time and time again, people choose YouTube. Whether you're doing your morning workout with The FitNest, cooking up dinner alongside Deddy's Kitchen, or catching the daily news with Brandon Gonez, YouTube has become the place to get your content. According to Comscore, YouTube reaches 96% of Canadians across all audiences, making it the #1 ad-supported video platform in Canada1. We're sharing highlights from our annual Brandcast Canada event, where we meet with marketers and agencies to explore all that YouTube has to offer brands.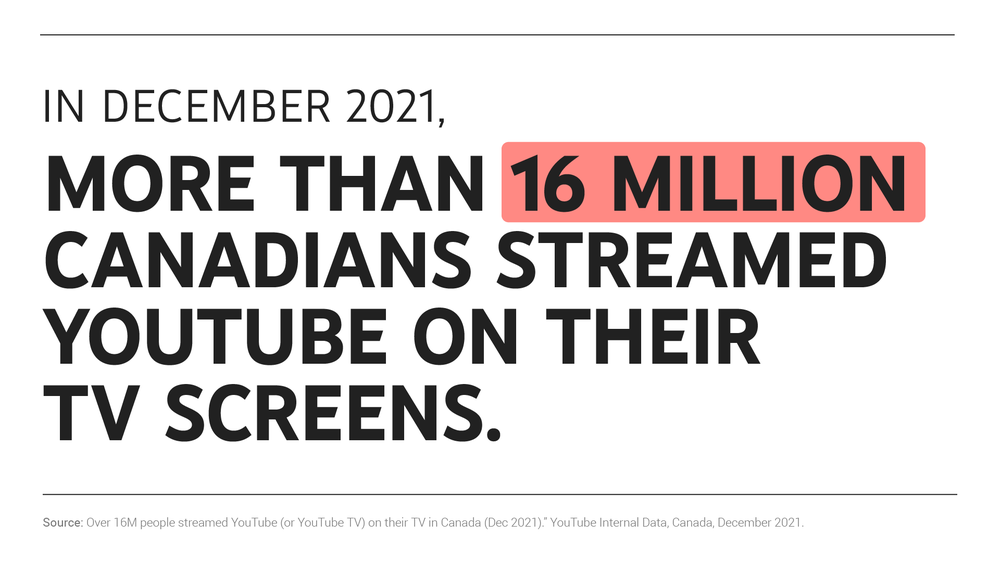 In every viewing mode, YouTube is the Main Stream
Canadians' viewing habits have changed significantly in recent years, and we are streaming more content on our TV screens than ever before with the rise of Connected TV. When it comes to streaming, YouTube has been at the forefront. In fact, in December 2021, more than 16 million Canadians streamed YouTube on their TV screens.2 It's clear from this recent viewership data that YouTube is now a mainstay in Canadians' living rooms. And this evolution has changed the way Canadians define TV itself: 61% of Canadians say that YouTube "is TV" when it's viewed on their television screen.3 Today, streaming and TV are one and the same, and Connected TV offers a huge opportunity for advertisers. According to research conducted by Ipsos, YouTube's reach amongst Canadian Connected TV users is more than 4x the next highest ad-supported TV streaming platform.4
As Connected TV gains popularity, we're now seeing the decades-old tradition of gathering around the TV screen on YouTube. People are now watching YouTube together with their friends and family. 64% of Canadian YouTube CTV viewers say they watch with other people.5 Across the industry, this is often referred to as "co-viewing." Accounting for multiple people, or "co-viewers," has been a core part of TV ad measurement for years. Brands can measure the same behaviour with YouTube CTV, using Google's planning and measurement solutions to get the full picture of the audience they're now reaching through co-viewing.
On the other end, short-form content has always been a part of our DNA. We're continuing to make short, snackable content even more accessible and helping creators reach audiences on mobile in more than 100 countries. Shorts are now averaging over 30 billion daily views, a 4X increase from a year ago.
This growth is coming from viewers of all ages – and Gen Z in particular. Based on a study conducted by TalkShoppe, 78% of Canadian Gen Zers say YouTube has content that feels new, like something they've never seen before.6
And as YouTube keeps on growing, we will continue to invest in responsibly tackling misinformation. We're proud to be the first digital platform to be accredited for content level brand safety by the Media Rating Council two years in a row. We're extending the rigour of our brand safety systems to our suitability solutions, helping marketers make smarter investment choices and tap into the full scale and potential of YouTube, alongside content that aligns to their distinct brand values.
For brands and advertisers, YouTube First planning is paying off
Marketers have been talking about planning 'digital first' for years. But as Canadians shift their viewing behaviour, digital first now means YouTube First. As more and more brands are taking advantage of this tectonic shift, they're seeing solid returns on their investment.
For example, when Mitsubishi was preparing for their biggest launch in 10 years, for their new flagship vehicle, the 2022 Mitsubishi Outlander, they knew they had to try something different to expand their reach and raise awareness. To maximize exposure, they decided to do a 100% YouTube campaign. Their YouTube-first launch yielded incredible results, including 23% ad recall lift, 40% brand consideration lift during the campaign and an additional 36% consideration lift after the campaign, and most importantly, it drove sales, exceeding their sales goals by 18%.
"While the Outlander launch was our first YouTube-only campaign without TV – based on these results, it certainly won't be the last", says Steve Carter, Director of Marketing for Mitsubishi Motors of Canada. "Partnering with YouTube allowed us to rewrite the playbook on how we launch vehicles in Canada. We're really just at the starting line in terms of what we plan to accomplish, and we feel very lucky to have YouTube as a partner as we continue to challenge the status quo and grow our business."
Labatt on the other hand has been leveraging a 'fit-for-format' planning approach, which means when they are developing creative, they first start by thinking about format. Since YouTube is at the core of their planning, their creative is always optimized for YouTube. For example, their Budweiser BBQ campaign from last summer used a mix of YouTube's most efficient formats to drive media ROI results, like Trueview for reach, bumper ads and non-skippable 15-second spots. Each creative asset was built with the user experience of the format in mind, supported by YouTube's best practices, to deliver one of our best returns on investment of the year – 30-percent higher than their campaign average.
"Since embracing the Fit-for-Format mindset two years ago, we've seen YouTube's return on investment grow 10-percent year over year to become our number one ROI channel," says Andrew Oosterhuis, VP of Marketing, Labatt Breweries. "As a result, our total media returns are growing year over year, helping ensure Canada continues to lead our global company in media ROI."
These are two great examples amongst many demonstrating that planning with YouTube First can deliver great business results. Through strong partnerships, having the courage to be bold and a willingness to try something new, more Canadian brands can meet their goals. Simply put – it's an exciting time to partner with YouTube. So as you start thinking about your next campaign, plan YouTube first.
Sources:
Comscore Media Metrix®, Total Audience 18+, Feb 2022, Canada
YouTube Internal Data, Canada, December 2021.
Google/Talk Shoppe, Canada, Why Video study, n=2,000, A18-64 gen. pop. video users, July 2021–Aug. 2021.
Google commissioned Ipsos Connected TV Omni; Canadians 18-74, Connected TV owners n=2140; Past 3 months ending March 29-30, 2022
Google/Talk Shoppe, Canada, whyVideo 2021 study, n=2,000 A18-64 GenPop video users, Survey was in field July 21st to August 3rd, 2021
Google/Talk Shoppe, Canada, whyVideo 2022 study, Gen Z based on n=600 A18-24; Survey in field April 1st to May 2nd, 2022).