A glance at three years of Google Research in India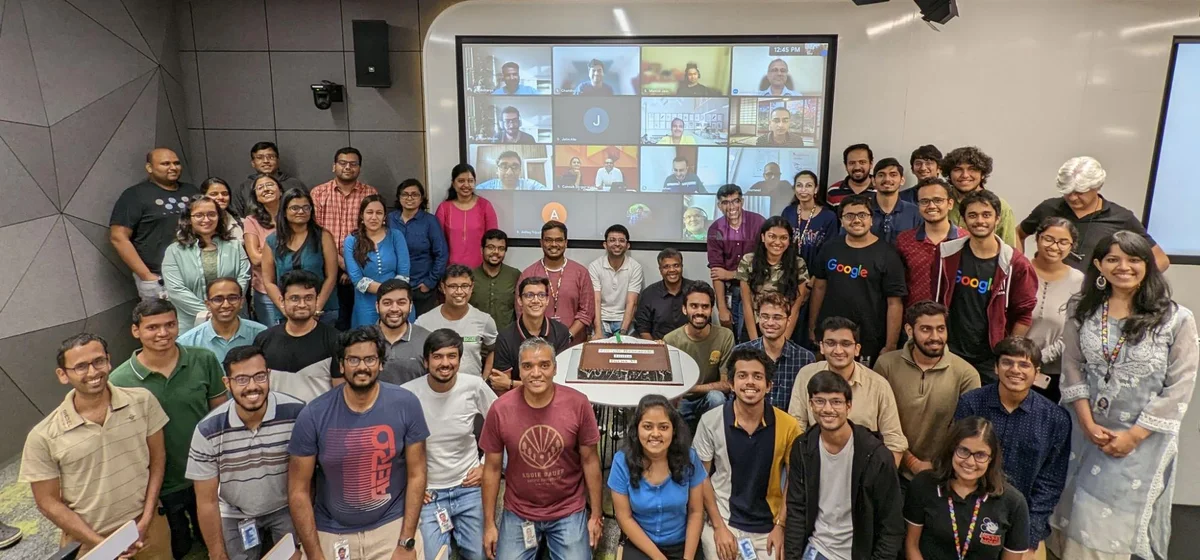 When we launched our AI research lab three years ago in Bangalore, we were both excited by the opportunity to tackle big challenges, and humbled by the potential to drive a positive impact across sectors. In the years since, India has emerged through a pandemic, while embracing technology to transform the lives of millions of people and businesses across the country. From app developers building products that better understand local language users, to social impact startups finding novel ways to improve agricultural outcomes using AI and machine learning, fundamental research continues to be an engine that is driving many of today's innovations.
Google Research India was founded on two key principles: to advance fundamental computer science and AI research by building a strong team while partnering with India's research community, and applying this research to take on some of the country's biggest problems in fields like healthcare, agriculture and education while continuing to make apps and services more helpful to people everywhere. The journey has been deeply fulfilling – from working with local NGOs as they integrate AI approaches to scale the impact of their efforts, to developing and sharing powerful multilingual language models that are far better at understanding Indian languages than ever before.
Key areas of focus for Google Research India
Inclusive AI, i.e., developing AI in a manner that brings its benefits to billions of new people, has naturally emerged as a theme underlying our research. Here are some examples and key milestones we've crossed over the past three years:
Languages: India is a linguistically diverse country of 1.4 Billion with 63 languages having 1M+ and 138 languages with 100K+ speakers. People also speak using a mixture of different languages. Our goal is to enable every Indian to access information they need in their local language. To this end, our team developed MuRIL – a multilingual model that provides coverage of 16 Indian languages – which dramatically improves language processing capabilities for those languages. MuRIL has been used to enhance the ability of Google Assistant to understand user commands for all of the supported Indian languages, and has been released on TensorFlow Hub where it is being broadly used by several academic research groups. We have also developed models to better understand user's queries in languages like Hindi, Telugu, Bengali, and Marathi, and serve better results to those queries via on-the-fly translation of content from other languages like English. We are also helping small businesses automatically translate their ads to multiple Indian languages, helping them increase their reach of customers. Going ahead, we are extending these efforts to build a single multilingual model to cover far more Indian languages.
Health: There is an opportunity to develop and utilize AI to transform healthcare and leapfrog to a system that emphasizes preventive and proactive care. In our partnership with ARMMAN, we are applying AI to increase their engagement with expectant mothers and improve health outcomes for themselves and their infants. Second, given that health information first needs to be in a digital form before any AI based insights can be derived, we are working on methods to improve the baseline accuracy of our state-of-the-art OCR engine by several factors. We are also collaborating with partners to utilize wearables and mobile devices to improve cardiovascular health.
Agriculture: Agriculture provides the livelihood to over 40 percent of the households in India, and is poised for a transformation through the use of technology. We are tackling some fundamental challenges – such as the goal of driving more effective outcomes in agriculture – and are doing this by utilizing AI and ML effectively with satellite imagery. We continue to build partnerships with startups, governments, and nonprofits to deploy the resulting capabilities towards solutions like access to credit and advisory services, and help improve the lives of farmers.
Accessibility of AI Models: We are pursuing fundamental research to enable powerful AI models, which are often large and require significant computational resources, to be transformed into smaller and computationally efficient models that can be run on even low end smartphones, which are the primary digital devices for millions of Indians. In addition, we are exploring exciting new directions on supporting advanced AI capabilities in a manner that fully preserves the privacy of individuals.
While our journey has only just begun, we are really excited about what we have already achieved, the team we have built and the opportunity ahead of us to make a lasting positive impact on the lives of millions of people in India and around the world.