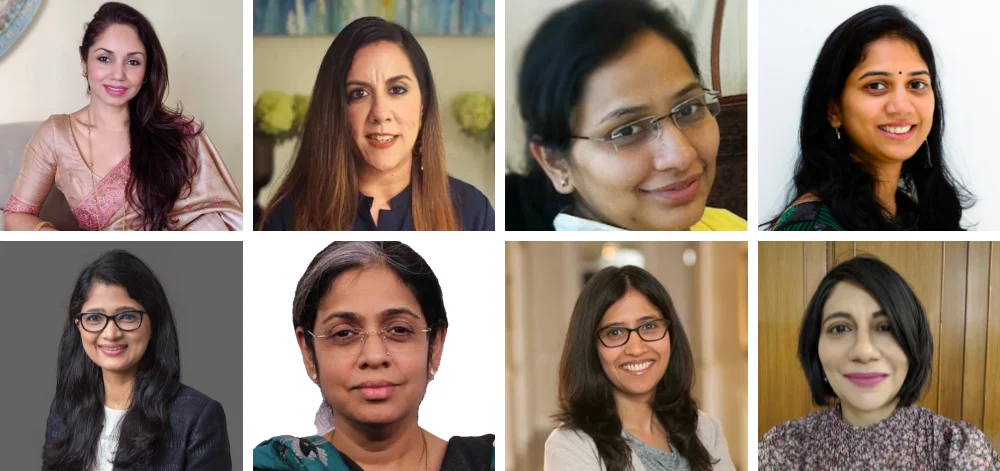 Chanchal Bansal
Director, Google Digital Media Services
"No one is you and that's your power."
I'm incredibly fortunate to have worked at some of the world's best companies. In the first ten years of my career, I worked incredibly hard, looking for role models and best practices, trying to conform, and fit in culturally. Right from entrance exams to placement interviews, our education system trains us to crack the proverbial code. Whilst I succeeded in doing that and more, something was missing. I wasn't bringing my full self to work. At Google, I can and I do, and I know now what that can do to unlock one's potential and passion. I wish I knew earlier that what sets you apart can sometimes feel like a burden; it's harder work to be authentic and it takes more conviction, but remember, a lot of the times, that is what makes you great!
Chitra Sood
Product Operations & Strategy Principal, Google Cloud
"Success is not an individual's script."
I wish I'd known the power of networking and how it can bring in transformational changes. At the start of my career many years ago, I thought that success meant an individual's career growth. Later, I realised that success is not an individual's script. It is a document that has the imprint of every interaction we have and that shapes what we choose to do and what we want to become. Today, whether it is at work or in my interactions with self-help groups, I focus on the power of the network. Together, we can accomplish a lot, and together, we can bring positive change.
Deeksha Kaushal
Director, Financial Services and Banking Partnerships, Google Pay
"Be brave, whether it's to seek one new challenge, a new skill, or a break."
It's okay to be brave. This often means taking bets on yourself, to know when to step away, and when to step into the unknown to learn something new. As a young girl fresh out of business school who stepped into consulting, and then into banking within months, it took me 20 years to change my industry. In part, I was inspired by hearing other leaders recount their career stories and how much of a difference their single step to be brave had meant. To women juggling multiple balls across work, family, children, parents,I say, be brave, whether it's to seek one new challenge, a new skill, or a break.
Madhuri Duggirala
Vice President, gTech Customer Experience
"Ordinary women can do ordinary things in an extraordinary way."
Fearlessness is not absence of courage but presence of courage to face fear. Ordinary women can do extraordinary things and ordinary women can do ordinary things in an extraordinary way. Being extraordinary is a choice we can make consciously. Today, I encourage myself and other women to believe in themselves, to believe that they are extraordinary, to be courageous in pursuing their dreams relentlessly with excitement and belief!
Nidhi Gupta
Senior Product Manager, Search Ads
"It's okay to prioritise different things in your life."
It's okay to prioritise different things in your life at different points in time, and it is probably the only way to feel accomplished in all the different aspects of life. There will probably never be a time when one feels fully in control of work, personal life, health, and other interests. I have learnt to look at my life as a whole versus different slices. I feel very accomplished as a whole when I look at all that I have done in my work life, personal life, and for my own health and happiness.
Preeti Lobana
Vice President, gTech Customer Experience
"Stop your inner chatter, raise your hand, take risks, and just go for stretch opportunities."
One can very consciously unlearn and relearn to thrive in changing environments. I worked in the banking industry for several years and did not engage when I was tapped for some interesting roles in the eCommerce/digital/start-up spaces, thinking I will not succeed because I am not an engineer, not tech savvy, too old to adapt, I've no knowledge about digital, etc.. The solid encouragement from all the Google leaders who interviewed me played a key role in my decision to change industries! I have been successful and grown here after 25+ years in banking, and being a very 'offline' person! I mentor many women, and I encourage them to stop their inner chatter, raise their hand, take risks, and just go for stretch opportunities, role, and domain changes because if we are agile and have a growth mindset…yes, we can!
Roma Dutta Choubey
Director, Digital First Businesses
"One doesn't need to be 100% ready."
One doesn't need to be 100% ready and have all the relevant experience and qualifications to take a leap into an opportunity. Stepping out of one's comfort zone and embracing change has such a positive impact in the long run. After 10 years in a business role in banking, when I stepped into a strategy role, initially, I struggled. But over time, I developed the confidence that I can be successful in different fields. This experience gave me the courage to make bigger shifts, and I moved from banking to technology. Now when I look back, I realize that every time I took a calculated risk and tried something altogether new, I have gained so much. And even when the risk didn't pay off immediately, it led to growth. A learner's mindset will bridge the on-the-job gap, but first, women do need to raise our hands.
Sapna Chadha
Vice President, Marketing, India & South East Asia
"The power to demolish these inner gremlins is within yourself."
We women need to find ways to quieten the voices in our heads that can hold us back, and learn to ignore the external voices we may hear that can make one feel like giving up. The number of times I let this get to me in my early career is countless. I now know that the power to demolish these inner gremlins is within myself. From getting talked over in meetings to overhearing a male colleague say that "I was too ambitious and he'd never 'let' his wife do what I was doing", I now realize that I need to use my voice to push ahead, instead of curling me up inside my head. Today, I use my voice for others, as well as to amplify the male voices that champion change, and there are many. If I overhear something that bothers me today, I immediately think of the male allies I have that have supported me. The worst thing in the world is to let self doubt be the thing that holds women back.