Bringing Search Labs and generative AI experiences to Search in India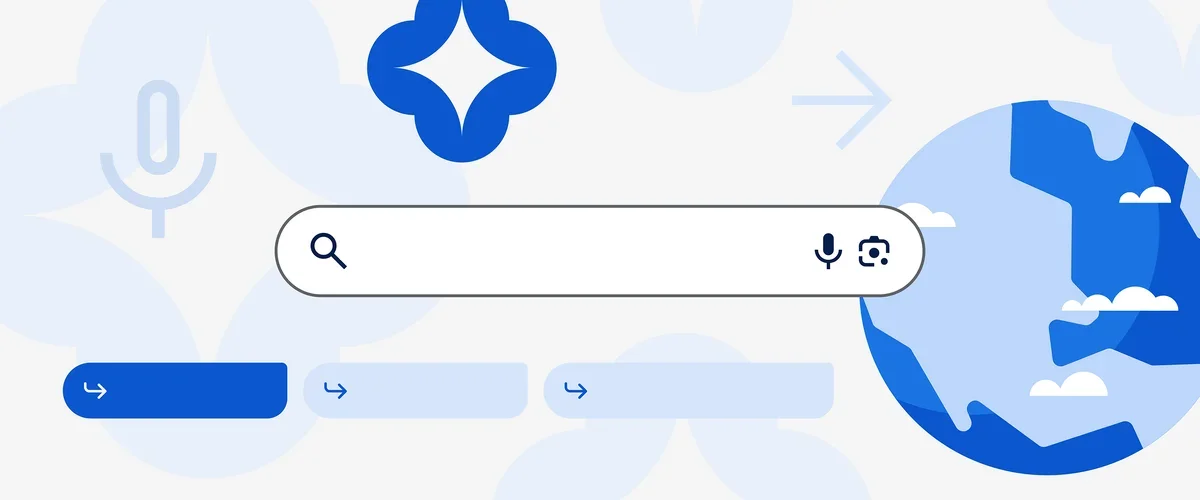 People across India have diverse needs when it comes to seeking out information, and we have always focussed on innovations that make the Search experience more natural and intuitive. In December last year, we showed how we're using AI innovations in India for Search that focus on bilingual users' needs, new search capabilities with your camera, and a new speech recognition model for Hinglish users. In fact, more people use Google Lens in India every month than in any other country worldwide, and the percentage of Indians using voice queries daily is nearly twice the global average.
Now, with new breakthroughs in generative AI, we're again reimagining what a search engine can do. With this powerful new technology, we can unlock new types of questions you never thought Search could answer, and transform the way information is organized, to help you sort through and make sense of what's out there.
In May at Google I/O, we shared our first steps in this new era of Search and introduced Search Labs, a new way to access early experiments in Search, including generative AI capabilities (Search Generative Experience, or SGE for short).
Today, we're excited to announce that we're rolling out SGE as an experiment in Search Labs in India in English and Hindi. Over the next few months, our goal is to get feedback and iterate on the experience alongside our users.
Improving Search with generative AI
With new generative AI capabilities in Search, we're now taking more of the work out of searching, so you'll be able to understand a topic faster, uncover new viewpoints and insights, and get things done more easily. Especially for new internet users, who may often get overwhelmed with the amount of information online, finding an answer more quickly can help ease their journey of discovery.
Let's take a question like "Which is a good beginner trek in Himachal and how to prepare for it?" Normally, you might break this one question down into smaller ones, sort through the vast information available, and start to piece things together yourself. With generative AI, Search can do some of that heavy lifting for you.
You'll see an AI-powered overview of key information to consider, with links to dig deeper. Below this snapshot, you'll see suggested next steps where you can simply tap a query like "How to take great photos on a trek?", or you can ask a specific follow-up question. This conversational mode helps you explore a topic more intuitively.
Context will be carried over from question-to-question, to help you more naturally continue your exploration. You'll also find helpful jumping-off points to web content and a range of perspectives that you can dig into.
With generative AI in Search, relevant queries will now have an AI-powered overview showing key information, with links to explore more.
This AI-powered Search experience will also be available in Hindi
India-focussed features in the Search Generative Experience
We have also introduced features that are unique to SGE in India: switch from an English result to Hindi by tapping the language toggle button, listen to the response with Text-To-Speech by tapping the 'Listen' button, and — rolling out soon — you'll be able to tap the microphone icon in conversational mode to ask follow-up questions instead of typing them. We've built these features in the Search generative experience to make it more intuitive and easy for people to access the information they need while searching.
Switch from an English result to Hindi by simply tapping the toggle button on the search results page
Tap the microphone icon in conversational mode to ask follow-up questions instead of typing them
Featuring a wide range of voices and sources
We know that people want to hear insights from others to help inform their decisions, so we've designed these new experiences to highlight and drive attention to content on the web, making it easy for people to dive deeper on the topic they're learning about. In the query on the Himachal trek, for example, a concise snapshot is valuable for getting started on the topic, while a diverse set of web recommendations is an easier way to dive into a variety of content from across the web. As we bring generative AI into Search, we're committed to continue sending valuable traffic to sites across the web.
We also believe that ads are a vital piece of how the web works, and help people find relevant products and services. In this new generative experience, Search ads will continue to appear in dedicated ad slots throughout the page. And we'll continue to uphold our commitment to ads transparency and making sure ads are distinguishable from organic search results. When Search ads do appear, they will continue to feature our industry-leading clear and transparent ad labels with the "Sponsored" label in bold black text.
Search ads will continue to be a native part of this experience, and will appear in dedicated ad slots throughout the page – similar to how they show up today
Get help with your coding queries
Whether you're a new or experienced programmer, learning more about coding is probably on your running to-do list, and generative AI can be a helpful tool. Now you can use Search to more easily understand and debug generated code.
SGE currently provides AI-generated overviews to help with tasks across a number of programming languages and tools. For example, you can find answers to how-to questions, and see suggested code snippets for common tasks. Segments of code in overviews are even color-coded with syntax highlighting, so it's faster and easier to identify elements like keywords, comments and strings, helping you better digest the code you see at a glance.
SGE can be used to easily understand and debug code, with color-coded syntax highlighting that makes it easier for programmers to review.
Taking a responsible approach
There are known limitations with generative AI and LLMs, and Search, even today, will not always get it right. We're taking a responsible and deliberate approach to bringing new generative AI capabilities to Search. We've trained these models to uphold Search's high bar for quality, and we will continue to make improvements over time. They rely on our hallmark systems that we've fine-tuned for decades, and we've also applied additional guardrails, like limiting the types of queries where these capabilities will appear.
To evaluate the information for yourself, you can also expand your view to see how the response is corroborated, and click to go deeper.
Step into the Lab and experiment, starting today
We're bringing SGE as an experiment in Search Labs. If you'd like to opt in to try it out and share feedback directly with the teams working on it, just tap the Labs icon in the Google app or Chrome desktop, and visit labs.google.com/search to learn more.
The SGE experiment will be available to opted-in users on Chrome desktop today, and is rolling out to the Google App on Android and iOS from today over the coming week.