Connecting and collaborating with Google Meet & G Suite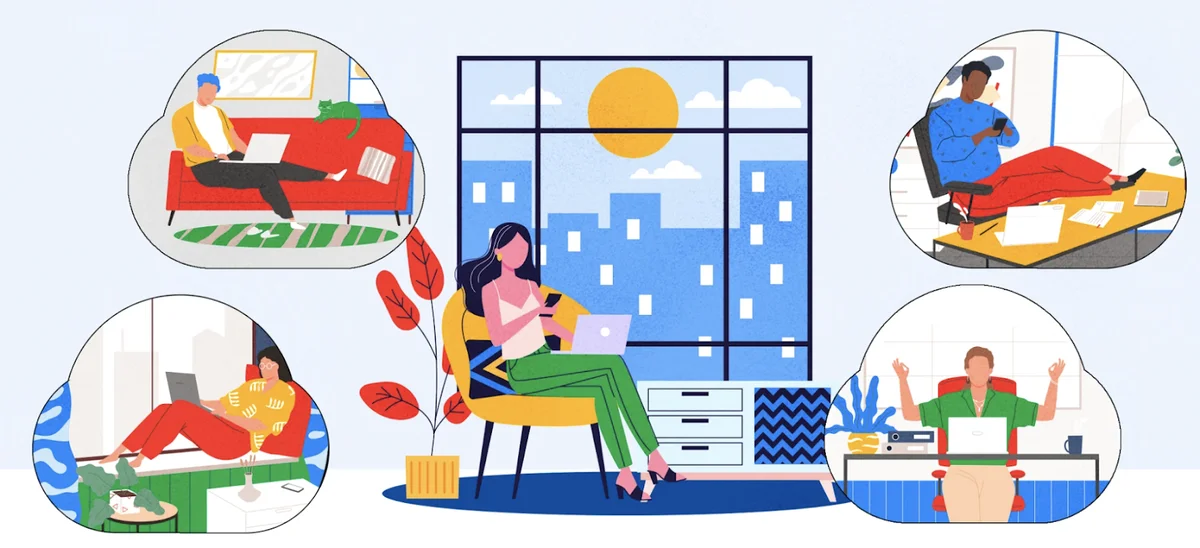 In this unprecedented time in history, we've seen millions of businesses across India adapt to the new normal of working remotely and learning from home. It is human nature to connect, and video conferencing plays a pivotal role here.  
We saw more than 3 million new users connecting on Google Meet every day as of this month, spending over 3 billion minutes a day together. That's a massive 30x jump from the numbers we saw earlier in January. And today, we're making our premium video conferencing tool, Google Meet free for everyone, with availability rolling out over the coming weeks. 

Stay home, stay safe, stay connected  
Starting May, anyone with an email address can create a Google Account and use Meet to schedule, join or start secure video meetings with anyone — whether it's a virtual dance class, a weekly book club, neighborhood meetings, or any other reason to connect with your community, friends, and family.
Until today, Google Meet was only available as part of G Suite, our collaboration and productivity solution for businesses, organizations and schools. Now, it is freely available on the web at meet.google.com and via mobile apps for iOS or Android. And if you use Google Calendar, you can easily start or join from there too.  
We're also rolling out new features including tiled layout for larger calls, the option to present a Chrome tab (instead of just presenting their window or entire screen), low-light mode and eventually noise cancellation.  
Secure by design 
Meet is designed, built and operated to be secure at scale — for everyone. We employ a vast array of safe-by-default measures to keep your meetings safe without doing a thing, everytime. We don't require or ask for any plugins to be installed, reducing the amount of software users and businesses need to patch with security updates on their machines.  

We also ensure that only authorised users can use and access Meet services by using a 2-Step Verification option for account — making them secure and convenient. Google Meet users can enroll their accounts in our Advanced Protection Program (APP), which provides our strongest protections available against phishing and account hijacking, and is specifically designed for the highest-risk accounts. 

Helping businesses collaborate with G Suite 
We're not just connecting over video. We've also seen huge spikes in the use of our entire G Suite offering as more people create, share, and connect together while working remotely. Earlier this year we marked another major milestone — surpassing six million paying businesses and organisations who use G Suite.  

"Employees are able to access every business application via Google Cloud Platform and continue to communicate as usual not only between themselves but also with customers, vendors and other stakeholders with G Suite. The Google Cloud team is always accessible and supportive to help us ease things. The use of collaborative tools has facilitated important human contact and responsiveness in an unprecedented time of remote work," said V M Samir, Group CIO, Rustomjee, a leading real estate company in Mumbai. 
Mathan Babu Kasilingam, CISO of National Payments Corporation of India, an umbrella organisation for all retail payment systems in India says, "Google Meet has played a good role in helping our teams stay connected. It's great to see that it is possible to work across various remote locations and manage to carry on business as usual through video conferencing."  

Here is what TR Chadha & Co, one of India's prominent chartered accountancy firms, had to say. "G Suite has been a lifeline for the teams for the past month since we have transitioned to a work from home set-up due to the pandemic. With G Suite, our teams can securely log-in from any device to work wherever they are at any time," said Gautam Kumar, IT Manager, TR Chadha.
Securely stay connected and productive not just today but also in the future 
We're carefully rolling out Meet incrementally over the coming weeks to ensure we can provide everyone with the reliability and security they expect from Google. This means you might not be able to create meetings right away, but you can sign up to be notified when it's available. Meetings are limited to 60 minutes for the free product, though we will not enforce this time limit until after September 30.  Creating a trusted meeting space is important, so being mindful when sharing meeting links in public forums can help create a safe experience for all attendees. 
For more tips on how to use Meet securely and effectively, visit our Help Center.