Helping India's Emerging Independent Artists Build Global Careers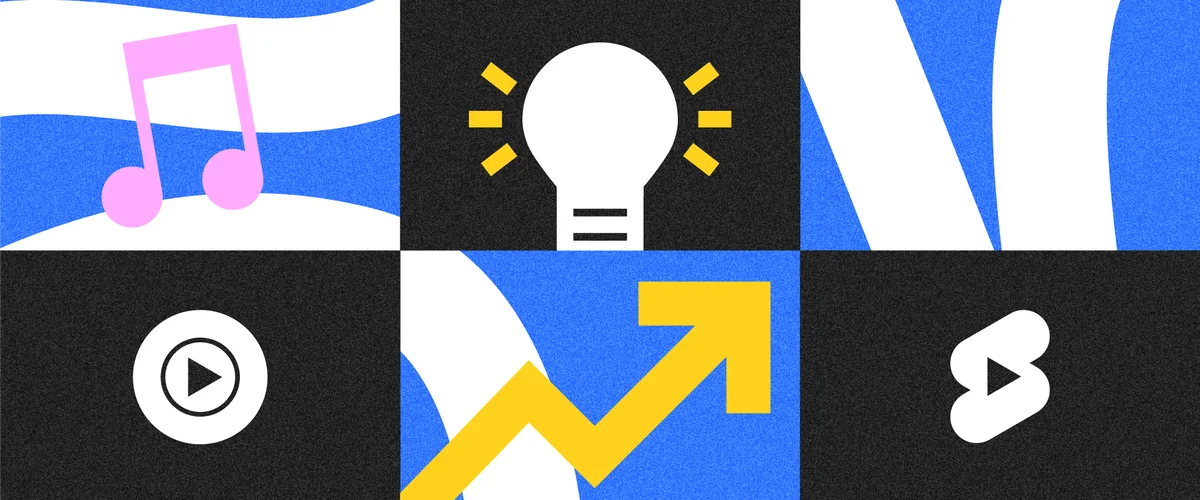 YouTube continues to provide independent artists access to billions of viewers and the resources they need to bring their vision alive and shape their music journey. Today, as they navigate a new, increasingly digital industry, we are providing independent artists new ways to create content, connect with fans, grow popularity for their music and generate revenue.
One way in which we do this is Foundry, our global artist development program. Over the years, more than 150 independent artists, including now Grammy winning artists Dua Lipa and ROSALÍA, and India's LostStories and Seedhe Maut, have received access to seed funding, marketing promotions and partner support to adapt and grow. Today, YouTube Music is excited to welcome the 2022 class of Foundry, featuring two exciting emerging artists from India with distinctive voices, Kayan and Noor Chahal.
Here are more ways in which YouTube is helping independent artists build successful careers.
---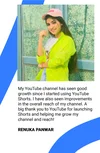 Shorts is fuelling reach and discovery
With Shorts, artists can take their music to a wide range of viewers and build more engaged fan relationships. In fact, official artist channels uploading both Shorts and long-form video are seeing better overall watch time and subscriber growth relative to those only uploading long-form.
Take for instance: Renuka Panwar, who put Haryanvi music in the limelight, consistently posts Shorts to drive views and engagement on her official artist channel even during a low release cycle. Dhvani Bhanushali, another young artist who has given us many memorable tracks, also launched a Shorts challenge, #MeraYaarChallenge, to help fans discover and engage with her new music.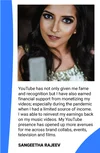 Artists are earning a living making music
Our twin-engine revenue driver of ads and subscriptions is helping artists reach more fans and in turn unlock the potential to earn sustainable incomes. One such artist is Sangeetha Rajeev who quit a lucrative job in London after her song renditions captured the imagination of fans on YouTube. Her dedication in pursuing her passion and producing music began reaping rewards and her ever-growing popularity on YouTube helped her land opportunities with brands, in television and even films.
The launch of YouTube Charts, Analytics for Artists, and "Music in this Video" credits further helps ignite global recognition and revenue growth. We are continually investing in new and innovative direct-to-fan monetization features for artists, including paid digital goods (Super Chat, Super Stickers, memberships and Super Thanks).
---
The music landscape has evolved over the last two years, and creators / artists are navigating a new digital landscape. It can help unlock new opportunities but also poses unique challenges that may be daunting, particularly for independent artists and creators. YouTube's role in supporting the next-gen creators be it singers, songwriters, composers, and publishers from across the country and taking their talent/works to the world is undeniable while tapping into additional revenue streams. I am encouraged by the success of many emerging music creators on the platform and am confident that YouTube can help the music industry grow in the new digital-first era.
~ Rakesh Nigam, CEO, The Indian Performing Right Society
---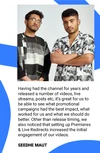 We are helping artists build engaged communities
We want to help independent artists bring their fans together, even virtually, and enjoy a shared experience. Premieres, Trailers, Countdown Themes and Live Redirect have played a vital role in providing artists with a virtual stage to draw fans worldover and engage with them in real-time.
Seedhe Maut, popular hip-hop duo and Foundry alumni, used Analytics to understand when their fans were most engaged. This insight helped them perfectly time the launch of their latest track, Nanchaku, with a Premiere that drove an incredible number of views.
It is exciting to see independent artists herald a new wave of creativity and engagement that will put India firmly on the worldmap of music. We remain committed to partner with them and provide everyone with an opportunity to achieve their ambitions.