How the Ingenuity of Indian Creators and Fans is Shaping a New Digital Video Wave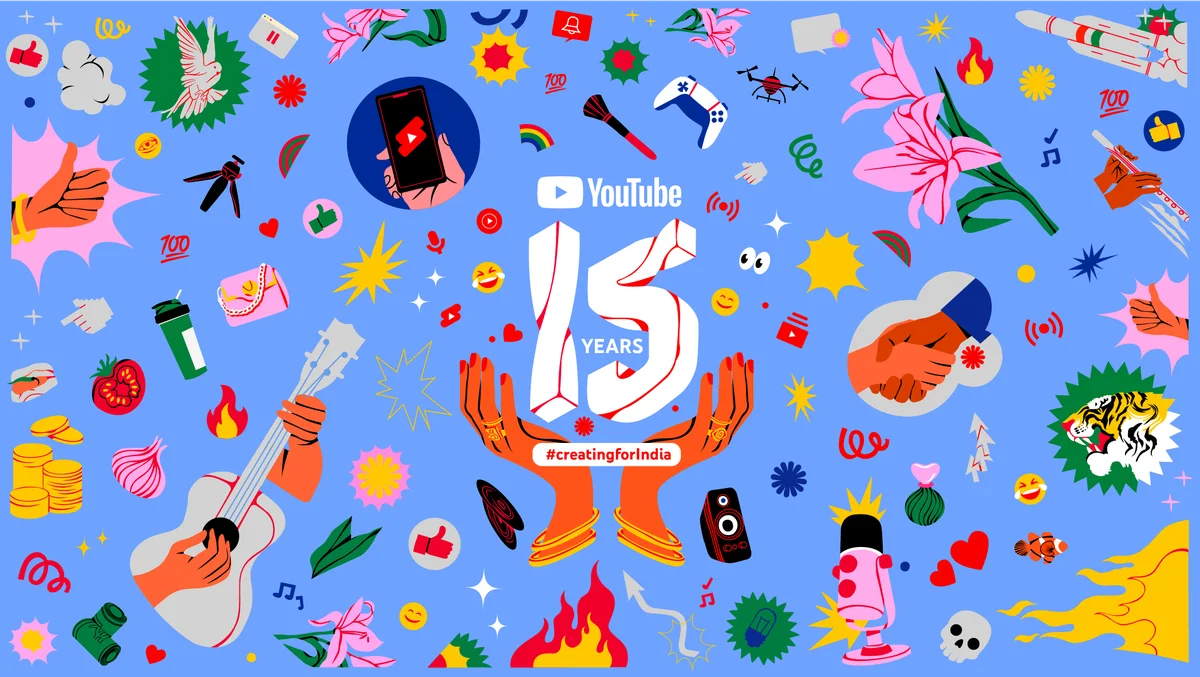 Step-by-step instructions on how to fix your home theater. Like.
A new Haryanvi Indie folk song. Share.
Travelogues celebrating India's cultural heritage. Subscribe.
Interviews with business leaders and entrepreneurs. Village cricket channels. Hitting the bell icon, so I never miss an episode!

It's been 15 years of doing this: discovering new content, uncovering thousands of others who are fascinated by the same niche interest as you, and falling in love with passionate creators and artists. And, it has been quite a journey!
In 2008, we launched our localized version of YouTube in India. Since then, creators in India have explored - and conquered - new frontiers of creative expression.
YouTube, today, is a confident librarian, a prolific entertainer, an inspiring professor, that one friend whose taste in music you trust, and a patient instructor all rolled into one.
YouTube launched in India at a time when households were gaining more access to entertainment than ever before, with a booming film and music industry and the foray of international TV channels.
Entertainment, then, used to be a one-way street. Soap operas, a captivating story arc and millions of people hooked on cliffhangers or quiz shows, with the promise of fame and even fortune.
Being seen or heard was in itself hedonistic - on the radio, making a song request on a TV show or being fastest fingers first. What YouTube gave hundreds of thousands of Indians was a megaphone and a personal stage.
YouTube became the catalyst from people simply taking in information to making people believe that they could imprint their voice on this information.
During this time, entertainment became on-demand and new, independent voices started to find a stage - and an audience: the green shoots of the creator economy on YouTube emerged.
With the launch of the YouTube Partner Progam, the early success of the first wave of creators inspired others to explore and express themselves on YouTube.
And, as the price of data and smartphones continued their downward trajectory in India, the bastion of creative expression expanded to non-metro, non-urban centers.
For a country which is steeped in a culture of music and cinema, video became the first port of call for millions of Indians seeking to be entertained, educated, and enriched.
Over the last decade and a half, we've observed shifts in pop culture, changing expectations from viewers, and a pushing of creative boundaries, both geographically and creatively. Now, we're at the cusp of significant shifts taking place in technology, creativity and pop culture.
Creation tools are advancing. Formats are expanding. Fans are evolving.
Even as the landscape evolves, creators and artists remain at the heart of YouTube and we will continue to invest in creator communities across the length and breadth of the country.
What drives us is the success of our creators, artists and partners and we're committed, as ever, to supporting the success of this ecosystem.
We're doing this by expanding creative tools, ways to monetize and helping them engage with newer audiences in meaningful ways - all while giving our creators and viewers a safe experience to create, discover and connect.
Here are significant trends that showcase how the ingenuity of our creators and evolving preferences of fans continue to shape the digital video landscape and creator economy in India.
Creation has become frictionless

The array of available video tools has exploded, enabling users to easily clip or remix video and audio, add filters and effects, or even turn into virtual avatars. In a world where creation is made simpler and fun, that it can be a form of entertainment in itself, participation in pop culture and the creator economy is easier than ever before.
More creative tools also mean more formats, which in turn mean more fans, stories, scale, and impact. This is helping breathe new life into popular, well-established genres such as gaming, tech, comedy or cooking. This creative expansion is also reviving interest in many niche topics and cultures (case in point: the growing community of Shayari and poetry) and fuelling the emergence of new genres.
Consumption is boundless and seamless

Video was mostly defined by a single content format. Audience expectations are evolving, pushing the boundaries of what entertainment can be. Viewers increasingly expect personalized experiences, and use different formats to meet different needs — viewing long-form, short-form, live, and pre-recorded content across mobile and connected TV screens.
Moreover, features like closed captions and multi-language audio tracks allow audiences to tailor their viewing experience while letting creators add new layers to their storytelling and reach new audiences beyond cultural, geographic, or language barriers.
Fandoms have become multi-layered

As the digital environment evolves, fandom is becoming more stratified, with new levels of participation growing in the space between the casual fan and the super fan — thanks to both new technology and an expansion of formats.
Casual fans might have a feed that helps them passively consume more content relating to their fandom, from lore to behind-the-scenes content. A more active fan might use Shorts to create memes, or interact with a brand's campaign by remixing or riffing on its content. A level higher, some fans may create content for other fans, while professional fans use their expertise to create for a general audience.
Pop Culture is what fans make of it

Back when moments such as Kolaveri Di or Dhoni's iconic six captured people's hearts and minds, these 'viral' trends represented a monolithic pop culture, where everyone experienced digital culture in the same way. Now, virality is defined by individuality and pop culture is all about personal expression.
With the explosion of video formats, easy to use tools and special effects features, we're all amateur editors and artists, generating riffs on popular videos peppered with personal expression and unique perspectives. The result? A world where the biggest trends are defined by how fans make them their own.
A parallel, new world of creative entrepreneurs is thriving

Artists and creators have been able to use YouTube as a springboard to building successful online and offline businesses - from launching next-gen media companies, to pursuing creative careers or creating successful lines of products and merchandise. As more sophisticated creation tools continue to democratize creativity, we're seeing the creator economy take new shape.
The next-gen of creators are coming from all corners of the country. Subcultures are becoming mainstream. The intersection of creativity and fan-fuelled discovery and commerce will drive the next wave of success.
It's been 15 years. And, we're just getting started.
You can learn more about how the ingenuity of Indian creators and fans is shaping a new digital video wave here.