Helping empower the next generation of gaming talent in Saudi Arabia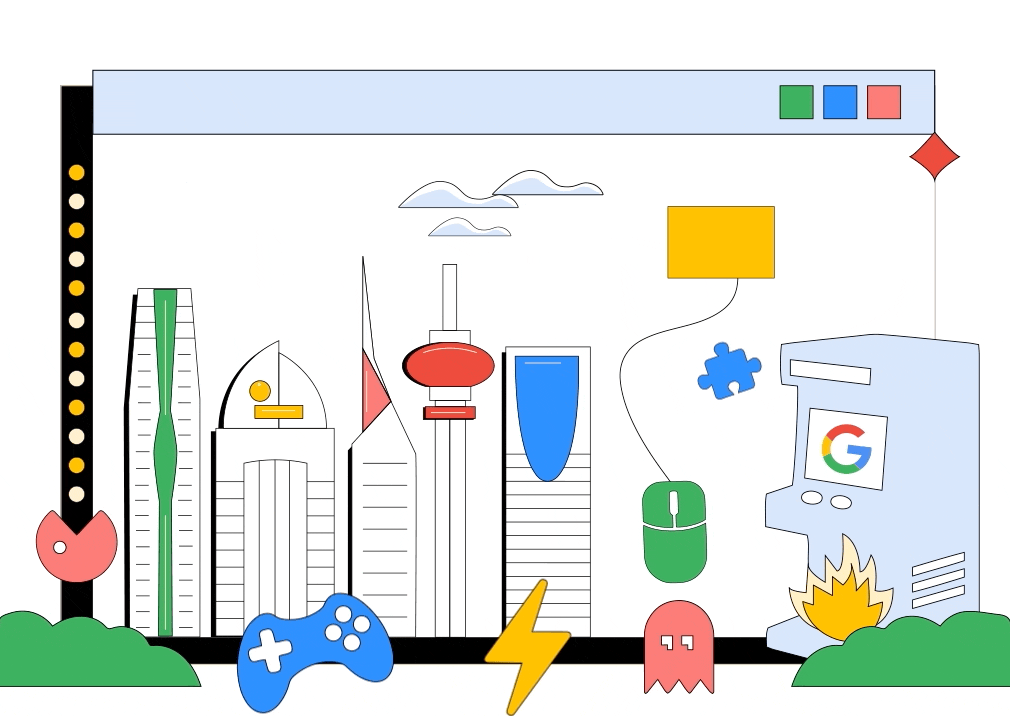 Gaming is at the heart of global popular culture. It's also the top form of entertainment among Gen-Z around the world. We see a similar trend in Saudi Arabia, where gaming culture is thriving.
In Saudi Arabia, there are over 22.3 million gaming enthusiasts Many of these enthusiasts can turn their hobby into a full time career. People learn skills like problem solving, team work, communication and strategic thinking through gaming. In fact, recent YouTube commissioned research found that these skills are not only highly regarded by recruiters in Saudi Arabia but that over 87% of recruiters are more likely to hire someone who plays video games and can speak about the skills they've acquired through gaming.
A panel discussion moderated by Katia Serbina from Google, with Faisal bin Homran, Head of Esports at the Saudi Esports Federation, Musab Al Malki, CEO of CEO, Ghada Moqbel, CEO Gcon and David Fernandez, CEO of Sandsoft

Google's Managing Director, Anthony Nakache, shared Google's efforts in support of the gaming industry and announced five new initiatives

Haifa Abdulaziz (POWREVA) a content creator presenting a lightening talk at yesterday's Google Gaming Forum

Abdullah Alshamrani, General Manager of CODE Centers presenting a keynote at the Google Gaming Forum on 13 June
Today, we're excited to announce new capacity building programs for the next generation of gaming talent in Saudi Arabia - whether game developers, students, content creators or Esports players, in collaboration with Saudi Arabia's Ministry of Communication and Information Technology and the Saudi Esports Federation.
Our training programs will support gaming talent in Saudi Arabia across development, publishing, distribution and monetization, focusing on four main areas:
Google Days for university students: Google gaming experts and partners from the industry will run training programs for over 250 university students across Ahsa, Abha, Jeddah, Riyadh and Dammam from September 2023 with the Ministry of Communications and Information Technology's Centre of Digital Entrepreneurship (CODE). The program will cover entrepreneurship strategies, gaming career opportunities, monetization through Google Ads solutions such as PerformanceMax and AdMob, distribution best practices on Play, Cloud and YouTube and programs that support the gaming industry.

Training and mentorship for Saudi game developers: Google will offer workshops focusing on how to grow their apps using Google Ads and Play to 100 Saudi game developers in partnership with the Ministry of Communications and Information Technology's IGNITE! Initiative. Participants will also receive one to one mentorship with Google experts on entrepreneurship, fundraising, game development and design, monetization and marketing through Google for Startups Global Mentors community, which connects startups to Google's global network of experts.

Content creators and Esports players: YouTube will offer a workshop at the Saudi Esports Federation's Gamers8 conference, for 50 Saudi-based creators & Esports players focusing on gaming content and channel optimization, audience development and engagement with the gaming community on YouTube.

Women in Gaming: YouTube will host a special "Ana Batala" session, which is part of the YouTube Batala program to empower female creators, for women in Esports and content creators at Gamers8. Google is also collaborating with stc Play, Saudi Telecommunications Company (stc)'s gaming arm and a platform for gamers, on a campaign to promote inclusivity and show the diversity of Saudi Arabia's gaming industry that will be released later in the year.
We're also excited to announce the first Google MENA Gaming Summit to be held in Riyadh by the end of this year. The summit will bring together leading Google experts, gaming veterans, investors and top regional talent. It will focus on industry trends, updates and best practices across Google Play, Ads, YouTube and Cloud, and help build the ecosystem.
We hope that through these programs and the upcoming Google MENA Gaming Summit we can help create more opportunities for the gaming industry to come together and contribute to the growth of Saudi Arabia's gaming industry and local gaming talent.