Simplifying measurement with the Google tag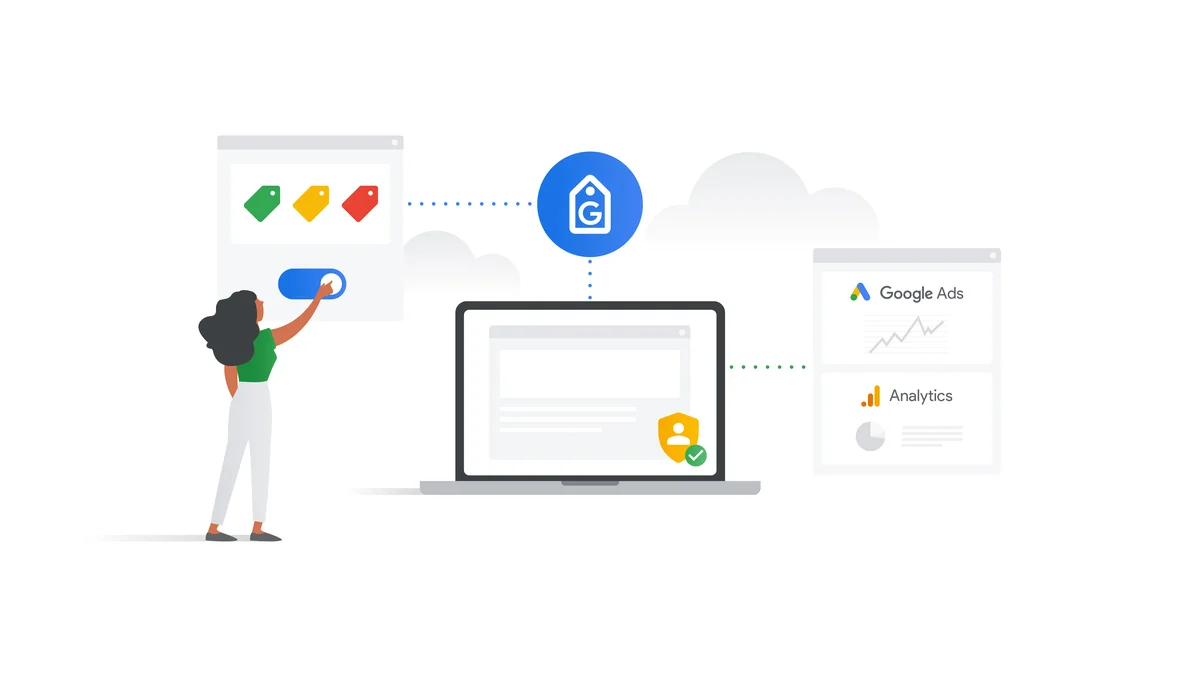 Measurement is the bedrock of digital advertising. Accurate measurement relies on robust tagging to help you reach people who have visited your website or app. It also serves as the foundation of a privacy-centric measurement strategy revolving around information people agree to share with you, so-called consented, first party and modeled data. It's critical that advertisers have durable, sitewide tagging in place as legacy identifiers such as third-party cookies are phased out. Tagging will help you strengthen user privacy, keep up with rapidly changing regulations and continue measuring performance and modeling insights.
Evolving with your measurement needs
To help you keep pace with industry changes, we've centralized our tagging solutions with Google Tag Manager, an enterprise tag management system, and the global site tag (gtag.js), which lets advertisers send event data to Google Analytics, Google Ads and Google Marketing Platform. But we've heard from you that tagging is still cumbersome.
Today, we're further improving the tagging experience with the new Google tag — a single, reusable tag built on top of your existing gtag.js implementations that helps you confidently measure impact and preserve user trust. Starting today and rolling out over the next week, the Google tag will unlock new capabilities to help you do more, improve data quality and adopt new features — without requiring more code. As we've previously recommended with the global site tag, the Google tag should be installed on all pages of your website.
For customers using Google Tag Manager, you will not experience any changes to your setup today. But, stay tuned for future updates on tighter integration and upgrade paths between the Google tag and Google Tag Manager.
Centralized sitewide tagging
Advertisers with multiple instances of gtag.js can now combine those tags and centrally manage their settings in the Google tag screens in Google Ads and Google Analytics. Since it'll be easier to set up sitewide tagging and combine or reuse tags, you can easily increase the number of tagged pages with consistent configuration. This helps improve measurement, leading to better-quality customer insights. You can also now manage user access to your tag settings across products in one dedicated place, giving you more control over who has access to critical measurement settings. Rest assured, your existing gtag.js implementations will continue to work and will automatically become the Google tag.
Combine your tags and manage your settings centrally without additional code
Faster and easier setup
In the coming months, you'll also be able to use your existing Google tag installation when setting up another Google product or account or creating new conversion actions, instead of configuring additional code each time. We've simplified complex workflows for a simple and quick setup experience that works across Google Ads and Google Analytics, within the product interfaces that you're already familiar with.
And, for customers using popular content management systems like HubSpot, Squarespace or Wix, you'll be able to install a new Google tag without any code at all.
Preparing today for the future
The Google tag is a new centralized approach to tagging, integrated with many of our other privacy solutions to give advertisers more control and ease of use. As with your existing gtag.js and Google Tag Manager implementations, the Google tag continues to work well with solutions such as Consent Mode and Server-Side Tagging.
The Google tag is the first of many improvements to come and we'll have more to share in coming months so you can better prepare today for the future.