New ways to measure from impression to impact in Display & Video 360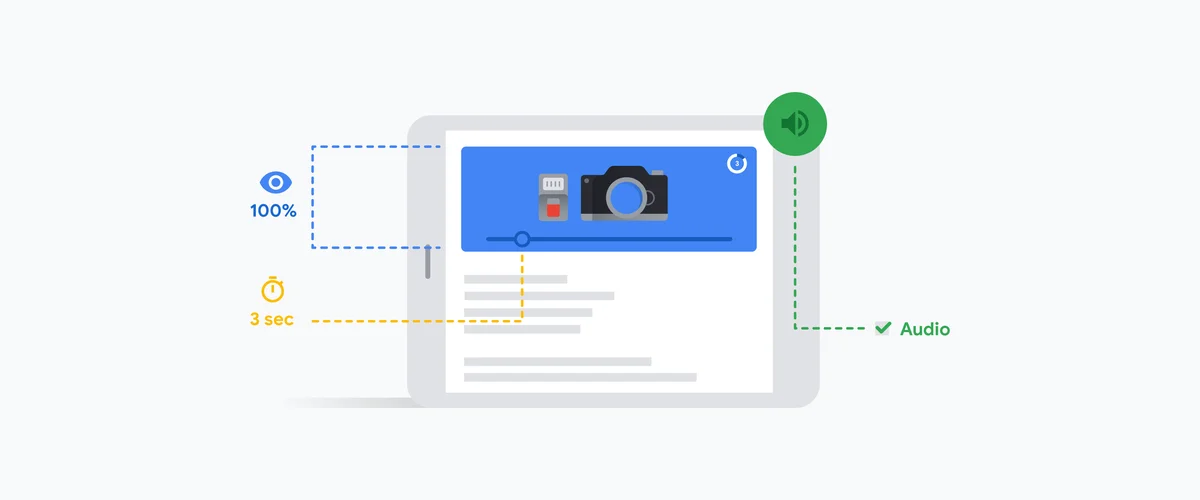 Today's consumers are accessing media from a broader variety of devices and in more moments than ever before. To be successful, marketers need to know whether ads had a chance to be seen, how many people saw them, and if they changed perception or behavior along the consumer journey.
That's why we're announcing new capabilities in Display & Video 360 for measuring viewability, reach, and brand lift across media sources and properties.
Enabling custom metrics with Active View
Research has consistently shown that ads need an opportunity to be seen to drive impact. We support the Interactive Advertising Bureau (IAB) and Media Rating Council (MRC) definition of viewability as the minimum threshold across all display and video ads to help make advertising measurement simpler and more effective. And we've completed third-party accreditation by the MRC for viewable impressions in Display & Video 360, as measured by Active View. But we know that many advertisers and agencies have different definitions of viewability based on their unique business requirements.
That's why we recently launched custom metrics in Display & Video 360, measured by Active View. With these new controls, advertisers can select custom criteria such as the percentage of the ad that must be on screen and the amount of time an ad must be visible to count as an impression. Once set up, these metrics are reported for all video campaigns, within hours. Custom metrics are in addition to the MRC accredited reporting based on MRC viewable impressions, as well as advanced audibility and visibility metrics that are already available in Display & Video 360.
Bringing Unique Reach reporting to Display & Video 360
Reach and frequency remain hallmark metrics to plan and measure the scale of advertising campaigns today. But, you also need to be thoughtful about how often you connect with a single user to avoid overloading them.
This week, we launched Unique Reach reporting for all your display and video ads, no matter where they run. With Unique Reach in Display & Video 360, you can measure the number of unique users and average impressions-per-user you get from display and video ads. Metrics are de-duplicated across devices, campaigns, inventory, and formats so you can see how many people you reached and how often you reach them. You'll also have an expanded lookback window of up to 3 months, and the ability to report at both the campaign and site level, so you know which campaigns and sites are driving the greatest reach.
Extending Brand Lift measurement to all of your video buys
Reach and frequency metrics tell you how many people you reach and how often, but you also need to understand the effectiveness of your video ads in changing perception — across all the places they're viewed.
That's why we're expanding the brand perception insights that you get from Brand Lift beyond YouTube to all of your video advertising, across media properties. With Brand Lift in Display & Video 360, you can easily measure the impact of your video ads on metrics like brand awareness, ad recall, and consideration. You can also see how your video ads impact the number of searches for your brand on Google Search and YouTube, so you can assess their effect on brand interest. You can even segment reporting by audiences, creatives, and publishers to better understand what's working. These insights enable you to optimize your campaign mid-flight to drive greater impact.
While Brand Lift studies in Display & Video 360 are currently available by working with your Google account team, in the coming months you'll be able to set up Brand Lift studies self-service, and view Brand Lift reporting right in Display & Video 360 alongside metrics for all of your display and video ads.

"Brand Lift in Display & Video 360 helps us see the impact of all of our video ads, including YouTube, in one place. With these insights, we can optimize performance to drive ad recall and awareness, and plan future video campaigns in a smart and data-driven way relevant to our target audience and the viewing environment."
— Steven Pollack, Head of Media & Communications, Nestlé

With more intelligent metrics covering viewability, reach, and brand perception change across campaigns, marketers have the information they need to create more relevant, useful, and impactful experiences for consumers.