Capture the attention of sports fans with Display & Video 360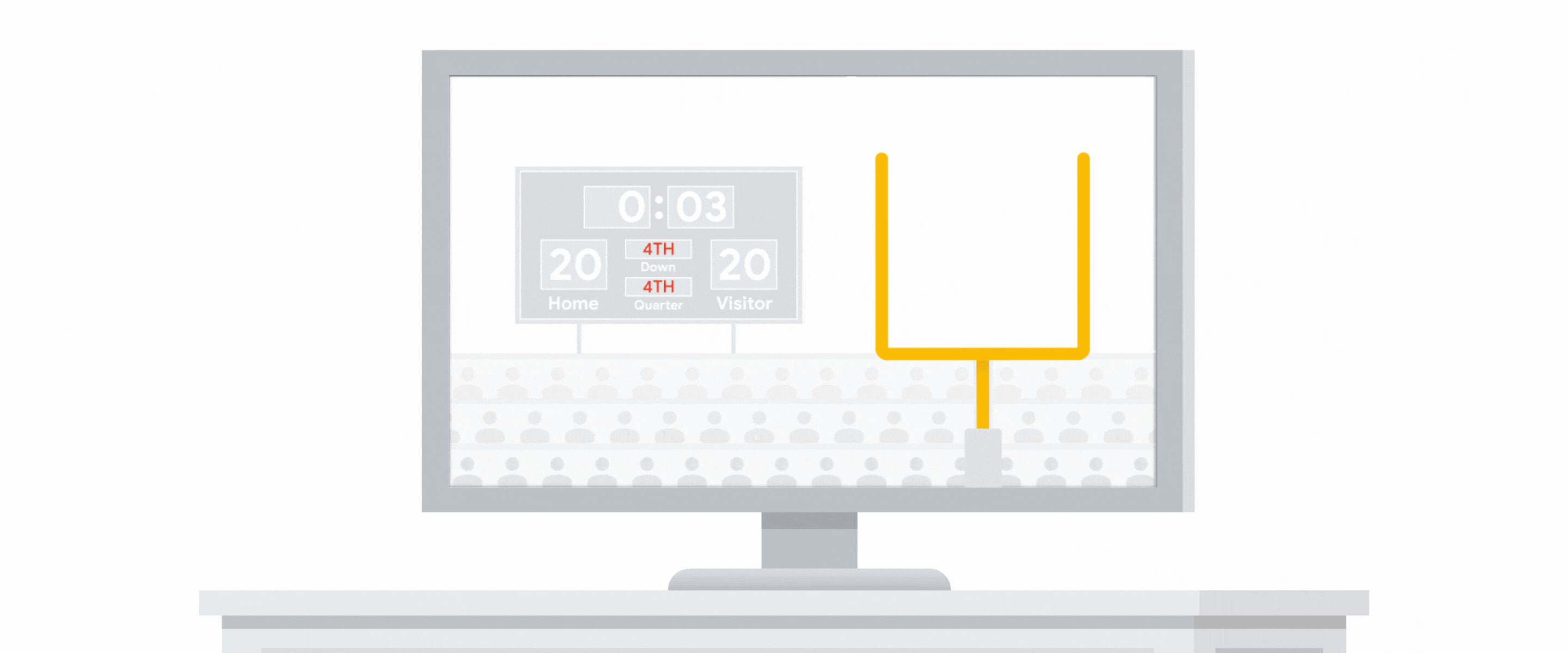 Watching sports brings friends and family together to cheer on their favorite teams and enjoy a shared experience. For decades, live sports have given marketers the opportunity to reach these engaged audiences at scale and associate their brand with the teams, players, and moments fans are excited about.
What makes sports so compelling for marketers hasn't changed, but the formula for capturing the attention of sports fans has. Historically, marketers could buy commercial airtime on live sports broadcasts and be sure that their message was reaching a passionate and broad audience. But as our viewing options have increased, brands have had to find new ways of engaging potential customers. Display & Video 360 helps brands reach these engaged audiences where and when they are watching.
Reach engaged fans on connected TV
I'm a die-hard Dodgers fan but live outside of Los Angeles so I only watch baseball games on the MLB.tv connected TV app. This means that connected TV is the best way to reach me in these moments. This is also true for an increasing number of sports fans who turn to connected TV to find exclusive sports content or to catch up with games they missed.
With Display & Video 360, you can use Programmatic Guaranteed deals to secure a wide variety of valuable connected TV sports inventory and build a deeper relationship with a fan base. For instance, as the excitement builds-up for the second half of the Major League Baseball season and the race to the postseason, you can tap into MLB.tv's premium content on connected TVs. Sling TV's always-on sports deal is another source of high-profile in-game spots as well as surrounding coverage on leading broadcast and cable networks. 
Be there during peak moments with real-time triggers
The game clock is winding down. The underdog scores to win as time expires. Wouldn't it be impactful to capture this moment by boosting your reach and updating your ad message right away?
Now available to all advertisers and agencies, real-time triggers in Display & Video 360 is an automated tool that allows marketers and agencies to instantly activate specific display and video messages in response to live TV or real-world events. Ad delivery can be accelerated across devices as soon as these pre-defined "triggers" or moments happen. 
The real-time triggers workflow makes event-based campaigns scalable and easy to build. You simply define the triggers you care about in Display & Video 360 and then specify which ad creative you want to go live immediately following that event. For example, you could set-up a trigger that would serve a specific ad for fifteen minutes during halftime of any NFL game. Or you could be even more specific and run ads for two hours after the New England Patriots win a game or for twenty minutes whenever the Patriots or a specified player scores a touchdown. 
Sports trigger set-up in Display & Video 360
AirAsia used Display & Video 360's real-time triggers to reach a massive audience of engaged fans in Southeast Asia during the most memorable moments of the 2018 FIFA World Cup. Their #StillGotIt campaign featured soccer start Roberto Carlos showing off the skills he still has even after retiring, from his signature curling free kick to non-stop Samba dancing. AirAsia focused on reaching fans in Malaysia, the Philippines, Indonesia, Singapore, and Thailand — countries with avid soccer fan bases — and doubled the ads' frequency during Brazil's matches and the World Cup Final to ramp up engagement. By synching its ads with the most crucial moments and partnering with a world-renowned winner like Carlos, AirAsia's campaign resonated with millions of fans. As a result, AirAsia built a strong positive connection between their brand and their ambassador, exceeding industry averages for celebrity association according to third party research.
In the past, it was a tedious and manual task to reach so many different markets in precisely the right moments with the right message
Real-time triggers in Display & Video 360 supports all English Premier League, Champions League, National Football League (NFL) and National Basketball Association (NBA) games and we're adding more on a regular basis. In fact, a number of marketers used real-time triggers during the FIFA Women's World Cup this year.  
In addition to Display & Video 360's automated sports triggers, we've added custom triggers to help you time your ads with any tentpole moment that may be relevant to your brand. For example, if your audience is passionate about the Oscars or a reality TV show like The Bachelor, you can now decide to trigger your campaigns to launch when the first award is given or when the rose ceremony begins. You can also set-up your trigger to accelerate the delivery of your ads right at the moment when you kick off a flash sale or announce a new product.
Building your brand with sports fans requires a smart game plan. To break through and ensure your message sticks, you need to connect with people at the right time and on the right device. Access to smart buying techniques and high-quality connected TV inventory in Display & Video 360 will help you stay ahead of the competition.