Display & Video 360 brings Google audiences to connected TVs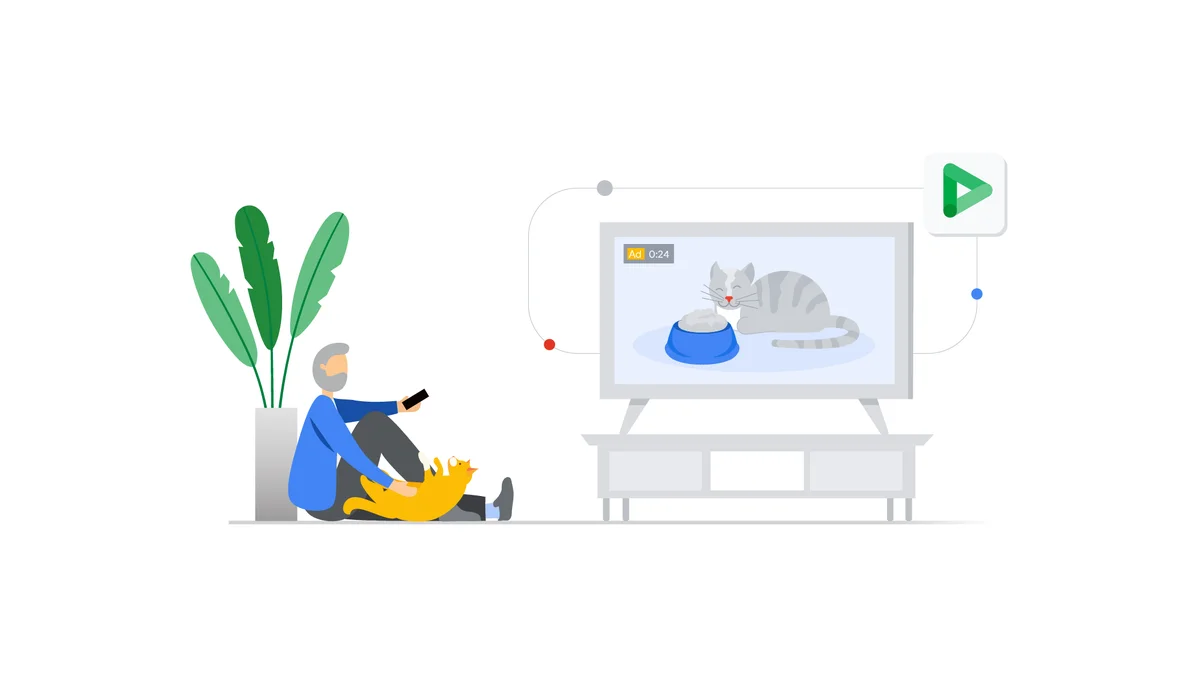 Today at Google Marketing Live, we're unveiling new products and features to help you build resilience for your business, drive results and prepare for the future of marketing.
As streaming continues to rise, that future includes more connected TV (CTV) advertising. That's why we're unlocking even more CTV inventory in Display & Video 360 and extending Google audiences to CTV devices — helping you reach the right viewers as they watch top streaming content.
Connect with the right CTV audience
We're committed to helping you deliver high quality ad experiences to all streamers by bringing the best of digital ad technology to the TV screen. One of the most effective digital strategies is creating relevant connections with your core audience. So we're introducing Google audiences for CTV inventory in Display & Video 360, which will work across Hulu, Peacock, YouTube and most other ad-supported CTV apps.
In a few months, you'll be able to power your CTV campaigns with the same affinity, in-market and demographic audiences you've been using for your digital ads for years. Demographics and in-market segments will be available on CTV devices by the end of this quarter. Some affinity audiences are already available and more are coming later this summer.
GoDaddy has been using Google affinity audiences to reach the right people with their digital ads. Now, they can extend that strategy and reach audiences like "Business Professionals" or "Avid Investors" who are watching shows on Discovery's HGTV Network or YouTube.
Google audiences on CTV gives us the opportunity to create ad campaigns that align directly with our prospective customers' lifestyles. It's a great way to extend our digital best practices to the big screen.
Reckitt has also found success using Google audiences on connected TV. Reckitt wanted Airborne, their immune support brand, to remain top of mind in the U.S. So they turned to Google's custom audience segments to reach streamers interested in boosting their immune systems. Display & Video 360 analyzed the keywords Reckitt selected and automatically created tailored audiences that maximized the brand's reach. This new audience strategy, combined with other digitally inspired approaches, resulted in over 18% more CTV reach for their Airborne campaign.
Our partnership with Display & Video 360 helped us reach CTV viewers in a much more data-driven way.
Access the biggest names in ad-supported streaming
Whether you're looking for a good movie, the latest music video or a peaceful guided meditation — YouTube is the main stream. According to Nielsen, YouTube reached over 135 million people on connected TVs in the U.S. in December of last year.1 For brands like Uber Eats, YouTube is fundamental to reaching younger demographics, who are lighter TV viewers. And Display & Video 360's capacity to plan, manage ad frequency and measure performance across YouTube and other CTV buys saves these brands time and money.
Display & Video 360's capacity to control ad frequency across YouTube and our other video buys makes it the ideal partner.
A majority of ad-supported CTV services — including broadcasters and cable network apps — also offer their inventory through Display & Video 360. According to comScore, Display & Video 360 now reaches 93% of ad-supported connected TV households in the U.S. and provides access to nine of the top ten most-watched ad-supported CTV apps in the U.S.2
We're also continuing to unlock top CTV inventory around the world. Peacock, NBCUniversal's ad-supported streaming service, is the newest addition to available CTV publishers in the U.S. And you can now reach people watching Channel 4's programming in the UK.
Finally, we're providing more innovative formats for brands to reach viewers the moment they turn on their TVs. Media and entertainment marketers in the U.S. have found success with the Google TV Masthead, which displays right on the home screen of Google TV devices. Today, in a new beta, we're expanding the Google TV Masthead to allow more industry types to sponsor entertainment content. This cinematic teaser format can be tested using a Programmatic Guaranteed deal in Display & Video 360.
Check out the video below to learn more about new CTV solutions in Display & Video 360 and how to grow your business for the long run using enterprise ad tools.