Engage your first-party audience in Display & Video 360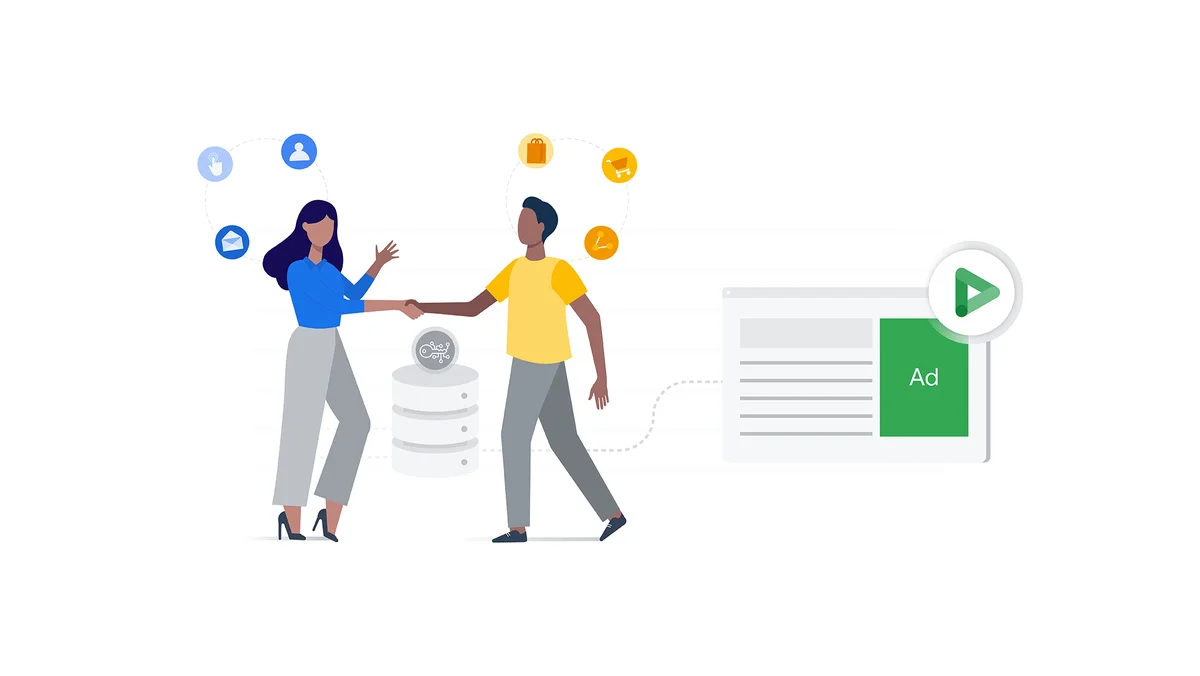 Successful businesses are leaning into existing customer relationships and the information they agree to share in order to enable improved experiences. This information, known as first-party data, can be the basis for privacy-preserving, future-proof ways to connect with customers. That's why we're creating a new way for advertisers to power their advertising using first-party data in Display & Video 360.
Publisher Advertiser Identity Reconciliation, or PAIR, is a new solution that gives publishers and advertisers the option to securely and privately reconcile their first-party data for audiences who have visited both an advertiser's and a publisher's site. Advertisers and publishers will be able to activate encrypted first-party information that is unique to their sites via aggregation. This process ensures no user-level data is ever shared between parties and the aggregated data is only readable and meaningful in the limited context of their direct relationship.
PAIR gives advertisers the ability to more closely connect with their known audiences, while avoiding tracking individuals across the web. As a result, advertisers can show relevant ads to some of their highest-intent audiences, helping to increase advertising performance and hit marketing objectives, while respecting people's privacy expectations.
Connect with your most engaged customers with personalized ads
Consumers prefer relevant ads, but they don't want them to come at the cost of their privacy. With PAIR, advertisers will be able to run relevant ads to their first-party audiences — like past purchasers and people on their loyalty lists — without relying on third-party cookies. PAIR can be used to engage with existing customers or cart-abandoners, and prevent consumers from seeing ads for a product they already purchased.
For example, imagine you're a shoe retailer and a group of people have signed up to your store's mailing list. Separately, these same people on your list have also shared their email addresses with a publisher when browsing content online. With PAIR, you will be able to reach these people with relevant ads on that publisher's website, because they have an existing relationship with you and with the publisher.
We've heard positive feedback from advertisers and agencies alike. Like Annalect, many of them are looking forward to testing PAIR.
"It's important for us to find new ways to help advertisers connect with their audiences without replicating third-party cookies' pitfalls. PAIR will allow us to create more personalized ad campaigns for advertisers by harnessing their first-party data in a way that is secure and protects users' trust in their brand. We're excited to begin using PAIR and to continue engaging with customers in meaningful ways."
— Adam Gitlin, President, Annalect
PAIR is designed for execution across all transaction types, and publishers will have the option to use their supply side platform of choice. Publishers like Grupo Prisa have already started using PAIR, saying:
"PAIR will be part of our cookieless strategy enabling us to deliver more relevant ads to our logged-in users and improve the performance of our advertising partners."
— Manuel Castro, Transformation and Client Solutions Director, PRISA Media
Reconcile first-party data in a secure and privacy-preserving way
Seventy-six percent of advertisers and agencies find the usage of IDs based on pooled data concerning from a regulatory standpoint.1 That's why PAIR is different: it doesn't require pooling of audience data. Instead, each advertiser and publisher will maintain ownership and control of its data.
PAIR will protect trust in your brand because it doesn't allow for tracking people across the web, which we don't believe meets user's privacy expectations. Instead, users will only be shown ads from the advertisers and publishers with whom they have direct relationships, giving them more control of the ads they see.
PAIR also protects advertisers and publishers from data leaks by encrypting their first-party data three times with three different keys: an advertiser key, a publisher key and a key shared between the two parties. These keys are unique for every advertiser-publisher relationship and ensure there is no way for any one party to reverse-encrypt or identify users. After encryption and reconciliation, the advertiser and the publisher both receive the percentage match rate of their respective first-party audience lists, but no user-level matches or Personally Identifiable Information (PII) will be sent back. Similarly, no PII will be shared with either the supply side platform or with Display & Video 360.
Pick the partners that work for you
To connect the data, advertisers and publishers can use clean rooms. Clean rooms ensure any data shared by advertisers and publishers stays secure, and only their encrypted data gets shared with Display & Video 360 for reconciliation. Additionally, clean rooms help manage the data upload and encryption process, so advertisers and publishers don't have to manage these on their own. This gives advertisers and publishers additional privacy technical guarantees and reduces the amount of data access needed by Display & Video 360.
We have already begun partnering with three clean-room providers, Habu, InfoSum and LiveRamp, with plans to integrate with Ads Data Hub (ADH). As we work to onboard more clean rooms, partners will have more choices.
"LiveRamp is excited to implement PAIR in Safe Haven and bring it to our 450+ marketers and 11,000+ publisher domains. Both marketers and publishers recognize there's no silver bullet for the end of the cookie, and are seeking privacy-first solutions that enhance the customer experience."
— Scott Howe, CEO, LiveRamp
Building upon a first-party approach
If you're a brand or publisher with first-party data, reach out to your Display & Video 360 team to learn more about how to start using PAIR.
PAIR is one of many ways we're helping businesses run relevant ads in Display & Video 360 while respecting people's privacy. We're reimagining programmatic audience solutions using a multi-signal approach harnessing first-party data, machine learning and privacy-preserving APIs. This will give you the choice and resilience you need to build trust with your customers and meet their expectations for more personalized ad experiences.